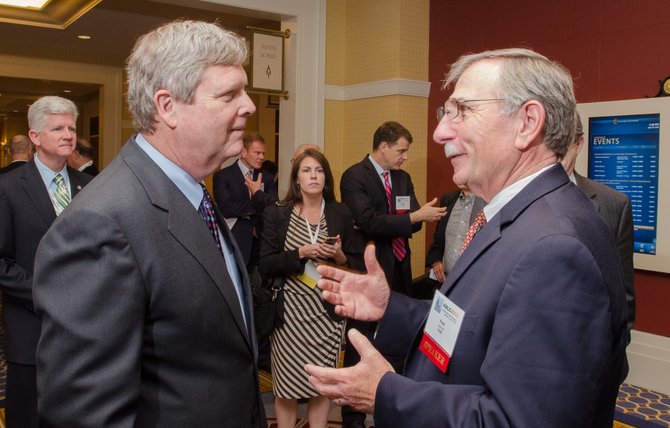 Fully cashing in on the green energy revolution continues to elude Mississippi as a company that state officials, including former Gov. Haley Barbour, helped fund with state money, is now considering putting itself up for sale.
On July 9, in a filing with the Security and Exchange Commission, Pasadena, Texas-based KiOR said it retained Guggenheim Securities, LLC to "assist the company in reviewing and evaluating various financing, transactional and strategic alternatives, including a possible merger, restructuring or sale" of the four-year-old company.
Barbour announced KiOR picked Columbus to locate its first three production facilities, after calling a special legislative session to authorize an economic-incentive package for the company, which promises to make a crude oil from woody biomass. A second plant had been planned for Natchez, but was shelved.
KiOR's $225 million Mississippi plant has struggled in recent years as it faced challenges to scaling up to commercial distribution. Earlier filings with SEC show that KiOR has debts totaling $280 million, which includes a $69.4 million loan from Mississippi taxpayers.
The loan, which state lawmakers approved in 2008 and then-Gov. Barbour pushed, along with several other energy initiatives, was for $75 million but did not charge interest.
On June 18, KiOR laid off 18 people at its Columbus facility, prompting a new round of scrutiny. "Given the company's limited cash flow, we do anticipate additional layoffs as we finish getting the Columbus plant in a 100 percent safe, idled state," company officials said in a statement in mid-June. "This will occur as required over the next one to two months."
As KiOR's troubles have mounted and threatened to throw the company into bankruptcy, some of the company's executives have continued to see their wages climb. Fred Cannon, the company's chief executive officer since July 2010, has seen his compensation increase from $4.2 million in 2011 to $6.6 million in 2013, mostly through stock awards. John Kasbaum, senior vice president, received $1.2 million in total compensation in 2013 compared $628,548 two years earlier.
The company now faces an SEC investigation and two class-action lawsuits in Texas that allege it made false and misleading statements about profitability and progress in ramping up operations.
"Specifically, despite constant setbacks, mechanical and design problems, and missed milestones, Defendants continued to falsely reassure investors that the Company remained on track to achieve commercially meaningful biofuel production levels at the Columbus Facility during the timeframes promised," the complaints states.
The company had estimated to produce sales of 500,000 to 1 million gallons of synthetic crude before the end of 2012. For this to occur, KiOR needed to produce more than 9,400 gallons of product per day every day over the course of the following 53 (days).
A bright spot came in March 2014 when KiOR shipped its first batch of cellulosic biofuel, which prompted Condoleezza Rice, former U.S. secretary of state and then-KiOR board member, to say the company "is changing the American energy equation by innovating and commercializing an entirely new generation of hydrocarbon-based diesel and gasoline fuel."
KiOR is the latest failure in the state's mixed bag of experiences with clean-tech industries. A year after Barbour sold Mississippi on KiOR, he announced incentive packages for California-based Calisolar, a silicon manufacturing plant to Columbus and HCL CleanTech to Olive Branch. CleanTech also planned to open a commercial facility and a research-and-development center in Grenada and three large-scale commercial plants in Booneville, Hattiesburg and Natchez. CleanTech converts biomass materials to biofuels. The new developments would bring a total of 1,800 jobs to the state and relied on another $75 million loan from MDA. 
 "Calisolar and HCL CleanTech are examples of how Mississippi has become a top site for high-tech, high-skilled manufacturing," Barbour said at the time. "I hope the special session will be short and productive as we continue the business of creating new, higher-paying jobs for Mississippians."
Calisolar, which makes silicon used in solar panels, ran into trouble as prices for solar arrays fell and had to layoff workers at its Sunnyvale, Calf.. plant and shelve plans for a $600 million expansion into Mississippi.
More stories by this author
Support our reporting -- Follow the MFP.