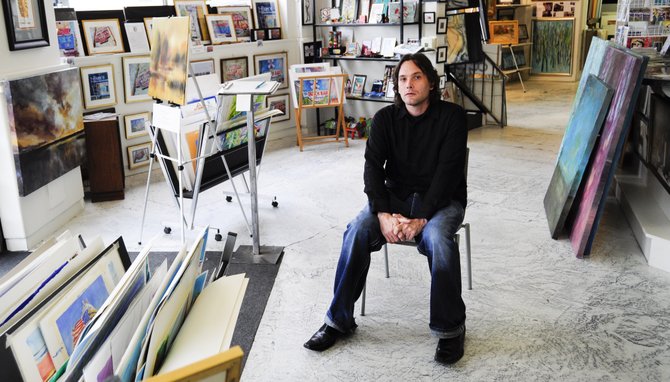 Abstract art leaves few of us ambiguous.
Portraitist Daniel E. Greene isn't a fan. "There isn't any method of improvement inherent in abstract painting," he says. "There is no challenge."
Russian abstractionist Wassily Kandinsky—whose "Studie fur Improvisation 8" sold for $23 million in 2012—saw it differently.
"Of all the arts, abstract painting is the most difficult. It demands that you know how to draw well, that you have a heightened sensitivity for composition and for color, and that you be a true poet," he said. "This last is essential."
For every abstraction that leaves you cold, another may set your imagination afire. The viewer's experience is essential to abstract art, says Jackson artist Jonathan Berry, even though it was the antithesis of creativity for one of his teachers.
"You cannot give the responsibility to the viewer," the instructor told him, to which Berry responded: "Why not? Why can't you?"
He rejected the idea that a work of art must have a theme and a defined palette before making one stroke.
"I was totally against it. I would never make it in his school, and that's OK. ... We'll agree to disagree," he says. "It's (about) what you bring away."
Like many artistic spirits, Berry is multi-talented. He's a painter, a poet and a musician. He once played guitar in various local bands, but about a year ago, a miter-saw injury to his left arm cost him dexterity in his hand.
The accident turned Berry's attention to painting, and though he is still relatively unknown in Jackson, he has already displayed and sold pieces at various local galleries and events.
Berry's colors range from moody autumnal darkness to exuberant, sun-lit brights. His works combine textures, and elements of the concrete and fantasy, along with a healthy disregard for what a painting "should" be or the marketability of a palette. The work integrates his mood and his faith, as well as his job rehabbing houses. Berry used long metal nails to form symbolic crosses in one series, with cabinet doors organically framing the images.
His art invites viewers to see, not simply to look, and to ask questions, beginning with, "What is this?"
"A lot of times, I don't have any idea what I'm going to paint," he says. "I'd say 99 percent of the time, I don't know when I start what I'm going to finish with."
"The creation process, that's what gets me," he adds.
What viewers see in his works excites him. He speaks about "Lady of the City's Wind," pointing out a city skyline and the lady's face. Various spectral faces can appear depending on how you see the piece—or perhaps you'll see a masculine figure.
At 33, Berry is stretching, experimenting, defining his distinctive artistic voice. He's at work now on a series he calls "White Art," trying to achieve a certain sleekness. He is willing not to succeed.
"We'll see how it turns out," Berry says, adding, "I don't know how sleek I can be."
To pay the bills, Berry works as a residential painter and renovator, and he has developed a talent for faux finishes, which he often uses in his art. He attended Mississippi College, Northwest Community College and the University of Memphis, where he studied computer technology.
"I have a lot of student loans with no degree," he says with an apologetic grin.
While he enjoys the residential work, he looks toward a day that he can spend more time with his acrylics and polymers instead of latex.
"I would rather be painting canvasses than houses," he says.
"Man, that's hard," Berry says of knowing when a painting is finished. He keeps on "messing with it," until he's satisfied, but it can be a fine, easily crossed line. He has destroyed paintings by overworking them, and "resurrected" ruined pieces upon seeing something new.
"You've got to stand back as you go, and say: 'OK. That's it," he says.
Berry, a Flowood native, lives in Jackson. He has been married a little over one year to his wife, Lisa, and he has two sons, Ethan, 6, and Dylan, 2, from a previous marriage.
See Berry's work at the Fondren Art Gallery (3030 N. State St., 601-981-9222) and in Southern Artist's Alliance shows. Visit his website (jonathanberryart.squarespace.com) and find "Jam Band Arts by Jonathan Berry" on Facebook.
More like this story
More stories by this author
Like independent media outlets around the world, the Jackson Free Press works hard to produce important content on a limited budget. We'd love your help! Become a JFP VIP member today and/or donate to our journalism fund. Thanks for considering a JFP VIP membership or one-time support.