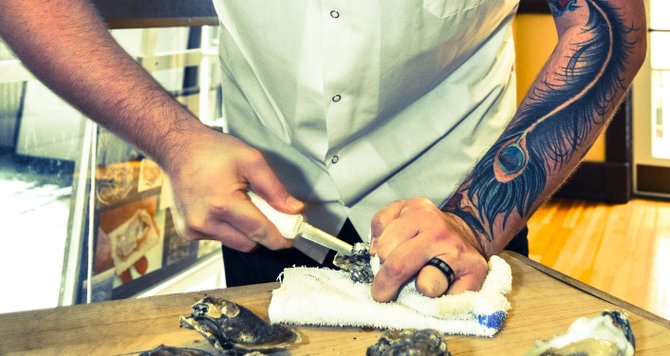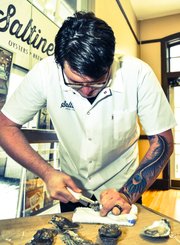 Jesse Houston, Jackson's resident mad scientist chef, is ready to pull a crabbit—yes, crabbit—out of his hat. He's hard at work planning for the opening of his new eatery, an oyster bar and restaurant in Fondren. The restaurant is slated to open its door in the spring, but foodies can get a preview of what Houston is up to at a preview dinner Feb. 24 at BRAVO!
Why did you choose to pursue the oyster bar concept?
I remember someone bringing it up, saying they would love to see an oyster bar in Jackson. For the longest time, I've worked in restaurants that have had oyster bars, and I've been a big part of them in my career path. It's something that I've really grown to love and respect and appreciate: the simplicity and complexity at the same time.
They are naturally a perfectly seasoned food right from the shell. I've really grown a passion for them. Whenever I write a special menu, I always try to include them in some way, shape or form. But we just saw that there was a big need here in Jackson for an oyster bar. I really feel like Jackson is a seafood-centric town. Everyone I run into or meet talks about going to New Orleans or the coast and getting dozen after dozen of oysters. And my past experience with the little oyster bar at Parlor Market, we were always selling oysters like crazy out of there, so it became my personal project to really have an exceptional oyster program. So I just thought we'd fill the need for oysters and seafood in general.
Where do you plan to source your seafood?
We will get a lot of our seafood from the Gulf, and oysters will come from all over. There will be Gulf oysters, West Coast oysters, East Coast oysters, really whatever we can get our hands on, especially in the summer months when the Gulf Coast oysters aren't at their peak, we'll definitely be pulling oysters in from colder waters.
What's the trick in making oysters great, as a chef?
That's the beauty of oysters, that they are really great as is. As long as you have someone that puts a lot of love and care into shucking them, they are perfect in their natural state. I personally don't like to add cocktail sauce or lemon juice or whatever to my oyster. I like to experience the oyster for what it is. But they can be very complex.
There's this term that's been coined in the last year called "merroir," which is the marine or aquatic version of "terroir," which refers to wines as far as their origins, the soil, the climate—the environment in which the grapes are grown. The wine takes on the characteristics of the land. As do the oysters, they take on the characteristics of the water and the areas in which they are grown and harvested. ...
So there's a type of oyster called Chicopee Salts out of Virginia, and where they are grown there isn't a lot of fresh water that comes in, so they are very salty and briny. Some of my favorite oysters from the West Coast, Tumamodo oysters, they are also very briny, but they really remind me of being at the Pacific Ocean, at the beach. A lot of times, people refer to them as having a melon finish. So just like a fine wine, oysters can have different flavor profiles and finishes and all of that as well.
Are there any dishes that mean something special to you?
(One is) Craig's oyster stew. There's a really great story behind the stew. Craig Noone, when we were at Parlor Market, he really enjoyed coming in on his days off and making a big batch of oyster stew that he learned from John Besh in New Orleans. He would take great pride in making this big batch of stew. He would baby it and put a lot of love into it. He would always make sure it was piping hot and perfectly seasoned. The way he would season his soup or really anyone's soup, if someone came up with a special soup of the day, he would taste it and, no matter how good it was, he would always say it needed three ingredients: lemon juice, Tabasco and salt. So he would add those three ingredients to it and declare the soup perfect. In honor of him, we're going to serve that cup of stew with a lemon wedge, a mini Tabasco bottle and a pinch of sea salt.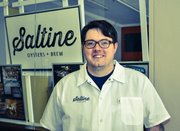 Tell me about the style and aesthetics of the restaurant.
Because we are going into Fondren, we really wanted to keep the vibe of the restaurant kind of vintage feeling. We're using a lot of navy and aqua colors. It will be clean and refreshing with a lot of white tile. In order to pay homage to (Duling) school, we're going to pull in elements like used antique lockers as storage as well as decor, vintage school chairs. I'm bringing in a cool a nautical theme without feeling like a theme park or feeling cheesy. We've found these great antique naval plates that they stopped producing in the '40s, but they were the plates that you could find on naval ships. They are white with these blue rims and anchors printed on them, and they're really sturdy because they were designed to be on a ship.
You've done a lot with specialty beers in the past. Any plans for that with Saltine?
Another part of Saltine we really want to focus on our beer program. That's kind of the other half of the equation; we're focused on oysters and craft beer. We're going to have a minimum of 24 taps, and we're going to implement new and fun ways of doing beer. We're going to have a nitrous system for some of our drafts and stouts. We're going to have a really old-school beer engine where we have to manually hand pump oxygen to dispense the beer, and then a randall system that will let us flavor beers on demand, so that will allow us to be creative and come up with a beer of the day.
And then we really want to educate people on craft beer, do beer pairings similar to wine pairings and be able to make suggestions based on what people like.
Will you be working with any specific breweries?
Lucky Town Brewery is working on some special beers for the (restaurant). We're getting together to test out an oyster stout just for fun. We've got a case of oysters. and we use the shells in brewing the beer to create the oyster stout. The calcium and minerality of the shells adds to the beer—it doesn't taste like oysters; it just adds dimension. We hope to have that on the menu at Saltine when we open. Since Lucky Town is building their awesome new brewery in midtown, we really want to partner with them and have some stuff from them that you can only get at our place.
Talk about the preview dinner at BRAVO!. What do you have in store for that?
We really want to give people a taste of what they can expect from us. This will be a bit more of a formal setting than Saltine will actually be. Saltine will be laid-back. It's a polished, casual concept where it doesn't feel stuffy; it feels inviting. ...
But for this dinner, it's a little more formal. It's a five-course dinner plus a full oyster bar. You walk in, and you're greeted with a beer, and you can go to the oyster bar and mingle for a while.
The whole menu is designed to be a multi-course tasting menu, and the majority of those dishes are on the Saltine menu. There are a couple of dishes that are designed to represent the direction of our specials and how I like to have fun with food. So one of the dishes I call "crabbit"; it's a crab and rabbit tureen. So having fun with words and using seafood in different ways. We'll take local rabbit from Mississippi and make a nice tureen out of it and add some jumbo lump crab, little bit of brown-butter emulsion and some local vegetables, (as well as) some sea beans. There's this really great plant called oyster leaf. It's this thick, almost succulent-like leaf and, when you bite into it, it tastes exactly like a fresh raw oyster. It's got this really amazing brininess. So we'll put that on the dish as well, to kind of mimic an oyster.
There's another dish I really want to do that I call "uni-corn." It's sea-urchin roe, which is called uni, and corn machoux. Sea urchin goes really well with corn, so that will be a fun play in the summer when corn is locally available and sweet. Kind of another play on words.
The Saltine preview dinner is Feb. 24 at 6 p.m. at BRAVO! Italian Restaurant and Bar (4500 Interstate 55 Frontage Road, Suite 244). Tickets are $60 per person with the option to add a beer pairing or wine pairing at an additional cost. To reserve seats, call 601-982-8111.
More like this story
More stories by this author
Like independent media outlets around the world, the Jackson Free Press works hard to produce important content on a limited budget. We'd love your help! Become a JFP VIP member today and/or donate to our journalism fund. Thanks for considering a JFP VIP membership or one-time support.