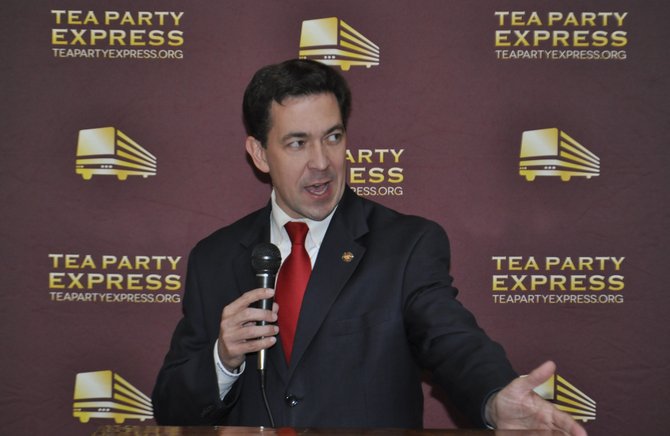 As if Mississippi taxpayers haven't been burdened enough defending lawsuits that appear patently unconstitutional, the Mississippi House of Representatives approved a proposal last week to ban abortions more than 20 weeks after conception.
The bill, HB 1400, states "substantial medical evidence recognizes that an unborn child is capable of experiencing pain by not later than twenty (20) weeks after conception," and that women have "adequate time to decide whether to have an abortion in the first twenty (20) weeks after conception." In addition to banning most abortions after 20 weeks, or about five months, the bill prohibits abortions until a doctor determines the "probable post-conception age of the unborn child." It makes no exceptions for rape or incest.
Rep. Adrienne Wooten, a Democrat from Jackson, argued that the bill should at least make exceptions to protect children who are victims of incest and rape. Rep. Andy Gipson, R-Braxton, who chairs the Judiciary B Committee and sponsored the legislation, said the bill is designed to "protect the unborn who can't speak for themselves."
Gipson cited statistics from state health officials that show 2,176 abortions were performed in Mississippi in 2012. Two were listed at 21 weeks or later, and 382 were listed as unknown gestational age.
Wooten questioned why the Legislature should involve itself in an issue that applies to only a few of the state's 3 million residents.
"If there was only one that we could save with this bill, it would be worth the effort," Gipson said, drawing applause from fellow supporters of the bill.
Rep. Toby Barker, R-Hattiesburg, offered an amendment to exclude rape and incest victims, but that measure failed. Representatives passed HB 1400 by a vote of 89-22.
Diane Derzis, who owns Mississippi's only abortion clinic, told the Associated Press the proposed change wouldn't affect the facility, which she says stops doing abortions after 16 weeks. Derzis, owner of Jackson Women's Health Organization, is also fending off a 2012 law—HB 1390—that imposed strict regulations requiring abortion clinics to obtain admitting privileges at a local hospital, JWHO has been unable to meet.
After the vote, representatives of Planned Parenthood said the bill "reflects an extreme agenda to limit a woman's ability to make her own health-care decisions and shows that many elected officials are completely out of touch with their constituents on this issue."
"Mississippi voters have already rejected the notion that politicians and the government should dictate deeply personal and difficult decisions around health care and pregnancy. Women don't ask politicians for medical advice, and politicians shouldn't try to force their way into medical decisions," said Felicia Brown-Williams, Planned Parenthood Southeast's public policy director, referring to the unsuccessful personhood campaign of 2011, in a statement.
House Bill 1400 now heads to the Senate, where its fate is unclear. Lt. Gov. Reeves, who is also a pro-life conservative and presides over the Senate, hailed the passage of HB 1390, which required Derzis' clinic to obtain admitting privileges at a local hospital, as a victory toward ending abortion in Mississippi. However, Reeves has killed other bills that would restrict abortion access.
Prison Beef
A rift between the commissioner of the state Department of Corrections and the chairman of a key legislative committee is spilling out into the open.
As the newly appointed chairman of the House Corrections Committee, state Rep. Tommy Taylor, R-Boyle, has shepherded several bills this year that lawmakers say are designed to chip away at the power of Mississippi Department of Corrections Commissioner Chris Epps. Before he ran for the Legislature, Taylor worked under Epps' supervision as warden of the Bolivar County Regional Correctional Facility.
On Feb. 10, the House passed one of the session's most watched pieces of legislation, House Bill 585, which proposes to streamline the state prison and court.
The vote wasn't even close, with most of the questions revolving around a provision in the bill to change the definition of a drug trafficking to involve 30 grams of a Schedule I (e.g. heroin and LSD) or Schedule II (methamphetamine and powder and crack cocaine) substance not including marijuana.
Nevertheless, Taylor brought several more bills back a few days later, before the deadline for floor action. One of them, which ultimately proved unsuccessful and died on the calendar, would have required Epps to appear before Taylor's committee before closing any of MDOC's community work centers (CWCs). Epps has been flirting with the idea to shutter some of the centers and move their prisoners to local county jails.
"This is simply a bill to take away authority from the Commissioner of Corrections," Epps wrote in a letter circulated among House members. "It ties the Commissioner's hands."
Ultimately, that proposal, along with several others, failed and died on the calendar.
Everybody Hates Chris
Given the fact that state Sen. Chris McDaniel, R-Ellisville, is challenging one of the longest-serving members of the U.S. Senate for his seat in the upper chamber of Congress, one would expect that McDaniel would hold frequent media availabilities and deliver fiery speeches from the Senate floor to soak up free publicity. A third of the way into the session, McDaniel hasn't done a lot of showboating—because he hasn't been there.
McDaniel, one of the founding members of the Senate's conservative caucus, has virtually been a ghost this year. No one can really blame him, considering most of the Republican leadership has already decided to throw their support behind Cochran; as such, McDaniel is unlikely to get many bills through the Senate. Nonetheless, the Cochran camp has pounced on the fact that McDaniel, a self-styled Tea Party flamethrower, has missed a lot of votes on red-meat conservative issues. Cochran supporters last week pointed to a bill senators passed that would require colleges and universities to develop a plan to combat unintended pregnancies; the House passed a similar measure. Conservatives tried to prohibit abortion counseling to be part of the plan, but that amendment failed on a razor-thin 22-23 margin.
Pro-choicers would not have won had McDaniel and his campaign manager, Sen. Melanie Sojourner, been in the chamber, Cochran's camp said. They also point out that McDaniel and Sojourner failed to cast votes when the Senate voted to add the words "In God We Trust" to the state seal because they were in New York City appearing on Glenn Beck's TV show "The Blaze."
More like this story
More stories by this author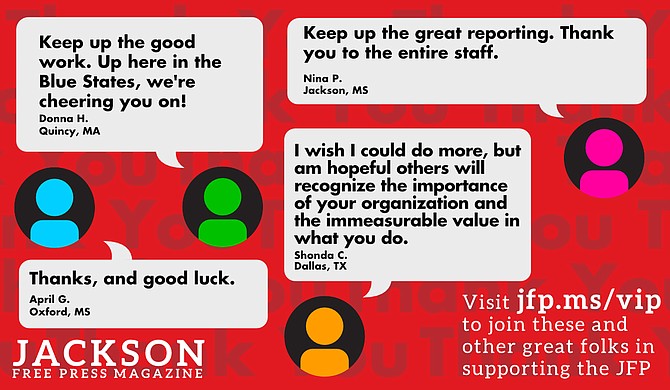 Thanks to all our new JFP VIPs!
COVID-19 has closed down the main sources of the JFP's revenue -- concerts, festivals, fundraisers, restaurants and bars. If everyone reading this article gives $5 or more, we should be able to continue publishing through the crisis. Please pay what you can to keep us reporting and publishing.