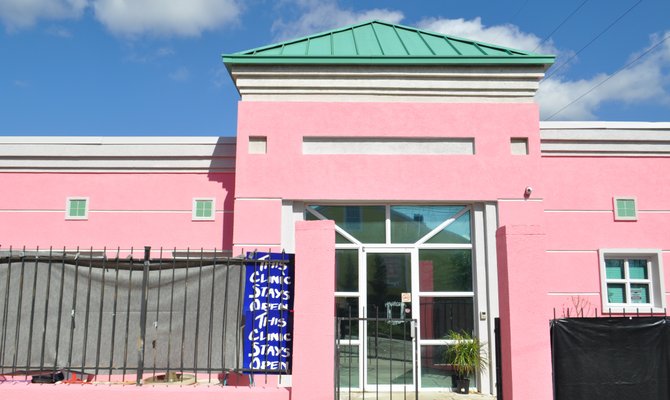 The Mississippi Senate decided Tuesday to assert its authority over women's reproductive health decisions when it passed HB 1400, a bill that prohibits abortions after 20 weeks.
The legislation is seemingly targeted at the Jackson Women's Health Organization, the only abortion clinic left in the state.
Yet, the bill is frivolous legislation in the eyes of the clinic's owner, Diane Derzis.
"That's a totally irrelevant piece of legislation that I'm sure was aimed at the clinic. The clinic goes to 16 weeks, so what difference does that bill make?" Derzis said in an interview Wednesday. "They have been posturing and wasting the taxpayers' money for the last month on that piece of legislation, and every legislator there knows that."
The bill only creates exceptions for abortions after 20 weeks when the mother's health is severely threatened or in cases of extreme fetal abnormality. The Senate also rejected an amendment to the bill by Sen. Derrick Simmons, D-Greenville, to create exceptions for pregnancies as a result of rape or incest.
"Women in Mississippi, and women in this country, don't ask politicians for medical advice. Therefore, politicians should not enter the decision-making process for women," Simmons said Thursday during a short debate whether to reconsider the bill.
Derzis said she was not surprised the Senate struck down Simmons' amendment, although she was glad a legislator raised the concern of women impregnated during a sexual crime. 
Michelle Colon, a pro-abortion-rights activist who has helped defend JWHO for 10 years, doesn't understand the logic of anti-abortion advocates who say that restricting abortion benefits women.
"I think it's an insult and an assault against women when (anti-abortion advocates) say those things," Colon said, adding that restrictive legislation strips women of their rights and their autonomy.
The Associated Press reported Mississippi Department of Health statistics showing 2,176 abortions in Mississippi in 2012. Two were reported at 21 weeks or later, and 382 were listed as unknown gestational age.
Derzis said pregnancies terminated after 20 weeks are those done in hospitals by physicians who see the abortion as a medical necessity.
Felicia Brown-Williams, director of public policy for Planned Parenthood Southeast, said in a press release that women facing medical complications should not face restrictions when their lives are in danger.
"Abortions later in pregnancy typically involve severe fetal abnormalities or serious risks to a woman's health. These are often very wanted pregnancies that have gone tragically wrong," Brown-Williams wrote.
Derzis criticizes the Mississippi Legislature for focusing on restricting abortion, as opposed to other state issues.
"What a shame that we're not talking about increasing the Aid to (Families With) Dependent Children or maternal mortality, something to reduce that—the things that are really problems in Mississippi," Derzis said.
"This is another example of a government out of control," Derzis said.
Personhood Mississippi is currently gathering signatures for a new Personhood amendment, Initiative 41, which defines life at the moment of conception and would ban all abortions across the state. Mississippi voters voted down personhood in 2011 under Amendment 26.
The revived personhood referendum needs to gather 107,216 signatures by May 14 to get the initiative back on the ballot in 2015.
Support our reporting -- Follow the MFP.