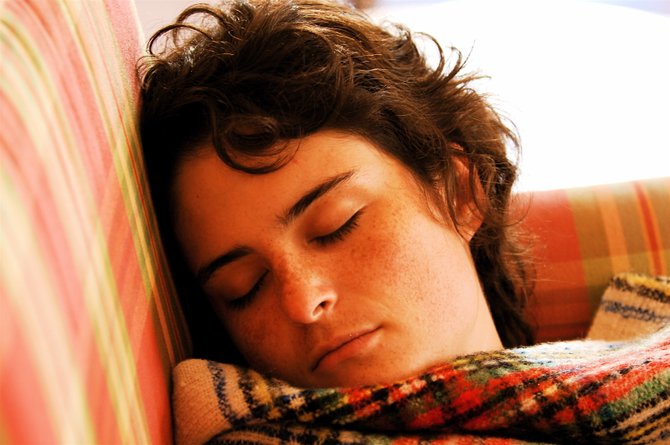 A while back, I attended a seminar out of town and shared a hotel room with three other women. Without fail, they were sound asleep each night long before I was.
I've rarely fallen asleep quickly, and I'm a light sleeper—even small sounds or movements wake me up. On the plus side, I don't need a lot of sleep. Five or six hours are more than sufficient enough for me to function well. Luckily, I rarely suffer from insomnia that keeps me awake all night, and most mornings, I wake easily and early.
But many people have problems getting enough good sleep. A 2013 National Sleep Foundation study reported that 67 percent of respondents said they don't get enough sleep, especially on workdays, and a lack of sleep can affect us dramatically.
"In the short term, a lack of adequate sleep can affect judgment, mood, ability to learn and retain information, and may increase the risk of serious accidents and injury," states the Harvard Medical School Division of Sleep Medicine on its website.
"In the long term, chronic sleep deprivation may lead to a host of health problems including obesity, diabetes, cardiovascular disease and even early mortality."
For drivers, a lack of sleep can be as dangerous as drinking.
"[D]rowsy driving is responsible for fully 20 percent of all motor vehicle crashes," the Harvard study concluded. "That would mean that drowsy driving causes approximately 1 million crashes, 500,000 injuries and 8,000 deaths each year in the U.S." The Centers for Disease Control reports drunk driving was responsible for about a third of traffic-related deaths in 2010.
A good night's sleep helps your brain work properly. "Whether you're learning math, how to play the piano, how to perfect your golf swing, or how to drive a car, sleep helps enhance your learning and problem-solving skills," the National Institutes of Health states. "Sleep also helps you pay attention, make decisions and be creative."
Your body also benefits from sleep—it can speed up the healing process, maintain hormonal balance, and sleep also supports healthy growth and development.
Medical help is available for sleep disturbances, and you should seek professional care if lack of sleep is interfering with your ability to function. If you have occasional problems sleeping, the Mayo Clinic offers the following tips:
Stick to a schedule. A consistent timetable will train your body and brain. Try to go to bed and wake up at the same time every day, even when you're tempted to sleep in.
Watch what you consume. Stop eating a few hours before bedtime. You should be comfortable, not full or hungry. Limit fluids late at night to avoid midnight trips to the bathroom. Avoid stimulants such as caffeine and nicotine. Alcohol might make you feel tired initially, but can interrupt sleep later.
Consider a calming ritual. Turn off the TV, the computer and your iPhone to relax, read, listen to soothing music or take a warm bath. Many find meditation an excellent transition.
Find your sleep comfort zone. Make your room cool, dark and quiet. Try lavender scents and "white" noise, like a fan. Invest in a good mattress and insist that the kids and pets find their own beds.
Avoid napping. A nap might seem like a good idea, but it can make overnight sleep more difficult. If you must nap, keep it short (10-30 minutes) and make it early.
Exercise. Getting your body moving early in the day can help you sleep better at night. Avoid exercise late; it's energizing, which is not what you want at bedtime.
Learn to manage stress. Whether through exercise or organization, cutting stress is always a good thing. If you need a break, take one. Even a good laugh can do you good.
More like this story
More stories by this author
Support our reporting -- Become a JFP VIP.
The news business has changed dramatically in the past year, and we need your help more than ever to keep bringing you important stories about Jackson and the Metro. Become a JFP VIP with an annual membership or you can Sign up as a monthly supporter. Thanks for anything you can do to empower our journalism!