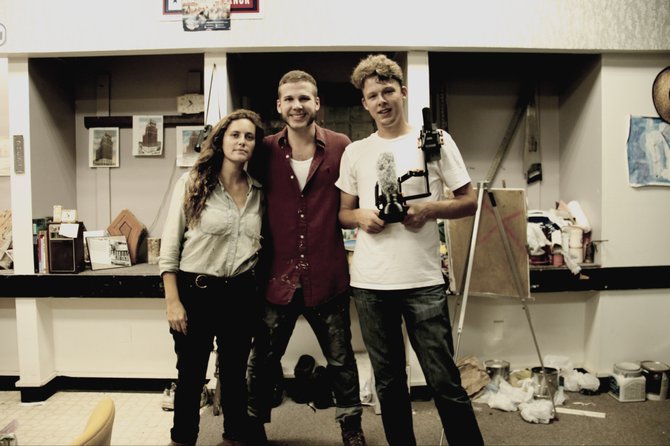 For the last year, three 20-somethings have traveled the state seeking to peel back the layers of Mississippi cultures. Now, filmmakers Vincent Jude Chaney, Greg Gandy and Lauren Cioffi are bringing their completed documentary project, "subSIPPI," to the Mississippi Museum of Art for a Jackson premiere. Chaney sat down with us to discuss the film.
How would you say the project transformed as you went through it?
The entire process has been driven by community, from funding (using a crowdsourced Kickstarter campaign) to (people) pointing us in the right directions.
We've tried to use social media as our main way of getting people involved in the project, by way of them writing on our feed or recommending things we should do. In the very beginning, that was an abstract mission: to get people engaged online.
Ultimately, our vision, which is still in process, is creating an online space where people can go and have a uniform resource, a place where they can find where to plug in, what's going on—kind of a space for Mississippians to be able to talk. ...
December-ish, we're going to have a website, which is the second aspect of the project. It will include the film (free to watch), a lot more of the content that wasn't in the film and an overview of the philosophy behind the film. And it will have some element that will be able to engage people to carry on the philosophy behind the project.
The biggest transformation is that it has manifested itself from an abstract to a grassroots, real event.
What can people expect at the screenings?
What this film offers, and the venues we screen at reflects this, is solidarity and bringing people together and community to say, "Hey, there's this event that we can get dolled up for. It's something important." It's also a way of building infrastructure and having that conversation get started with people from every walk of life, every demographic and every generation. We have people in their 80s and people that are 8 years old.
These screenings are more than just a movie screening. We have DJs, a photo booth, but more than just the individual things that make it up, it's a place where people can come experience the energy that's present in the state, the undercurrent. The—what do they call it?—zeitgeist. The feeling of the time.
Did you film any people or groups that surprised you, where you went in expecting one thing and learned something from filming them?
I felt like (going in to the project) there was this polarity between the subcultures and the dominant culture. I had this polarity between the rednecks and other people, the kind that usually leave Mississippi.
But (through the project, I was) able to see the humanity in everybody. There is this superficiality when it comes to people and their missions, usually, when filming in Mississippi—they want to show a certain demographic or certain agenda. And that's what they go for, and they can find it, and they shoot it. But with any good art or meaningful conversation, you see that there is some complexity to people.
One of my favorite experiences was being able to film David Grossman, a cotton producer in the Delta. Going into it, I thought: "This guy owns thousands of acres of cotton in the Delta. He's going to be this archetype of Mississippi that is sort of the antithesis of the whole subSIPPI movement." But he's one of the nicest people I've ever met. He took us up in his little private plane, and that's some of the best shots we have, of flying over his thousands of acres of cotton in his plane.
So being able to reinforce the idea that there's more than meets the eye—not to be superficial or judgmental—but seeing Mississippians as a unified group.
When it came to deciding what would make the final cut, what was your process?
This is really the reason we have the themes we do: I studied religion and philosophy. So, showing that there is religious diversity in the state and that we need to promote religious tolerance in a place that was really restrictive and closed to those kinds of ideas—I was bringing that 
to the table.
Cioffi does film, but she also does organic gardening. So the big focus there was that transition from a cotton culture to smaller-scale organic gardening (and agriculture). And Greg was really influential in art and building communities for artists.
There are really four sub-themes you see throughout and then one meta-narrative. The sub-themes are religion, art, agriculture and then a kind of catchall—lifestyle—which includes various things, skateboarding and whatnot.
And then the meta-narrative is that Mississippi was a very hostile place to diversity; it was a closed society. We've got William Winter talking about being a segregationist and being on the wrong side. The second chapter is "Leave or Stay," and it's (Jackson Free Press Editor-in-Chief) Donna Ladd talking about growing up and building an infrastructure. And the third one is "Transforming our Suffering into Fruits of Happiness." So it's this general theme of, OK, we know where we've come from, now what are we going to do with tomorrow?
"subSIPPI" premieres in Jackson Friday, Sept. 27, at 7:30 p.m. at the Mississippi Museum of Art (380 S. Lamar St., 601-960-1515) followed by a Q&A with the director. The all-ages screening is free; donations welcome. A cash bar will be available. Visit subsippi.com for more information.
More like this story
More stories by this author