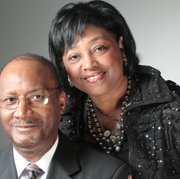 Pastor Jerry Young laughs heartily about his upcoming appearance at Friday's Mississippi Sickle Cell Foundation Annual "Evening with the Sickle Cell Stars Gala," where he and his wife of 39 years, Helen Akins Young, will receive honors in the form of a celebrity roast.
"What a man won't do for a (worthy) cause," Young said with a good-natured chuckle. "There are a whole lot of people who want to roast me, I assure you. I've probably gotten the best of them so many times, and some of them probably in the church I pastor."
As pastor of the New Hope Baptist Church since 1980, Young has seen the devastation of sickle cell disease, an inherited blood disorder that affects primarily African Americans, in his parishioners and students. The chronic disease limits the body's capacity to carry oxygen to vital organs, causing severe pain, infections, seizures and strokes.
"I've come to this cause because of my own understanding of the church's responsibility," Young said. Those two duties emanate from scripture and the life of Christ, he said: evangelism and social responsibility to the community and society. "I believe it has to do with the church doing whatever it can do to bring healing and hope and health to the community. It's fundamental to the church's role."
At one time, a person with sickle cell disease had a life expectancy of no more than about 40 years, Young said. Because of research into the disease and medical advancements that have been made, a person can now live to "a ripe old age."
"That's why it's so important for all of us to support the efforts of the (Mississippi Sickle Cell Foundation) ... as we try to improve the quality of life for persons," Young said.
Now 62, Young was born and reared in Scott, Miss., in the Delta region of the state, one of 10 children of Rev. E.L. and Elizabeth Young. He went to school in a church house during the week and, on Sundays, attended Sunday school in the same room—an easy combination that has stayed with him throughout his life and work.
Young first realized his calling to preach at age 17. He went on to attend Rust College where he received a bachelor's degree in sociology and social welfare in 1974. He also met his wife there.
In 1980, Young and his wife came to Jackson so that he could attend the Reformed Theological Seminary, where Young earned a master's of divinity in 1981 and a doctorate degree in ministry in 1998. In Jackson, Young became the pastor of New Hope and founded the New Hope Christian Pre-School and the New Hope Christian Elementary School, which now teaches more than 300 students.
"I do not see a conflict between faith and reason," Young said. "I promise you, for me, faith and reason are not adversaries. Faith is the completion of reason as I understand it. I think it is only natural, borne out of what is biblical theology, to try and bring wholeness and health and hope to people. That's what Christ did. ... As a Christian and a pastor, I feel strongly that there ought to be an integration of faith and learning.
"I don't think it's enough to teach people how to count; I think you have to teach them what counts. ... Many times, the church becomes preoccupied with declaring the Gospel that they fail to demonstrate the Gospel. What we need are people who are willing to demonstrate the Gospel."
The Youngs are the parents of two daughters, Jerlen Nelson and Kelli Elizabeth Hart. They also have two granddaughters, a grandson and a step-grandson. Pastor Young serves on the board of trustees at Belhaven University and his alma mater, Rust College, and is the vice president at-large of the National Baptist Convention, USA Inc. and immediate past president of the General Missionary Baptist State Convention of Mississippi.
"For more than three decades, Dr. Jerry Young and his wife have serviced the community through their education institution," said Pat Brunson, MSCF chairwoman, in a statement. "They have seen first-hand how sickle cell disease affects their students, their families and parishioners in the church. They have been a strong support of the Mississippi Sickle Cell Foundation, and we felt what better time than now to show our appreciation to them for the tireless efforts they have provided to us and the patients we serve."
The "Evening with the Sickle Cell Stars Gala" is Friday, Sept. 20, at the Country Club of Jackson (345 Saint Andrews Drive) beginning at 6 p.m. Tickets are $80 each, or $650 for a table of eight. For additional information and to purchase tickets, call the Mississippi Sickle Cell Foundation at 601-366-5874, or visit mssicklecellfoundation.com.
More stories by this author
Support our reporting -- Follow the MFP.