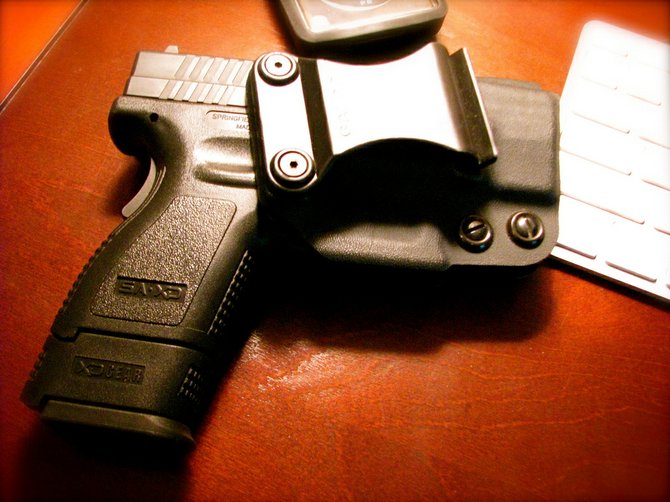 Jackson's civic leaders have watched the gun debate unfold since Gov. Phil Bryant signed House Bill 2 into law, effectively making the "open carry" of guns legal. Now, they're working to get ahead of the curve.
Before the Mississippi Supreme Court ruled to overturn Hinds County Circuit Court Judge Winston Kidd's injunction, which temporarily stopped the law from taking effect, Jackson's City Council President Charles Tillman had already introduced an ordinance that would ban weapons from a laundry list of public places in the capitol city.
The places the ordinance would ban guns and knives, with an exception for law enforcement officers, include: municipal property, including, but not limited to, City Hall, the Jackson Police Department, the Jackson Police Academy, all public parks, playgrounds, gyms, recreational facilities and fields the city maintains, all meeting places where public meetings of a county, municipality or other governmental body takes place, all political rallies, all parades, all official political meetings and all non-firearm related school, college or professional athletic events.
"Since the Legislature passed the law, there's been a lot of concern out in our community," Tillman said. "There's even concern among the people who serve the public, so we just want to clarify some things and make sure, as a city, that we are taking our own look at how we handle public safety."
Passed during the last legislative session, House Bill 2 states that individuals need not obtain a state permit to carry weapons. A permit would only be necessary to carry concealed weapons, under the law.
HB 2's sponsor, Republican Rep. Andy Gipson of Braxton, said state law already permits open-carry. He cites Section 12 of the Mississippi Constitution, which states that except for legislative regulations on carrying concealed weapons "the right of every citizen to keep and bear arms in defense of his home, person, or property ... shall not be called in question."
Gipson told reporters in April he doubts that his bill will result in more gun-toting citizens.
"Mississippians have more discretion than that," Gipson said.
State Attorney General Jim Hood agreed in his opinion. "To be clear," Hood wrote. "The mere fact that a person is openly carrying a weapon, whiteout anything more, does not give the officer grounds to detain that person, or to require him to submit to questioning."
The Magnolia State already has some of the most lax gun laws in the country. The state does not require background checks for transferring guns between private owners or require permits or registration of gun owners. Mississippi is also a national leader in gun deaths, ranking No. 2 in a 2010 analysis of gun deaths nationwide by the Washington, D.C.-based Violence Policy Center. Mississippi sees 6.9 gun murders for every 100,000 people, nearly double the U.S. average of 3.6.
Jackson residents endured 18 armed robberies from August 19 to August 25, bringing the grand total for armed robberies year-to-date to xxx.
But the ordinance, which will likely garner support from the six Democrats who sit on the City Council, will have at least one member in opposition. Quentin Whitwell, Ward 1, the lone Republican elected to public office in Jackson, said he believes reactions to the new law are due to a misunderstanding of it.
"I'm a firm believer in our constitution and the bill of rights," Whitwell said. "I think that in today's world, a lot of people are worried about weapons, but the real goal should be to get the guns away from the people who want to use them for criminal purposes.
"The real problem (with this ordinance) is this part about (reacting to) the 'open carry' law. We already have a state law that allows open carry, and I think there's a lot of misunderstanding about that. I'm not for anything that would destroy the constitutional fabric of the state of Mississippi or the United States."
Tillman said one of his main concerns is for the safety of Jackson Police Department officers, who he said have to enter dangerous situations on a day-to-day basis.
"When officers respond to a call, they enter situations, especially domestic situations, where they don't know who has a gun," Tillman said. "Officers sometimes have to use force to separate people, and if they pull up to a situations where everyone has a gun strapped to their waist, obviously that changes things. This ordinance will help protect them, at least in public places."
Jackson Police Department Assistant Police Chief Lee Vance said he doesn't feel like what the ordinance proposes is anything new.
"The action that the City Council is proposing is not a huge departure from what a lot of private entities have been doing," Vance said. "... I just think that, since this whole issue has come up, it's caused a lot of fear and anxiety from people I've come in contact with from all walks of life. Certainly, there are some police officers who fit into that category.
"Anytime you have guns, there's a greater potential for someone getting hurt. That's not opinion, that's just a fact. ... If (HB 2) is law, it's law; we'll have to deal with it the best we can until its amended or done away with."
The proposed ordinance is making its way through the City Council's rules committee, and could be ready for a vote by mid-September.
More like this story
More stories by this author
Support our reporting -- Become a JFP VIP.
The news business has changed dramatically in the past year, and we need your help more than ever to keep bringing you important stories about Jackson and the Metro. Become a JFP VIP with an annual membership or you can Sign up as a monthly supporter. Thanks for anything you can do to empower our journalism!