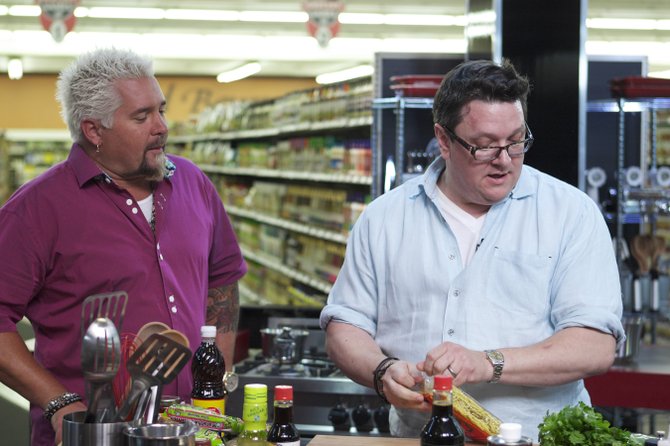 UPDATE: Tom Ramsey won his episode of "Guy's Grocery Games," taking home $16,000 for his prize.
The Food Network is premiering a new reality cooking show this weekend, and Jacksonians will recognize a familiar face on the fast-paced program. Tom Ramsey makes his network debut competing in "Guy's Grocery Games," hosted by Guy Fieri. Sunday, Ramsey will host a watch party at Hal & Mal's.
Ramsey, who sometimes freelances for the JFP, describes "Guy's Grocery Games" as a combination of the old game show "Supermarket Sweep" and the Food Network's cooking competition "Chopped." Four chefs compete, with a contestant eliminated each round. The winner can earn up to $20,000. Ramsey met with the JFP at his new restaurant, La Finestra, opening on Congress Street downtown the first week of November, to talk about his foray into television.
Tell me about your transformation as a chef.
Well, I was an investment banker for 13 years. It was a good career. I was good at it and had a lot of fun. There was no real problem with the job, but I have always had a desire to cook. I fed that passion through cooking for my friends and having parties and doing charity events, but I just always wanted to be a professional cook.
My wife, Kitty, really pushed me into it. We were watching the Food Network one night and she muted the TV and looked at me and said, "Just do it." I said, "Do what?" And she said, "Just go cook."
... So I did, and very quickly it clicked and worked really well for me. I've had a lot of success in a short period of time that I can only attribute to that I'm just lucky in trying to catch up. I've been cooking professionally for almost four years, and in that time, I've hosted a James Beard dinner with other chefs here. I've hosted a dinner (with other Jackson chefs) at the James Beard House in New York. Now, I've been on the Food Network. I've been published nationally for food articles. I've cooked on an international cruise. It's come together fast, and now I've got my own restaurant, so it's not slowing down.
This is your first Food Network appearance, but you've always had a sort of showmanship approach to your job, with YouTube videos and whatnot. Does that sort of thing come naturally to you?
I have a degree in theater and a degree in film. It's something I enjoy—I like being in front of people. I love the instant feedback. I'm the neediest guy in the room—you know, it's been fun talking about me, but now, let's talk about me some more. I guess it's just part of being a ham.
Do you hope the spotlight continues to be part of your path?
I do. I'm shooting a pilot for my own show for a production company on the west coast to pitch to a network. We're shooting that in mid-November down in New Orleans.
The show is a travelogue of me hanging out with and cooking with journeymen chefs. Not the guys whose names are in bold type, but the guys who work for them. John Besh's name may be on the restaurant, but he sure didn't cook your rabbit tonight. Bobby Flay's got a hundred restaurants under his name, but he is not making sure there are perfect grill marks on your steak.
Did anything surprise you about the experience of filming the show?
I was really surprised at how low-key Guy Fieri is. I was expecting him to drive up with a marching band and an Ed Hardy-design Lamborghini. But he was more low key—very, very professional, and really encouraging. He was a super nice guy—self-affacing and funny and humble, all the characteristics you'd like in a guy you'd want to sit down and have a beer with.
I enjoyed meeting the judges. They were supportive and nice and funny.
What about the competition itself? Is it pretty much like what you see in the final version on TV?
Once the competition starts, it's fluid. There's no stop-and-start (like during other parts of the filming process). If you've got 30 minutes, you've got 30 minutes. What they do have is lots and lots of cameras. I've never seen this many cameras on a shoot—handhelds and booms and static cameras. Because they can't stop it. So if they miss a shot with one, they'll pick it up with another.
Like any TV show, the conversation is start and stop, but the competition is straightforward. No smoke and mirrors. The clock starts, and it's hot, and there are bright lights, and it's really hectic. You've got to think on your feet. It was stressful, but in a fun way, and no more stressful than a Saturday night dinner rush.
What do you think the rise of these food reality shows and celebrity chefs has done for the industry?
It's elevated the job to something it never was before. It's elevated the job of chef to a local celebrity status, or if you really do well you can be a national or international celebrity. It used to be, when I was growing up, I knew the name of maybe three chefs. Even the best chefs I knew, I had no idea what their names were. Now they are household names, they are walking red carpets and marrying stars.
And part of that is, it's so easy for people to identify with what chefs do, even celebrity chefs. ... (Most people) feel they can get in a kitchen and get a pot and pan and follow a recipe. People don't think they can be Katy Perry or Mick Jagger. That's something so far beyond their comprehension. ... But being a chef, people do that every night, whether it's for themselves or their family or whatever. It's something that they can identify with the role of that person.
And if they try hard enough, they can really improve their chops. I don't care how much I try, I'm never going to dance like MC Hammer. It's never going to happen. But I went from home cook to a professional chef. And you don't have to be good looking or have hair like Fabio. It's like movie stars for common-looking people.
The premiere episode of "Guy's Grocery Games," featuring Tom Ramsey, airs on the Food Network Sunday, Oct. 20, at 7 p.m Ramsey is hosting a viewing party at Hal & Mal's (200 S. Commerce St., 601-948-0888) that night beginning at 6 p.m., where he will cook food from the episode.
Read about Ramsey's new restaurant at jfp.ms/lafinestra. La Finestra (120 N. Congress St.) is scheduled to open to the public Monday, Nov. 4, after soft openings starting Nov. 1.
More like this story
More stories by this author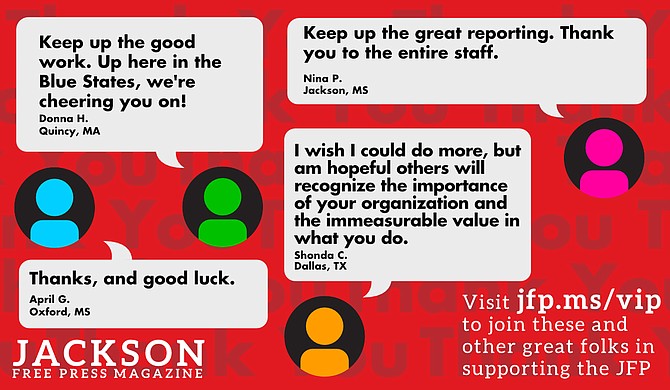 Thanks to all our new JFP VIPs!
COVID-19 has closed down the main sources of the JFP's revenue -- concerts, festivals, fundraisers, restaurants and bars. If everyone reading this article gives $5 or more, we should be able to continue publishing through the crisis. Please pay what you can to keep us reporting and publishing.