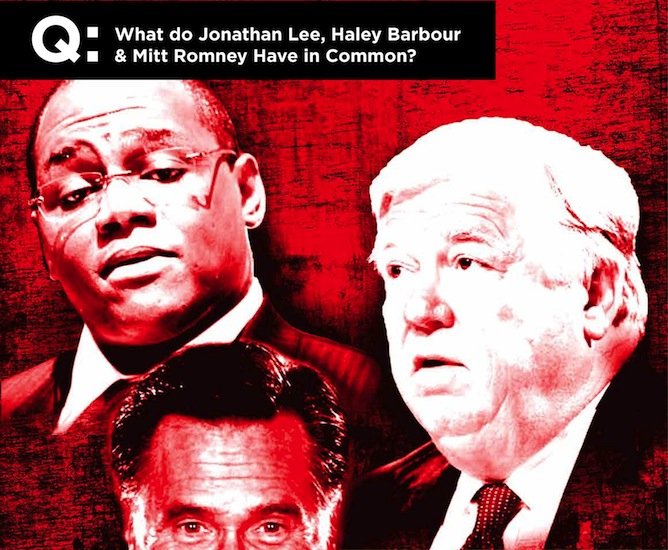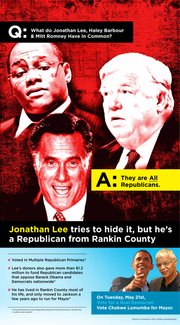 JACKSON — Supporters of men who are vying to be Jackson's next mayor were busy over the weekend with last-minute election trickery, some anonymous and some not, with much of it targeting church parking lots while people worshipped inside.
A campaign flyer, listing the Chokwe Lumumba campaign as its source, openly tried to paint opponent Jonathan Lee as "a Republican from Rankin County" in a four-color flyer paid for by his campaign committee, placed on car windows outside at least one church Sunday morning. The flyer ironically used a long-time Mississippi Republican trick of placing a picture of the opponent next to prominent members of the opposing party with Lee's photo next to Mitt Romney and Haley Barbour. (Past signs, such as at the Neshoba County Fair, and flyers by the GOP here have placed state candidates like Ronnie Musgrove next to photos of Barack Obama, Hillary Clinton and Bennie Thompson.)
The Lumumba campaign said this morning, however, that it did not produce the flyer as it indicates. "The committee to Elect Chokwe Lumumba has not produced any material against Jonathan lee. We did not produce any information or commercials," Lumumba's son, Chokwe Antar Lumumba, told the JFP.
"We are allocating our resources to getting a message to the people. We don't have $300,000 on hand to be producing things against Jonathan Lee. ... That's a promise: we have not produced anything about Jonathan Lee."
This flyer, calling for people to "vote for a real Democrat," used information published by the Jackson Free Press to make Lumumba's case that Lee is a Republican even though he "tries to hide it." It attributed to a May 5 JFP report the assertion that Lee had "voted in multiple Republican primaries," that his donors had given $1.2 million "to fund Republican candidates that oppose Barack Obama and Democrats nationwide" and that he "has lived in Rankin County most of his life, and moved to Jackson a few years ago to run for mayor."
There is truth in those assertions, but the flyer producer took liberties with the JFP factcheck report. Records do not show that Lee voted Republican in multiple primaries, but in one primary and the following runoff in the 2009 Republican primary when Barbour was running for reelection. He confirmed to the JFP that he had voted "for a neighbor" in a Republican primary in Rankin County, but could not recall the name.
The JFP also did not say that Lee is "from" Rankin County. He was born in Jackson and lived here about a decade before his family moved to Rankin County. The next time he lived in Jackson was when he moved back here four years ago. The JFP also did not say he moved back in 2009 in order to run for mayor. We have no way of knowing that.
Finally, it is true that Lee's donors have given $1.2 million to federal Republican candidates and PACs since 2008.
Asked about the fact that the flyer cites information from the JFP that Lumumba has used in debates, Lumumba's son responded: "We've mentioned the fact that he has received things from Republican donors. That's public information."
The Lee supporter who provided the flyer to the Jackson Free Press declined to comment and asked to remain anonymous.
Document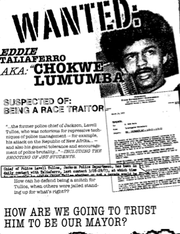 The same morning saw a very different kind of flyer placed on windshields outside churches accusing Lumumba of being a "race traitor." This flyer was a crude black-and-white flyer of the sort we've seen distributed at the last minute in previous campaigns. It was fashioned as a "wanted" poster accusing Lumumba of being a "snitch" for a former police officer against the Republic of New Afrika in 1973, with a poor reproduction of a letter from the Mississippi Sovereignty Commission files and a photo of Lumumba taken from the Sovereignty Commission files "How are we going to trust him to be our mayor?" the flyer asks. (In the Sovereignty files, all files flagged Chokwe Lumumba are here.)
Lumumba's son, Chokwe Antar Lumumba, said today that the flyer is "classless, it's inaccurate."
"It presents a contradictory message: either my father is an extreme black militant to be feared or he's a race traitor," he added. "He's never been a police informant. They can't say on one hand he's a black militant who hates the police and on the other say he's a police informant." Lumumba said he knows the flyer was placed on cars outside College Hill Baptist Church.
The letter is distorted on the flyer so you can only read a sentence they call out of context. But when read on the Mississippi Sovereignty Commission site, you quickly see that Lumumba was simply informing the police of when the rally would be held, which happened all the time during the Civil Rights Movement. In other words, the sound bite is pulled out of context and completely distorts the letter.
The JFP received a copy of the flyer Sunday night from two different sources. One of them was Cassandra Welchin, who found the flyer on her car after the 8 a.m. services at New Horizon Church. "At the end of service we find this flier and Jonathan's push card on our cars. Not all cars had the flier, but all had the push cards. This is low and, and it seems desperate," she told the JFP.
Both Lumumba and Lee had spoken at the service, Welchin said. "(Bishop Ronnie Crudup) gave each of them an opportunity to speak, and they did. We thanked them for coming, and Crudup even called them up during the service to pray over them and their families. It was very sweet. Crudup released them to go, and I walked out to hug both candidates and their families. But when I got to my car, I was very disappointed in his strategy and even more angry to imply that Mr. Lumumba's a sell out to the African American community, his culture, convictions and lifelong work that so many of us including Lee have benefited from. It's telling of the immaturity of Lee!" Welchin said.
Lumumba's son, as well as a second source, told the Jackson Free Press that a perennial campaign operative, Bob Hickinbottom, has been passing out the flyers recently, as well as speaking out on behalf of the Lee candicacy on 90.1 FM. The JFP first learned about HIckinbottom in our coverage of Frank Melton's campaign during which he routinely appeared on local radio shows to criticize opponents; he later became a paid member of Melton's staff, as we reported here. We have not confirmed that he passed out these flyers, however.
The JFP sent a message to the Lee campaign seeking a response about the flyer and Hickinbottom's role, if any. The campaign has refused to respond to the Jackson Free Press in recent weeks and has not yet responded to our message for comment for this article.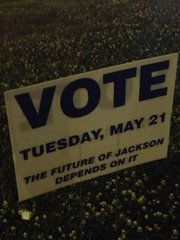 The other mysterious effort that emerged over the weekend appeared much more innocent. On Saturday, JFP readers noticed that white "VOTE" signs were appearing around Fondren, Belhaven and northeast Jackson, adding that "The future of Jackson depends on it." Readers wanted to know if the signs were just targeting Wards 1 and 7, wards with the highest proportion of white voters and parts of the city where Jonathan Lee did best in the May 7 primary.
A drive through midtown, south Jackson and west Jackson Sunday afternoon did not reveal any of the signs outside northeast Jackson, Belhaven and Fondren west of North State Street or above Pine Hill Street. The JFP issued a call in social media to learn who put the signs out, but so far have gotten no response. They do not include any kind of attribution on the sign.
A reader did forward an email from the Lee campaign, however, that indicated that Ward 1 could make or break the election for Lee and that it is the primary focus for get-out-the-vote efforts:
Please allow me to introduce myself: my name is Jordan Sudduth and I am organizing the Get Out The Vote in Ward 1 (NE Jackson) for the Jonathan Lee for Mayor campaign. I was born and raised here in Jackson, and after graduating from Jackson Academy in 2004 and Ole Miss in 2009, I have spent a good amount of time in politics, both in D.C. and Mississippi. In the campaigns I have either managed or assisted I have always been a "numbers guy", so let me assure you I am not messing around with what I am about to tell you. Simply put, this mayoral election could very well hinge on voter turnout in Ward 1 (NE Jackson). For example, Precinct 46 (which votes at Christ United Methodist Church) has a total of 3200 registered voters; however, only right over 1000 people voted in the initial primary back on May 7. The only possible way to reach those 2200 other voters is by contacting them. I am asking you to please volunteer for the campaign, for Jonathan, and for the future of our city.
At this point, voting is not enough; we MUST increase turnout. Call me immediately to get on board; let's not be regretful on Wednesday morning...
-Jordan Sudduth

Jordan W. Sudduth
, Jonathan Lee for Mayor of Jackson
If you have received campaign materials using these or similar tactics, please email them to [email protected]
R.L. Nave contributed to this story.
Support our reporting -- Become a JFP VIP.
The news business has changed dramatically in the past two years, and we need your help more than ever to keep bringing you important stories about Jackson and the Metro. Become a JFP VIP with an annual membership or you can Sign up as a monthly supporter. Thanks for anything you can do to empower our journalism!