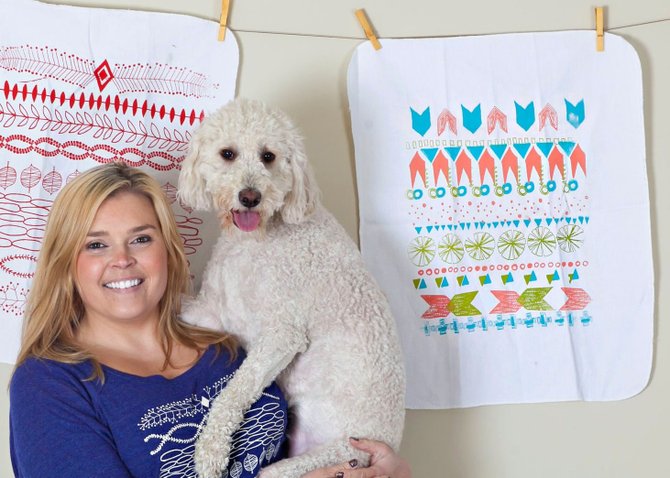 Thimblepress Expands
Kristen Ley opened Thimblepress--a combination letterpress, art, sewing, design and woodworking studio--in Jan. 2012. She named the shop for her collection of thimbles; she has one for each state she has visited.
This April, Ley acquired two new letterpresses for her business, and she has made preparations to open a new retail shop and studio at 113 N. State St. in July.
Before opening her shop, Ley will attend the National Stationery Show in New York City at the Javits Center (655 W. 34th St., New York), May 19 to May 22. Her booth number is 2167 and will feature hand-built walls by her friends, local Jackson architects Neil Polen and Colby Dearman.
For information on the Thimblepress, visit the studio's online store.
Auction for Edison Walthall Hotel
A May 22 online auction will determine the future of the eight-story Edison Walthall Hotel, a downtown Jackson landmark. The building opened in 1927 as a three-story bakery. The original owners converted the property into a hotel in 1928 by adding five floors.
The hotel has been closed since early 2010 after burst water pipes extensively damaged the lower floors.
The St. Louis-based Roberts Hotel Group, owners of Jackson TV station CW34 and radio station 97.7FM WRBJ, bought the hotel in 2008 with plans to invest $10 million in upgrades. The organization invested $7.5 million into renovations for some of the top floors before the water damage occurred. The Roberts Group failed to have the 205-room hotel included in a bankruptcy filing, after which the property went to Lee Katz, an Atlanta specialist who finds buyers for distressed properties.
The auction includes the 100,000-square-foot hotel, its four-level, 200-space parking garage, and all the furnishings. Tax records put the appraised value at $3.79 million, though its assessed value for tax purposes is $569,261.
Outlets of Mississippi Groundbreaking
State and local government officials are joining Spectrum Capital and Yates Construction project executives Thursday, May 9, at 10 a.m. to mark construction of the Outlets of Mississippi, the state's largest outlet shopping mall. Officials will reveal names of additional brands that will join the current roster of more than 80 stores at groundbreaking ceremony.
The 325,000-square-foot complex, located at 200 Bass Pro Drive in Pearl, is expected to bring 1,600 permanent jobs to the region. The Outlets of Mississippi's grand opening is scheduled for November, just ahead of the holiday shopping season.
For information, contact Sue Helondovitch at 973-588-3979, 973-610-4763 or email [email protected].
Blogging 101 Webinar for Small Businesses
On Wednesday, May 8, the U.S. Small Business Administration and the W20 Group, a group of entrepreneurial digital-communications companies, will present Blogging 101, the second topic in the five-topic social-media webinar series running through June. The webinar's goal is to help small business owners create content to connect with their customers and market their products.
The Blogging 101 webinar is from 1 to 2 p.m., and include topics such as: what blogging can do for your business, what to blog about, what blogging tools are available and more.
Future webinar topics include: Creating Content for Facebook, YouTube and Twitter; Identifying and Connecting with Your Influencers; and Getting Started with Mobile and Location-based Marketing.
All webinars in the series are free and space is limited. To register, visit the SBA's website.
Support our reporting -- Follow the MFP.