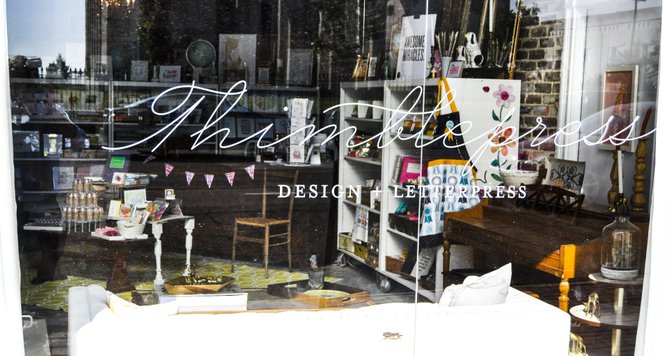 Local design and letterpress company Thimblepress is a finalist in the 2014 Martha Stewart Living American Made Awards. The American Made Awards honor makers, small-business owners, and creative entrepreneurs in the fields of crafts, design, food and style.
The executive editorial team of Martha Stewart Living serves as category judges and oversees the selection process. Stewart herself is head judge and makes the final picks. The judges base their selections on the following criteria:
Innovativeness, demonstrated creativity and originality of idea
• Originality and level of creativity
• Clearly identifiable customer need
• Customer value and usability
Workmanship
• Quality of materials used
• Attention and care paid to product details and/or customer satisfaction
• Level of craftsmanship involved in production
Appearance
• Unique design aesthetic
• Visual appeal of product packaging
• Compelling logo and/or typography
Embodiment of American Made theme
• Use of local components and processes
• Engagement of local community
Kristen Ley, owner of Thimblepress and a lifelong lover of art, opened the shop in 2011 after purchasing a 1925 10 x 15 Chandler & Price antique printing press. Ley derives her store's name from her collection of thimbles from travelling across the U.S. Every time she went to a new state, she purchased a thimble to mark her visit. The collection remains in her office to this day. Ley has acquired two additional antique printing presses since opening her shop.
Thimblepress offers a range of products, including greeting cards, banner kits, push-pop confetti and party hats. The store also specializes in custom design work, hand lettering and illustration, and offers design services for weddings, parties, holiday occasions, stationery, brands and businesses.
Thimblepress (113 N. State St., 601-351-9492) is open Monday through Friday from 10 a.m. to 6 p.m. and Saturday by appointment only. To vote for Thimblepress in the American Made Awards, visit Thimblepress' nominee page.
Voters can register six votes a day until Oct. 15. Learn more about Thimblepress at the store's website.
Multigenerational Playground Coming to Jackson Medical Mall
On Oct. 4, insurance company Humana and nonprofit group KaBOOM! are coming to Jackson to build a new multigenerational playground. A team of around 200 volunteers will complete the construction of the 43,740-square-foot playground at the Jackson Medical Mall Foundation Lot in just six hours. The collaboration is in its fourth year and has produced 50 playgrounds. KaBOOM! has also built more than 2,500 playgrounds since its founding in 1996.
The Jackson Medical Mall is considered the only facility of its kind in America that provides quality health care, human services and retail in one space. The Jackson Medical Mall Foundation has long planned to build a playground in an economically distressed African American community, where many residents struggle with poor health. The new playground will feature traditional kid-friendly equipment as well as walking paths and fitness stations designed for adults. This will allow both children and adults to engage in physical activity and reduce health risks such as obesity, high blood pressure and diabetes.
KaBOOM! makes sure that each playground is designed in part by kids who live in the area. In early summer, local kids were asked to design their dream playground and drew lots of slides and monkey bars in addition to nontraditional equipment such as zip lines, roller coasters, a haunted house, aquatic shows and an underground tunnel.
The Humana Foundation supports KaBOOM!'s Playful City USA initiative, which aims to spread the community playground movement across the U.S. For more information, visit playfulcityusa.org. Learn more about Humana at humana.com and KaBOOM! at kaboom.org.
Mississippi is the Top State for Physicians
Norwalk, Conn.-based Physicians Practice recently compiled its annual list of the "Best States to Practice," and chose Mississippi for the second straight year as No. 1 for physician-friendly locales to practice medicine, the Mississippi Business Journal reports.
Physicians Practice bases its decision on factors such as cost of living, disciplinary actions taken against physicians, tax burden per capita and physician density. States that consistently finish in the top 10 for each of the six qualitative categories comprise the rankings.
Mississippi finished at the top of all U.S. states and the District of Columbia, with Alabama, Texas and Nevada rounding out the top four states. Tennessee, South Carolina, Indiana, South Dakota, Arkansas and Oklahoma made up the remaining top 10.
Mississippi's key winning factors were low rates of physician density, cost of living, low tax burden and low malpractice payouts.
In addition to highlighting the four top states in its October journal, Physicians Practice also offers information online for medical practitioners to make their own determinations on the best location for them. A clickable map of the U.S. allows users to view the data points for each state and the District of Columbia, and then use the "Find Your Best State" tool to assign different weights to the metrics and sort the most physician-friendly states based on personal preferences.
Support our reporting -- Follow the MFP.