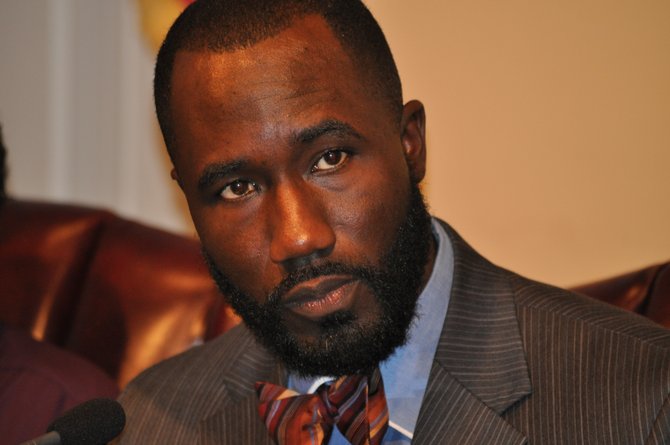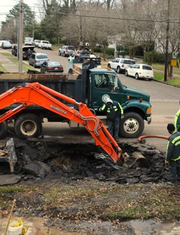 In February 2013, the Jackson City Council voted down a proposal to pave streets.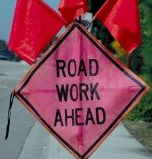 After Mayor Johnson returned to office in 2009, he spent money that Frank Melton never bothered to spend on paving around the city.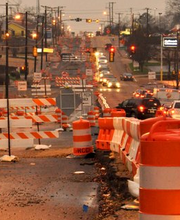 Rural Mississippi legislators killed a bill to allow Jackson voters to decide to use a local-option sales tax to fund paving and infrastructure needs.
JACKSON — After voting down a $10 million bond issue to repave Jackson streets just a month ago, the Jackson City Council voted Monday to capitalize on low interest rates and borrow $10 million to $12 million to be paid back over 10 years. The work will be conducted in all seven wards and could start as early as this summer.
The measure passed 3-1, with the lone opposition vote coming from Ward 2 Councilman and mayoral candidate Chokwe Lumumba. He asserted that he was more likely to vote for the bond this time around, but ultimately favored sending the motion back to the budget subcommittee.
"The thing that makes me feel a little bit different about this than the last time we broached it is the explanation of the interest rates and how they might change, so I think it's important to note that we should take advantage of those," Lumumba said. "On the other hand, my slogan is that the people must decide and so what I'm trying to do is make sure that the people have a voice on this issue, because it is a question of putting the city into some additional debt on top of the $27 million, and I believe we already refinanced some of that, that the city already has."
Lumumba also pointed to the absence of three council members--Ward 3 Councilwoman LaRita Cooper-Stokes, Ward 4 Councilman and mayoral candidate Frank Bluntson, and Ward 5 Councilman Charles Tillman--as reason to shelf the issue until the next full meeting of the council. He noted that the four representatives in attendance were the minimum required to call a vote, and that such a significant motion should not be voted on in a "special session."
But the special meeting had been on the books since before the new year, and City Council President Tony Yarber called the vote anyway.
"Councilman Lumumba, typically I would agree with you on that," he answered. "The reason I do not, at this point, is that we've had issues getting folks to come to work over the past three months, and I'm not so sure we should be bidding to people who don't come to work, and hoping they come to work next time. You come to work, and I come to work, and we're going to vote on this today."
The bond is to be paid off over a 10-year period with the money allocated to normal street resurfacing, and Ward 1 Councilman Quentin Whitwell expressed his concerns over diverting all of the city's funds to repaying that debt. Johnson addressed that concern by assuring the council that money would be diverted from other areas to refill those resurfacing funds so that work can continue over the next decade.
In a city constantly strapped for cash, Jackson has spent $10 million to pave 87.3 miles of streets in the past three years. That's good enough to cover roughly 7.5 percent of the nearly 1,200 miles of streets Mayor Harvey Johnson Jr. says lie within the city limits.
City spokesman Chris Mims told the Jackson Free Press today that the city has spent $26 million since 2009 to repave 87.3 miles of streets, replace critical bridges, install sidewalks and provide matching dollars on major road construction projects receiving federal funding.
Johnson held a teleconference town-hall meeting last week, and in a poll of the more than 3,500 participants, roads rated as the top concern, just ahead of crime. Johnson seized the opportunity to tout his record on reconstruction and paving and talked about future projects he has planned.
"In the past three years, we've paved 87.3 miles of street," Johnson said. "We also have $25 million reserved for reconstruction of major thoroughfares."
The previous proposal the city council voted down would have allowed the city $10 million for street repairs in February. The lack of oversight and a list of streets to see construction were among council concerns. Ward 4 Councilman Frank Bluntson said he was concerned the proposal allowed funds to go beyond streets and sidewalks, and Ward 1 Councilman Quentin Whitwell said the annual millage would have to go toward repaying the bonds for the next 10 years if the proposal passed. That, he said, would take away all of the council's power over street projects.
"(A bond) is not the best way to pay for street repairs, but our streets are in such a condition that we need a big injection of cash," Johnson said last week. "I had proposed to the city council a $10 million bond issue to pave about 40 miles of streets in the city. What I was proposing is work on three or four major thoroughfares in the city of Jackson, like State Street between Shepherd and Northside Drive, or Northside between State and (Interstate 55) or Capitol (Street) between Rose and Crandit ... That's what I was proposing, but that was rejected.
"I still want to do that. We need to do something about streets right now. I am prepared to do it, but I really need some cooperation from the city council to do it."
Johnson got that cooperation on Monday, but even prior to that vote, the work has been constant and is still ongoing.
City Crews finished work Monday on repaving the intersections of State Street and Rankin Street, as well as West Street and South Street.
The projects included in Monday's bond bill include work on high-traffic areas on Mill Street, Jefferson Street, Mayes Street, Ellis Avenue, McDowell Road, Capitol Street, Clinton Boulevard, Robinson Road, Lynch Street, Northside Drive, State Street, Watkins Drive, Flag Chapel Drive, Meadowbrook Road and Ridgewood Road.
The release also announced the mayor's plan to repave 28 more streets as part of the regular Residential Resurfacing Program by the first week of April.
---
Editor's Note: After this story appeared in the Daily today, it was edited for two reasons: (1) It led with information about a van that was not adequately explained and was supposed to have been cut before publication and (2) to add more information about the mayor's recent history with street paving that city spokesman Chris Mims emailed after the story appeared. That email stated:
"We have spent $26 million since 2009 to repave 87.3 miles of streets, replace critical bridges, install sidewalks and provide matching dollars on major road construction projects receiving federal funding."
More like this story
More stories by this author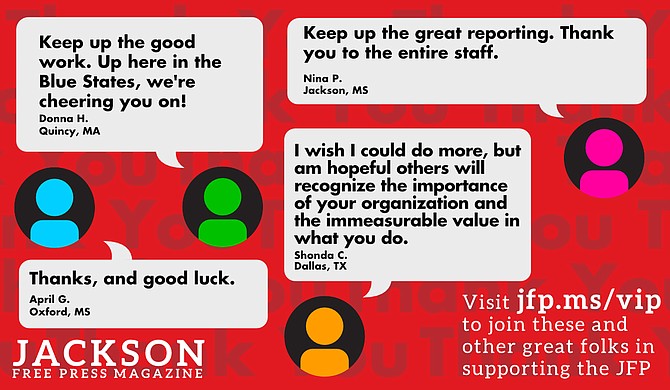 Thanks to all our new JFP VIPs!
COVID-19 has closed down the main sources of the JFP's revenue -- concerts, festivals, fundraisers, restaurants and bars. If everyone reading this article gives $5 or more, we should be able to continue publishing through the crisis. Please pay what you can to keep us reporting and publishing.