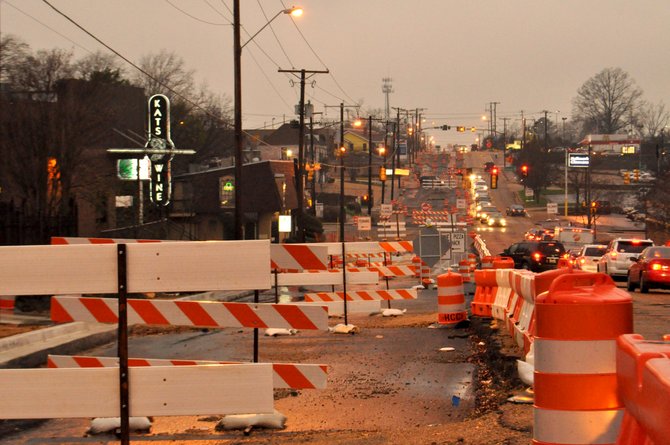 Jackson's efforts to pay for infrastructure improvements may be stalled in the Mississippi House of Representatives. The Citizens for Economic Development Act, or HB 523, would let municipalities impose a 1-percent tax in addition to existing sales taxes if 60 percent of the city's citizens vote to do so.
Under the proposal, the city would have to use the money for a specific project, and it would sunset as soon as the project is complete.
Morton Mayor Greg Butler said the local-option sales tax would help cities make needed repairs and pointed out the price of asphalt and PVC-pipe has tripled in recent years due to spikes in the price of oil, an ingredient in both materials.
Mayors around the state also want to give their citizens the power of self-determination. The city of Jackson is once again on board with the idea of the local-option sales tax, which is a centerpiece of the city's legislative agenda.
"Mississippi can ill afford to continue to fall behind in maintaining its infrastructure," Butler said at a press conference.
Tone S. Garrett, executive director of the Mississippi Asphalt Pavement Association, said that lack of government funding severely affect the businesses his organization represents.
Opposition from rural lawmakers has killed past attempts to legislate a local-option sales tax.
Those legislators believe the tax is burden on people who commute into cities to shop, but do not reap the full benefits of the projects the tax funds.
Corinth Mayor Tommy Irwin, a former executive at a North Carolina carpet company, called the local-option sales tax a "good tax" that would make cities more appealing to new businesses.
"If I want to attract industry, I've got to get my city looking good," Irwin said.
Tax Giveaways Continue
On Monday, Feb. 25, the House approved a tax break for manufacturers and farmers worth $6.9 million. Under the plan, HB 844, which Rep. David Baria, D-Bay St. Louis, eventually amended to include fishermen, the industry would be exempt from paying 1.5 percent sales tax on fuel and electricity costs.
When Democrats grumbled about needlessly taking $7 million out of the state's coffers, Rep. Mark Formby, R-Picayune, responded by saying in the state should lower taxes on certain businesses to spur job creation.
"If we incentivize one new Nissan, it will more than make up for the whole thing," Formby told the House Monday. Since coming to power in 2011, Republicans have systematically rolled back a number of taxes worth millions of dollars in revenues to create a what they consider a more business-friendly environment. 
 Last year, lawmakers dismantled the state inventory tax. This year, lawmakers approved a $24 million tax credit for a long-planned outlet mall in Pearl, and more tax breaks are likely on the way.
The Mississippi GOP's affinity for slashing taxes stops at business's front door, however. After Baria's amendment succeeded, other Democratic-sponsored amendment to exempt individuals and small businesses failed at Formby's urging.
"If we're going to take care of the big boys, we need to take care of the little boys too," said Rep. John Hines, D-Greenville.
Hunger Games
The annual budget for the Mississippi secretary of state's office met a surprising snag last week over voter ID last week.
On an otherwise uneventful Thursday of moving through a list of funding bills for various state agencies, Sen. Eugene Clarke, R-Hollandale, brought up the SOS' $15.3 million budget just before lunch.
Senators questioned one provision to allocate up to $695,000 for voter ID litigation, the Associated Press reported. The U.S. Justice Department is now considering the constitutionality of Mississippi's voter-ID law, which voters approved in November 2011.
When it was time to vote, the measure failed 23-17; 11 senators were absent. Clarke, who chairs the Senate Appropriations Committee, explained to the Associated Press and other reporters after the vote: "I think some of them went to lunch early, to be honest."
On Feb. 26, the Senate revisited the Mississippi SOS's budget, and passed it.
Medicaid Expansion Roster Grows
The list of people who want to expand Medicaid, in Mississippi and across the nation, continues to expand. On Feb. 22, the Mississippi Chapter of the American College of Physicians sent Gov. Phil Bryant a letter Friday urging him to rethink his opposition to expanding Medicaid to cover up to 330,000 more Mississippians.
"Mississippi will greatly benefit by accepting federal dollars to extend Medicaid, and Mississippians will be harmed if it does not," the letter reads.
The organization's emdorsement of Medicaid expansion joins other health-care providers who have also voiced support for Medicaid expansion, allowable under the Obamacare. Mississippi Catholic Charities, the Mississippi Academy of Family Physicians, the Mississippi Hospital Association as well as several individual hospital executives have also called on lawmakers to expand the program.
Even Bryant's fellow Republican governors seem to be having a hard time turning a blind eye to the benefits of expansion, which could attract up to 9,000 jobs to Mississippi. Last week, Florida Gov. Rick Scott, who had been an adamant anti-Obamacare crusader as Bryant has, reversed course to support Medicaid expansion as long as the state can privatize its entire Medicaid system.
Finally, Gov. Chris Christie of New Jersey, who campaigned for Bryant in 2011, also paved the way for Medicaid expansion in his budget proposal. Christie makes the eighth Republican governor to buck the party orthodoxy. The Mississippi House has killed both the House and Senate Medicaid reauthorization bills in order to have a debate on expansion; the fate of Medicaid, which is set to expire July 1 if the program is not reauthorized, remains unclear.
Comment at www.jfp.ms. Contact R.L. Nave at [email protected]
More stories by this author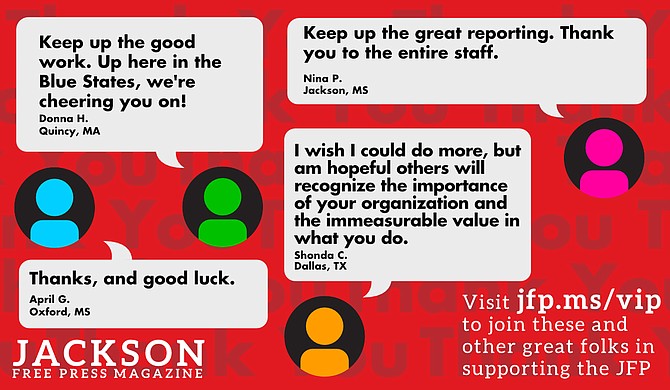 Thanks to all our new JFP VIPs!
COVID-19 has closed down the main sources of the JFP's revenue -- concerts, festivals, fundraisers, restaurants and bars. If everyone reading this article gives $5 or more, we should be able to continue publishing through the crisis. Please pay what you can to keep us reporting and publishing.