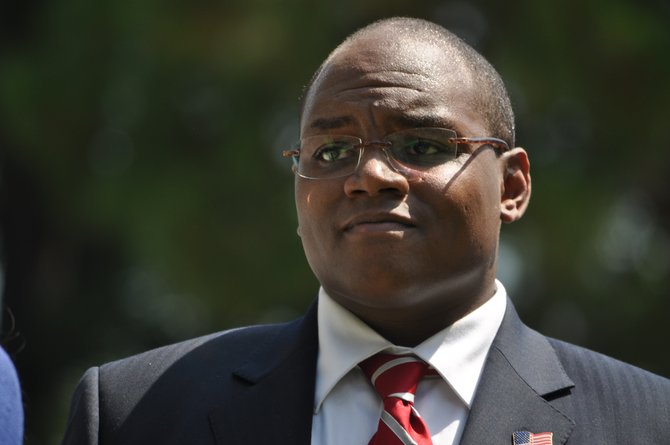 Campaign-finance transparency has been a hot-button issue around the country, and Jackson appears to be a shining example of why reform—or enforcement—is needed.
Municipal records show that just two of the 14 candidates for the office of mayor, incumbent Harvey Johnson Jr. and Jonathan Lee, raised or spent money on their campaigns in 2012.
One of those candidates, attorney and developer Regina Quinn, had a non-profit incorporated with her name on it July 18, 2012. Quinn's husband, John Richard May Jr., also an attorney, incorporated "Jackson United" to Elect Regina Quinn Mayor, for the purposes of "Political Advocacy and Public Education."
Mississippi code prohibits incorporated committees, associations and companies from contributing more than $1,000 per year, directly or indirectly, to a candidate or the candidate's committee. Those entities are also prohibited from contributing more than $1,000 annually to any political party. The penalty for such action is a fine of no less than $1,000 or more than $5,000 against the corporation.
Reached by phone Tuesday afternoon, May disputed whether the law prevents the incorporated organization from serving as the fund-raising arm of Quinn's campaign.
He said he received conflicting reports from the secretary of state's office regarding the legality of the political maneuver, but added that he was confident that everything the campaign had done was legal.
"If you look at the statute, there is nothing there that prohibits the organization from raising money for Regina's campaign," May said. "It was set up as a non-profit so if we decided to drop out or the election turned out unfavorably we could give any excess money to charity."
Of the two candidates who filed the reports required under state election laws, Johnson has a lead in fundraising by far. But Lee's war chest is nothing to scoff at, even if he has only been raising funds since June 6.
The Democratic challenger raised $54,349 between June 4 and Nov. 29, 2012, through his political committee, Friends of Jonathan Lee. The campaign spent $41,766.88, including $12,700 to Hendrix and Dometz Solutions, the company of Lee's campaign manager Tyrone Hendrix, and $9,500 to JW Turner Consulting.
But that's where the clarity stops.
Another political-action committee, Jackson 20/20, raised $25,925 between Feb. 18 and April 17, 2012, and paid out a total of $17,600 to Hendrix and Dometz Solutions, and JW Turner Consulting between Feb. 21 and July 1.
The stoppage of payments from the PAC Jackson 20/20 and the beginning of those from Friends of Jonathan Lee seem to coincide, but Hendrix, both the sole proprietor of Hendrix and Dometz and campaign manager for Jonathan Lee, says the PAC and Lee's campaign are not affiliated.
"We started the PAC earlier in the year because we saw Jackson headed in the wrong direction," Hendrix said Tuesday. "We started raising money, and then when Jonathan announced his candidacy, I left the PAC and began raising contributions for him."
The timeline fits, but the ties between Jackson 20/20 and Friends of Jonathan Lee appear to be close.
The biggest contributor to Jackson 20/20 in 2012 was prominent businessman and former Jackson State University professor William Cooley and his family, who gave $4,000, collectively, on March 21, 2012, according to the report. Cooley was also the biggest contributor to Friends of Jonathan Lee in 2012, giving $4,000 between July 18 and Sept. 16.
"Jackson 20/20 was started by a group of folks including a couple of guys who are now working for me," Lee said Tuesday. "They put together a PAC to elect progressive politicians in municipal races in Jackson. As I understand it, not only are they making donations to mayoral candidates, but they are giving money to city council candidates as well."
In all, four of Jackson 20/20's 29 contributors showed up on Lee's donor list, but those four made up more than 20 percent of all the money raised by the PAC in its short, two-month period of activity. Since Friends of Jonathan Lee was started, those same four contributors have given a total of $6,250 to his committee.
"I am one of the candidates they are going to endorse," Lee said. "There's no doubt about that, and I hope they contribute more money in the future. But the way I understand it, I am not the sole candidate at all. The idea is this group of folks wanted to get together to support progressive candidates."
As of Jan. 31, 2013, the PAC had not donated to any candidate for the mayoral or city council races.
Other major donors to the PAC include well-known businessman Leland Speed and several prominent Jackson lawyers.
Hendrix said Tuesday he is no longer affiliated with Jackson 20/20, but there is no surprise there—it's hard to find anyone who is.
Local realtor Mike Lewis is the treasurer listed on the campaign-finance report the PAC submitted Jan. 31, 2013. Reached by phone Tuesday morning, Lewis could not say whether or not he was still treasurer of the PAC, and referred questions to Democrat and attorney Dorsey Carson.
Carson was in Washington, D.C., Tuesday morning and did not immediately return multiple calls to his cell phone.
No law prohibits political action committees from raising or spending money on a particular candidate, but there is a law against not filing a report if a campaign raises or spends $200 or more in a calendar year.
Phone calls to the office of candidate Chokwe Lumumba, who announced his candidacy long before the mew year but has not filed a report, were not returned by Tuesday.
Aaron Banks, a spokesman for the campaign to elect Regina Quinn, said Monday that the paperwork for her report was being prepared to be submitted later this week.
"I think it speaks to the idea that there are serious candidates that are interested in transparency and operating in a way that complies with the law," Lee said. "The law requires that you follow the rules, and I believe in following the rules. I was disappointed to find that certain other campaigns weren't, but as I understand it, the law requires you to report if you raise money or spend money, and we have tried to comply with the law."
Mayor Harvey Johnson Jr. reported contributions of $108,969 to his political committee Friends of Harvey Johnson between Aug. 10 and Dec. 31, 2012, with $49,800 coming in December alone. His biggest donor of 2012 was Robert Agbede, president and CEO of Chester Engineers of Pittsburgh, Pa. Agbede contributed $4,000 on Dec. 26.
Johnson spent $16,220.62 in 2012, but reported a cash-on-hand total of $107,442.
The next round of campaign-finance reports are due Tuesday, April 30, and must include everything raised from Jan. 1, 2013, through April 27.
Read mayoral candidate interviews at jfp.ms/mayorsrace.
See campaign reports filed to date for Jackson City Council candidates in the JFP's document morgue.
Read interviews to date with Jackson mayor candidates here and Jackson City Council candidates here.
Comment at www.jfp.ms. Email Tyler Cleveland at [email protected].
More stories by this author
Support our reporting -- Follow the MFP.