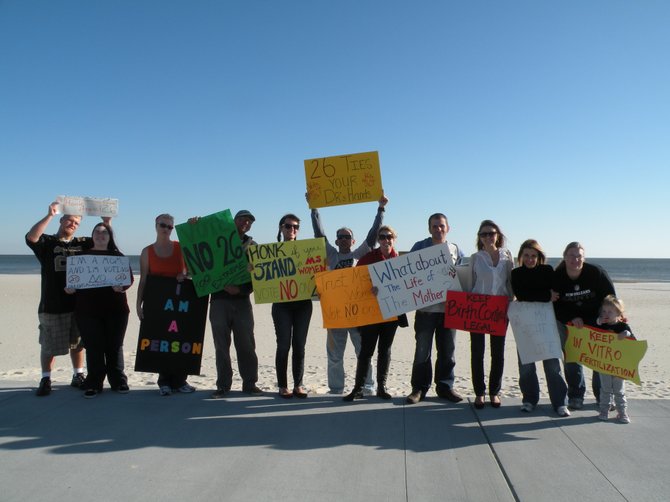 Not satisfied with taking "no" for an answer from the state's voters, Personhood Mississippi has teamed up with the Christian ultra-conservative American Family Association to take another shot at changing the definition of a person in the Mississippi Constitution.
In 2011, the state's voters defeated a Personhood ballot initiative at the polls by 16 percentage points, 58 to 42. The initiative stated, "The term 'person' or 'persons' shall include every human being from the moment of fertilization, cloning or the functional equivalent thereof."
That wording confused voters, Personhood Mississippi's Les Riley indicated during a March 5 conference call to introduce a newly minted ballot initiative. Under state law, initiatives proposing the same, or essentially the same changes to the constitution can be resubmitted to the voters two years after a defeat at the polls.
"The right to life begins at conception," the new initiative states. "All human beings, at every stage of development, are unique, created in God's image and shall have equal rights as persons under the law."
"I don't think it makes any difference," said Felicia Brown-Williams of Planned Parenthood in Hattiesburg of the new language. "(Personhood Mississippi) has said explicitly that their goal is the same, and that what this would do is the same as it would do last time. To that, we say, the voters have responded to this already. They said no. They said no with 58 percent of the vote. That's not an insignificant rejection."
Regarding Riley's statement that voters were confused, Brown-Williams said: "I find that to be disrespectful and a little insulting to Mississippi voters. Voters were not confused about this issue at all. They were concerned and, because of their deep concern over unintended consequences and the problems that could potentially arise from this policy, they rejected it."
Those problems reach into every area of women's reproductive health and medical treatment, Brown-Williams said, from infertility treatments to services for women with difficult or dangerous pregnancies, and abortions for victims of rape and incest.
"Who should be able to make these decisions for women and families?" she asked. "Mississippians said that certainly wasn't politicians or the government."
During the call, Riley introduced Ann Reed, whom he called the initiative's "sponsor" when the Jackson Free Press contacted him for this story. Reed is the wife of Jeff Reed, a producer of the AFA's American Family radio programs. The organization's spokesman, Director of Issues Analysis and radio host Bryan Fischer, is no stranger to controversy. After last December's massacre of 20 first-graders at New Jersey's Sandy Hook Elementary School, Fischer blamed the deaths on a God who is pissed off about being "uninvited" from public schools.
"We've kicked God out of our public-school system. And I think God would say to us, 'Hey, I'll be glad to protect your children, but you've got to invite me back into your world first. I'm not going to go where I'm not wanted,'" Fischer said on his radio show.
Among his other controversial statements, Fischer has blamed homosexuals for the Holocaust, and said that low-income African American people "rut like rabbits," referring to procreation. In 2010, the Southern Poverty Law Center categorized the AFA as a hate group for "propagation of known falsehoods and demonizing propaganda," Mark Potok, director of the center's Intelligence Project, told the Religious News Service at the time.
Fischer interviewed Ann Reed after the March 5 teleconference. "If I understand you correctly, this would amend the Mississippi state constitution to define personhood from the moment of conception and give that unborn child all the constitutional rights that belong to a human being under the 14th Amendment and that would bring, virtually bring abortion to an end in the state of Mississippi, and that would be a beautiful thing," he said.
Reed told Fischer that the initiative was necessary because Planned Parenthood in Hattiesburg has "moved in the beds" and is "ready to go" to perform abortions if the Jackson Women's Health Organization shuts down. "We expect a Planned Parenthood full abortion facility to be opening up here in Mississippi," she said.
"The pro-abortion, the pro-death crowd, they are determined, relentless; they never quit," Fischer said after reiterating Reed's assertion.
Planned Parenthood is a favorite whipping post for the conservative pro-life movement. "If you want an abortion, you go to Planned Parenthood, and that's well over 90 percent of what Planned Parenthood does," Republican Sen. Jon Kyl, of Arizona, said on the Senate floor April 8, 2011. It's an oft-repeated, but completely false statistic. In fact, of all the services the organization provides, abortions make up about 3 percent.
Brown-Williams said Planned Parenthood performs no abortions in Mississippi, and the clinic in Hattiesburg is expanding because it has outgrown the space it has occupied since it came to the city in 2004. "There is an enormous need for access to preventive, reproductive health care in the state," she said, including cancer and STD screenings. "... We don't have any plans to provide abortion services."
She added that if the JWHO closes, "it's because the laws in the state are so stringent that it's essentially impossible to provide abortion services in the state." If the Jackson clinic can't operate under those laws, she said, "it's a little bit of a leap to think that (Planned Parenthood) would suddenly be able to work a miracle and be able to provide them ourselves."
Much of the opposition to 2011's Initiative 26 in Mississippi came from Parents Against Personhood.
"Our major focus is infertility treatments," said Atlee Breland, a Jackson computer programmer and founder of PAP. The organization advocates against personhood ballot initiatives and legislation across the nation, and raises voter awareness about the potential consequences of personhood.
"We also focus on contraception (and) life-threatening pregnancy concerns. But we have every bit as much concern about physicians practicing fertility treatments being severely constrained to the point of shutting down over this."
Breland describes herself as a Christian and an "ordinary mother" who has had three children with the help of infertility treatments. She doesn't consider herself a pro-choice advocate. PAP is fighting against legislation in Mississippi and elsewhere that she considers so restrictive that they constitute de-facto bans on in-vitro fertilization, contraception and treatment for pregnancy complications. Giving a zygote all the rights of citizenship could also affect women who experience miscarriages.
Delineating the potential limitations on women's reproductive health isn't a scare tactic, Breland added. "They're frightening," she said, "but they're real."
Reed was unable to explain how the language of the new initiative resolves concerns over those consequences; however, she did say the previous language "ended up causing confusion." Among the words in the original initiative that Reed said people didn't understand were "fertilization" and "cloning." The word "conception," she said, won't be confusing.
"In a lot of cases, people were just scared, and they were confused," Reed said. "There were a lot of unanswered questions."
"We don't want babies to be killed," Reed added as her bottom line. "If babies are being killed, we are not for that."
Email Ronni Mott at [email protected].
More stories by this author
Support our reporting -- Follow the MFP.