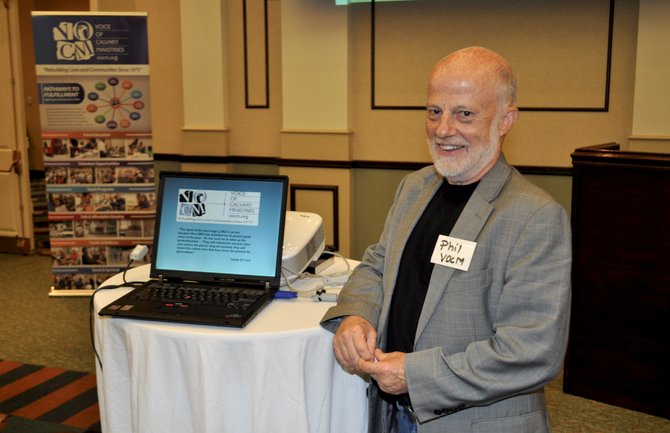 One of the major complaints from candidates running for municipal offices in Jackson has been about the blighted and boarded-up homes around the city. At least one local group is trying to do something about it.
Voice of Calvary Ministries has teamed up with local lenders to put low-income families into renovated homes that were once community eyesores through its Neighborhood Stabilization Program.
At a presentation June 6 at the King Edward Hotel, Phil Reed, VCM president, said that his 501(c)(3) non-profit organization has 26 south Jackson houses, some priced as low as $55,000, ready to become homes for low-income families. " The first step is for the potential buyers to come in and do an application," Reed said. "We'll run a credit report, and if they don't have a good enough credit rating, we can actually help them repair their credit through our financial home-buyer education and financial literacy program. For people who are very low income--that are 50 percent below the average income for the area--we actually have a grant program. Basically, because we are a secondary lender, we can make the house affordable for practically anyone."
It may sound too good to be true, but Voice of Calvary has rehabilitated and sold more than 250 houses in west and south Jackson through similar programs.
Voice of Calvary makes the houses affordable by offering so-called soft-secondary loans of up to $14,500 to families that earn at or below 50 percent of the average area income. For a single mother with two children, qualifying income is $25,200 or less. By working with VCM, she could finance a three-bedroom, one-bath stand-alone home for $50,500 instead of its appraised value of $65,000.
The grantee forgives 10 percent of the soft-secondary loan every year the owner remains in the house: If the buyer stays 10 years, he or she never spends a penny repaying that debt. If the buyer moves before the 10 years, they must pay off any debt remaining from the sale proceeds. If he or she sells the home to another qualified buyer, the new owner would pick up the rest of the debt with the same 10-percent-a-year forgiveness rate on the loan.
In 2008, the U.S. Department of Housing and Urban Development gave grants directly to the city of Jackson and the Mississippi Development Authority to fund the program. The MDA put out a request for proposals, and Voice of Calvary was one of the organizations that responded. MDA issued VOC grants to purchase the buildings. To be considered for inclusion, the houses had to be both foreclosed and dilapidated. Some were bank-owned, and some were real-estate owned.
"It wasn't enough for them to be vacant and dilapidated," Reed said. "They also had to be foreclosed, which makes things more difficult. We have some properties that we've renovated, but they have houses on either side that are boarded up or abandoned that we couldn't acquire."
Still, the houses that VOC has rehabilitated are in great shape. All 26 of the remaining houses have new electrical wiring, plumbing, roofs, heating and air-conditioning units, and sewer lines. They come with stainless-steel refrigerators, stoves and dishwashers, energy-efficient washers and dryers, and tankless hot water heaters. Most also have fresh paint jobs.
The husband-and-wife team of Felix and Rashida Walker are real-estate specialists who serve as the listing agents for Voice of Calvary. Often, they serve as dual-agents, representing both the buyer and the seller in a deal.
"We actually try to get the buyer pre-qualified through a lender, then we start getting them ramped-up to go through the home-buying process," Rashida Walker said. "These are usually single-parent families or single individuals who are renting in bad situations. We can get Hope Credit Union to come in and help them qualify for the reasonable loans they need to become home-owners.
"We have had some great stories that pull on your heart-strings. It's very rewarding work."
More stories by this author