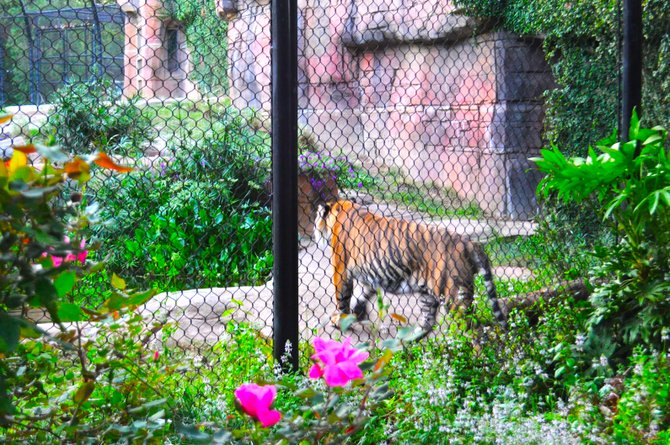 Jackson Zoo Director Beth Poff said the organization and its board of directors are keeping all options open as the zoo continues to adapt and change to meet the needs of new exhibits and an expanding number of annual visitors.
That includes the option to move to a new facility, which has been widely speculated since an April 12, 2013, Mississippi Business Journal editorial that called for, among other things, the zoo to relocate to the area near LeFleur's Bluff State Park at the site now occupied by LeFleur's Bluff Golf Course.
Speaking at Friday Forum at Koinonia Coffee House July 19, Poff answered a question from an audience member about a possible move, saying, "Everything is on the table."
"What we're doing with a consultant study is looking at the criteria of what a move involves," Poff said. "But it wouldn't really be moving the zoo, because what we'd be doing is building a new zoo from scratch at a new location."
Poff explained that many factors will go into the decision-making process, including the cost of a new facility, which she estimates would be anywhere from $20 million to $30 million an acre (the current zoo occupies 35 acres), and the question of what would happen to the facility the zoo is in now.
To that end, the zoo board—which is made up of 10 members plus a secretary, a vice president and President Eric Stracener—is in the throes of a consultant study, which could conclude in early fall, to determine which path the zoo should take to continue to grow. There is room for growth at the current location in west Jackson, at 2918 W. Capitol St., including an additional 20 acres the zoo could access through its lease with the city. That space could possibly be used for an African savannah exhibit.
The location also has its drawbacks. It's distant from the city's other tourism destinations, including LeFleur's Bluff State Park, the Children's Museum, the Mississippi Museum of Art, the Agriculture Museum, the Old Capitol Museum, the Mississippi Sports Hall of Fame and the planned Civil Rights Museum, in addition to the Convention Center. If the city moves forward with plans to connect all of these other destinations via a walking and biking trail, the zoo would be left out.
"If I take a step back and look at it from a purely tourism-impact point of view, it makes sense," Poff said. "You would have a tourism Mecca right there off of the interstate, where we would be very visible. Suddenly, we'd have joint-ticketing package possibilities with other destinations and a chance to do some things that other zoos around the country are doing, like developing a quality restaurant facility and possibly even tree-top overnight stays."
The zoo has a couple of upcoming events, including International Tiger Day July 27 and Back To Zool Aug. 3, and Poff said she's going to concentrate on those and let the board worry about the future.
"We won't conclude the study at the end of the summer and say, 'OK, this is what we're going to do,'" Poff said. "I think we'll end up with an idea of what strategy we want to explore further. ... Rumors are out there, but the fact is, we're going through a study. As far as I'm concerned, I'm running this zoo at this location."
Jobless Rate Dips
Mississippi's June unemployment rate of 9 percent remains considerably higher than the national average of 7.6 percent, but trends show it's moving in the right direction. At 9 percent, the rate is down from May's 9.1 percent, and June marks the fourth month in a row the rate has shown improvement.
The U.S. Department of Labor reported 117,513 people who were actively seeking employment in June, but that's 2,220 less than it had this time a month ago and 5,444 less than it had at this time last year. A breakdown of the June numbers by county was not available at press time, but unemployment data from May show most of the state's unemployment centered in west and northwest Mississippi. Then, the highest rates were in Clay County (18.5 percent), Jefferson County (18.3 percent) and Holmes County (16.6 percent), and the lowest were Rankin County (5.5 percent), Lamar County (6.5 percent) and Madison County (6.7 percent).
The Magnolia State has the third-highest unemployment rate in the country, ahead of only Illinois (9.2 percent) and Nevada (9.6 percent). South Dakota has the nation's lowest unemployment rate at 3.5 percent.
BP Gets Day In Court
On Friday, July 26, lawyers representing oil-giant BP will argue on the company's behalf to temporarily block settlement payments to Gulf Coast businesses and residents affected by the company's 2010 oil spill.
BP has requested a moratorium on payments while former FBI Director Louis Freeh investigates alleged misconduct by a lawyer who helped administer the multi-billion-dollar settlements, the Associated Press reports. U.S. District Court Judge Carl Barbier appointed Freeh to investigate the allegations, and scheduled the hearing for Friday.
The investigation centers on a former staff attorney for court-appointed claims administrator Patrick Juneau. In June, Juneau admitted that his office was investigating allegations that Lionel H. Sutton III might have benefitted from settlement proceeds for claims he referred to a law firm before he started working on the settlement program.
More stories by this author
Support our reporting -- Follow the MFP.