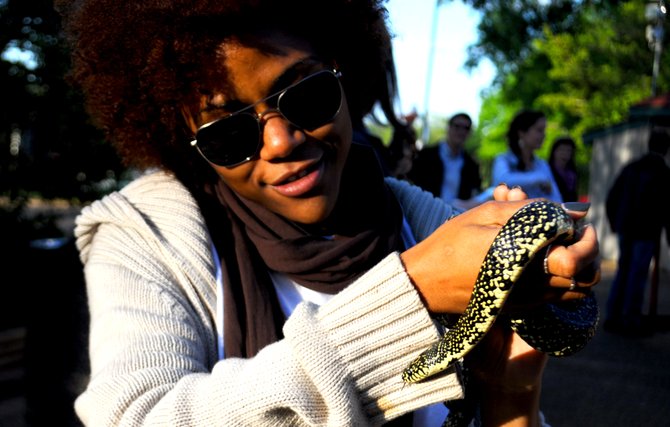 Rumors have swirled for weeks that the Jackson Zoo, the largest zoological park in Mississippi, was eyeing new digs across town at LeFleur's Bluff Golf Course, located in a state park.
Zoo officials flatly deny that relocating is a serious option.
"We're not analyzing what it would cost to move; we're analyzing if we can remain," Eric Stracener, president of the zoo's board of directors, said this morning at the Hinds County Board of Supervisors' regular meeting.
Hinds County supervisors provided some relief with a $10,000 appropriation from the county's fiscal year 2014 budget to help improve walkways leading into the zoo.
Community speculation and public comment has been robust since an April editorial in the Mississippi Business Journal called for relocating the 35-acre zoo to LaFluer's Bluff State Park. Stracener acknowledged that the chatter had reached a fever pitch, but assured supervisors that the chatter was not coming from zoo officials.
In July, zoo Executive Director Beth Poff said the park was working with a consultant to consider what it would take to build a whole new zoo, which she estimated would cost from $20 million to $30 million an acre. There is room for growth at the current location in west Jackson, at 2918 W. Capitol St., including an additional 20 acres the zoo could access through its lease with the city. That space could possibly be used for an African savannah exhibit.
But the most pressing concern, Poff and Stracener agreed, is the zoo's current fiscal position, which includes a $675,000 budget deficit. Poff said the park's ability to erase the debt is one factor the Association of Zoos and Aquariums will consider when the accreditation organization visits Jackson in September.
There are signs for hope. Poff said while the zoo's attendance has declined from 180,000 visitors seven years ago to 117,000 last year, this year's attendance is up 20 percent over 2012, which she attributes to the installation of a splash-pad feature at the park.
The zoo's accreditation hearing takes place Sept. 8.
More stories by this author
Support our reporting -- Follow the MFP.