When it comes to writing, Liz Stauffer has covered a lot of genres, from politics to technology. But these days, Stauffer (mother of Jackson Free Press publisher Todd Stauffer) is retired from corporate life and penning classic mystery novels instead. She signs her novel, "The Thursday Morning Breakfast (and Murder) Club," this weekend at Lemuria. She shared a bit of her process with us.
How did you get into writing?
When I was in graduate school, I was writing papers, of course. I have a master's in political science, so after graduate school, I worked for a company called Political Research in Dallas, and my job was to write political encyclopedias. It was just sort of a natural progression. It worked out easily for me to start writing articles and doing research. Then for the same company, I also wrote for their three monthly publications.
How did you transition from that research-based technical writing to fiction and novels?
(After) educational research, I went into the computer world, and I transitioned from educational documents to user documents for computers. And then for the next so many years, 20 maybe, I worked for Fortune 100 companies, Texas Instruments and whatever, and then I accepted a position at Gateway computers. It was in South Dakota. It was a great job, really fun, but I had lived in Dallas for 20 years, and all the sudden, I found myself in a very small town in South Dakota in a very harsh winter. I spent that winter looking for something to do, and I wrote my first mystery. It will always remain in a bottom drawer, but it was fun.
I was really only in South Dakota for a year, and then after that I moved to south Florida, again for a job with a computer company. Then I took my writing a little more seriously. I started playing around, going to seminars and conferences to refine and learn my trade a little better. I was writing while I was working and then decided to retire to write full time and travel, and that's what I've been doing the last couple of years.
Tell me about this book. It's the first of a series, correct?
Yes. I've finished the first two books in the series, and I've outlined the third book.
I had a vacation house in the Maryland mountains, in a little town called Pen Mar, Maryland. ... It's just really idyllic. It's a beautiful place, a beautiful area. Pen Mar, at one time, was this grand resort. So that is my setting: Mount Penn is my fictional name for Pen Mar. It's just such an innocent, lovely area. I wanted to introduce that piece of the world to the world, so I put it in my book.
Some writers find it difficult to kill off their characters. Do you?
Yes and no. In that first book, I found it fun, but that was just something I was playing with. After that, I found it very difficult. Some characters more so than others. I have another series that I write, and I've had some readers be very surprised at who I killed off. I tell people, this is really, really tough. Because when I first thought of the character or created the character, maybe I didn't like them very much, but then as you develop a character, you like them more. I've literally felt bad killing off some of my characters.
In a murder mystery, which is what I write--and I do write mysteries, rather than thrillers or police procedurals or things like that; I write a traditional mystery--it's all part of the puzzle. So I'm really kind of creating a puzzle, and then each of the pieces of that puzzle is critical to the whole piece. Once I've committed to killing someone, even if I like them, I have to go through with it (laughs).
When it comes to classic mysteries, you have to make it solvable but not too easily solvable. What is your process for constructing the clues so the reader can play along?
When I start a book, I know three primary things: who gets murdered, who did it and why. I also build a journal of characters, where each character has its own page or couple of pages, and I do detailed character profiles of these people. So I know the people really well. Then I write a synopsis so I know what I want to achieve, and then I outline three or four chapters at a time. It's detailed, almost a scene outline for three or four chapters.
That works for me because I know where I'm going. I think of it as playing a golf game, where you know what your objective is, but there are all sorts of things that pop up, and surprises along the way. I like to be flexible enough to deal with those changes.
Do you base your characters on people you know?
My protagonist is Lillie Mae Harris, and just as Mount Penn has similarities with the real Pen Mar, Lillie Mae has a few similarities with me. Also I have a friend in Pen Mar who is a freelance journalist who writes about all sorts of things, and Lillie Mae does that. So I sort of took that characteristic from my friend. But she is probably the closest character to someone I know. Other than that, the characters are all people that popped up in my head.
If you were to describe this book in five words:
A murder mystery with a heart. That's six, but it's close.
Liz Stauffer will sign"The Thursday Morning Breakfast (and Murder) Club" at 1 p.m. at Lemuria Books (4465 Interstate 55 N., Suite 202, 601-366-7619), Saturday, July 20.
More stories by this author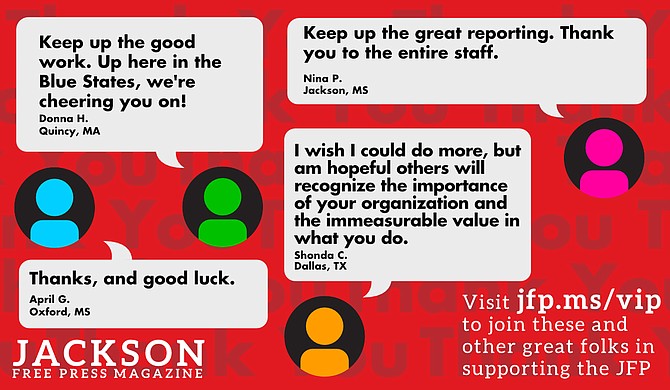 Thanks to all our new JFP VIPs!
COVID-19 has closed down the main sources of the JFP's revenue -- concerts, festivals, fundraisers, restaurants and bars. If everyone reading this article gives $5 or more, we should be able to continue publishing through the crisis. Please pay what you can to keep us reporting and publishing.