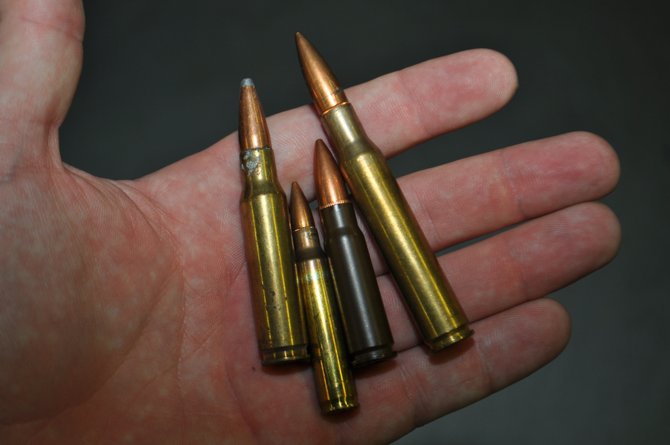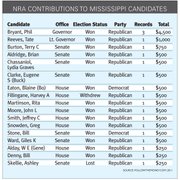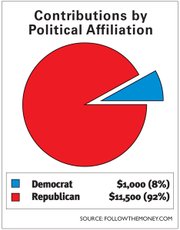 On Dec. 21, National Rifle Association chief Wayne LaPierre went in front of the TV cameras to read an announcement regarding the shootings in Newtown, Conn. The organization, which boasts 4 million members, had hesitated out of respect for the grieving families, he said.
LaPierre went on to blame politicians, the media, the "criminal class," prosecutors and the "shadow industries" of video games and filmmakers for the deaths in Newtown and sites of other mass shootings.
His solution to gun violence in schools? Put armed guards in every school and put the NRA in charge: "Every school in America needs to immediately identify, dedicate and deploy the resources necessary to put these security forces in place right now. And the National Rifle Association, as America's preeminent trainer of law enforcement and security personnel for the past 50 years, is ready, willing and uniquely qualified to help."
It's an interesting tack for an organization that bills itself as the oldest civil-rights organization in America. Founded in 1871 as a marksmanship-training club, today the NRA's largest field of operations is lobbying Congress and state legislatures not to pass any laws to regulate guns in America.
Beyond the individuals who pay, at most, $35 annually (lifetime memberships are $1,000, available through easy-pay terms of $25 a month), the association collects millions from its corporate partners, 74 percent of which are in firearms industries--manufacturers and sellers of guns and ammunition.
These days, the NRA operates primarily as a front group for the $12 billion gun industry. "Since 2005, corporations--gun related and other--have contributed between $19.8 million and $52.6 million to the NRA as detailed in its Ring of Freedom corporate-giving program," wrote the Washington, D.C.-based Violence Policy Center, a non-profit think tank, in "Bloodmoney: How the Gun Industry Bankrolls the NRA," published in April 2011.
Of course, industry lobbyists are neither illegal nor inherently bad. Nonetheless, it is important to understand on which side of the bread an outfit finds its butter. For the NRA, it seems, that grease is on the side of industry, not individual members. A recent poll found that 82 percent of gun owners (including 74 percent of NRA members) support background checks for concealed carry permits, a position the NRA does not support.
"Most Americans would protect the Second Amendment rights and yet agree with the idea that not every human being should own a gun, not every gun should be available at anytime, anywhere, for anyone," said Frank Luntz, a Republican strategist and author of the poll on CBS' "This Morning" in December 2012. "... What they're looking for is a common-sense approach that says that those who are law-abiding should continue to have the right to own a weapon, but that you don't believe the right should be extended to everyone at every time for every type of weapon."
The NRA's corporate giving levels run from a low of $25,000 to $499,999 at the "James Madison" level to the "Harlon Carter" level of $5 million to a buck short of $10 million. The partner's program "is geared toward your company's corporate interests," LaPierre stated in a brochure about the program, according to "Bloodmoney."
Among the partners are gun manufacturers, distributors and retailers; high-capacity ammunition manufacturers and vendors; and gun accessory manufacturers and vendors. Xe, the new name for Blackwater Worldwide, a company tied to abuses during the Iraq War, sits at the George Washington level ($500,000 to $999,999), according to the report. Sturm, Ruger & Co., a firearms manufacturer, donated $1 for each gun they sold in 2011, providing $1.2 million for the NRA's Institute for Legislative Action, the organization's lobbying arm, reported The Economist magazine in April 2012.
Other NRA corporate-giving opportunities outlined in "Bloodmoney" include a "round-up" program, where buyers can round up their purchases to the nearest dollar and specify the difference for the NRA.
The Violence Policy Center attributes more than $5 million in round-up contributions from one company alone--MidwayUSA--that went to the NRA's lobbying group. Midway attributes much of its success to the NRA-backed Firearms Owners' Protection Act, which opened the door for gun and ammunition sellers to market their goods outside of their primary places of business in 1986.
In addition to its lobbying group, the NRA manages a political action committee that contributes directly to candidates. The NRA Civil Rights Defense Fund does second-amendment-related work on a pro-bono basis, and the NRA Foundation raises and contributes funds to causes as diverse as state fish and game departments to 4-H groups, mostly for recreational-firearm equipment and training, reported the Business Insider website last month.
Together, the NRA's power and cash make it one of the most powerful lobbying and influence-peddling groups in Washington today.
OpenSecrets.org, a website of the Center for Responsive Politics, reports that the organization spent between $1.5 million and $2.7 million on federal-level lobbying between 2001 and 2010. Its PAC spent nearly $19 million in the 2012 elections, of which $10.5 million went to opposing Democrats.
In Mississippi, the NRA contributed $12,500 to 17 Republican and two Democratic candidates in the 2011 elections. The largest recipients were Gov. Phil Bryant, $4,500, and Lt. Gov. Tate Reeves, $1,000. On Jan. 11, Reeves called for spending $7.5 million to pay what he called school safety enhancements, including for hiring armed guards at Mississippi's public schools.
With all of its gun-industry backing, it comes as no surprise that the NRA has become the loudest voice in speaking against any legislation to regulate guns. As Wayne LaPierre wrote in a disparaging release following a meeting with Vice President Joe Biden Dec. 10:
"[W]e will now take our commitment and meaningful contributions to members of Congress of both parties who are interested in having an honest conversation about what works -- and what does not."
The question is: Whom will the NRA's conversation benefit?
More stories by this author
Support our reporting -- Become a JFP VIP.
The news business has changed dramatically in the past year, and we need your help more than ever to keep bringing you important stories about Jackson and the Metro. Become a JFP VIP with an annual membership or you can Sign up as a monthly supporter. Thanks for anything you can do to empower our journalism!