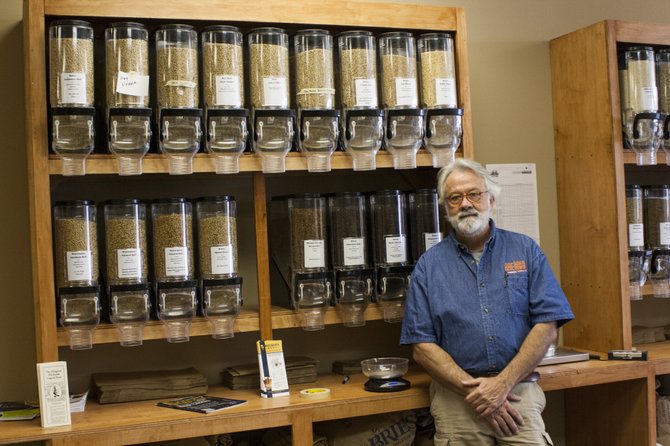 Mississippi home brewers may not have the law fully on their side, but they now have a place to buy all the hops, barley, yeast and equipment they need to create and bottle their own beer.
Mac Rusling, a former commercial pilot, opened Brewhaha Homebrew Supply Company, a one-stop shop for all things home brewing, Dec. 19 in the Lefleur's Gallery Shopping Center (4800 I-55 N., Suite 17A, 601-362-0201, brewhahasupply.com).
Brewhaha is a no-frills kind of place. The beige walls to the left and right of the entrance are lined with 8-foot high shelves stocked with ingredients, recipe books and equipment. On the back wall sit two refrigerators filled with 
more ingredients.
Rusling has been brewing beer in his home since 1973, an action that's not exactly legal under Mississippi law. To legally brew beer in the state, a person has to have a $1,000 permit from the Mississippi Department of Revenue. The law, however, doesn't allow such permits for home brewers. That leaves home brewers facing possible fines 
if caught.
The legality of home brewing is a gray area, Rusling said. He is a board member of Raise Your Pints, a grassroots, non-profit organization that successfully lobbied the state to raise the alcohol limits for beer in 2012 from 5 percent by weight to 8 percent, or 10 percent by volume.
In 2013, Raise Your Pints focus will shift to getting a law allowing home brewing on the books.
"There's just no clear definition of what's gong on," Rusling told the Jackson Free Press. "It needs to be cleared up."
Despite the murky legal water Brewhaha may be treading, Rusling said he has been pleased with business in the store's first week. He wasn't surprised. He spent a year and half working on a business plan for the store because he believed the demand for it already existed in the area.
The demand comes largely from people who want to know where the ingredients in their food and drink come from. Though none of the ingredients he sells come from local growers, brewers can buy the specific ingredients they want and know where they came from. They'll know exactly what goes into the process of making their beer.
While home-brew enthusiasts have made up much of Brewhaha's early business, the store is not just for experts. The store sells kits that include everything a first-time brewer will need right up to the moment the beer is bottled.
For beginners, Rusling suggests starting with ale. Lagers are more difficult because they require the beer to remain between 45 and 52 degrees during fermentation, he said, depending on the brew. Too warm, and the beer will develop less-than-desirable tastes, and the yeast can even die; too cold, and the beer 
won't ferment.
Ale, on the other hand, can ferment in a warmer environment and allows for more fluctuation 
in temperature.
Brewhaha is more than a make-your-own-beer store. It also offers everything customers need to make their own cheeses and even grow 
oyster mushrooms.
"It's easy, and it's a lot of fun," Rusling said. "You can literally make any kind of cheese you want, if you've got the patience to do it."
More stories by this author
Support our reporting -- Follow the MFP.