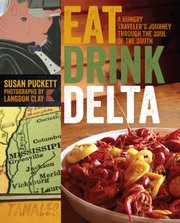 This tome is part cookbook, part travelogue, part bartender's guide and part restaurant review. But it's all Delta.
After an introduction, the book begins in Memphis and makes its way to Vicksburg. In an easy, conversational style, author Susan Puckett describes each region, notable area restaurants and local celebrities, and the origins of certain southern classics.
"Eat, Drink, Delta" isn't meant to live on a cookbook shelf, pulled out only to check the ingredients list. It works better as a regional guide with the added bonus of recipes. The next time I travel to a Delta city, I plan to take it along for restaurant suggestions and to read about local color.
I found my dish at the end of the Tallahatchie County section. It jumped out at me because at first, it seemed the least likely Delta dish I could think of: Mose's Moroccan Stew, which is not only vegetarian (and let's face it, who doesn't associate southern food with meat?), but overwhelmingly so, featuring a full spectrum of vegetables from eggplant to bell pepper. The recipe, originally submitted to the Charleston C.A.R.E.S. community cookbook, comes from jazz musician Mose Allison, a native of Tippo. Author Puckett describes the dish as "a family recipe that sounds exotic but is actually based on the vegetables of his Delta youth."
The recipe didn't disappoint. I've never cooked a single dish with so many vegetables before, so it was nice to feel "southern" and "healthy" coming together for once. Although it's not a stew in the sense that most Americans, especially southerners, are used to, the result was hearty and warm with an interesting spice profile.
Mose's Moroccan Stew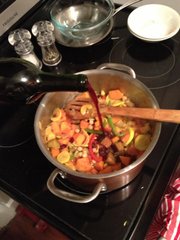 Reprinted with permission from the University of Georgia Press
Make 8 to 10 servings
1/3 cup extra-virgin olive oil
3 cups onions, coarsely chopped
3 garlic cloves, minced or pressed
1 teaspoon ground cumin
1 teaspoon ground turmeric
1/2 teaspoon ground cinnamon
1/4 to 1 teaspoon cayenne pepper
1/2 teaspoon ground paprika
1 cup carrots, sliced
4 cups sweet potatoes, cubed
3 cups eggplant, cubed
1 cup thin bell pepper strips
4 cups zucchini or summer squash, sliced
3 cups fresh tomatoes, chopped
1-1/2 cups freshly cooked or canned garbanzo beans, drained with liquid reserved
pinch of saffron
3/4 cup dried cherries or cranberries, or 1/2 cup raisins
1/2 cup tomato juice, reserved bean liquid, wine or chicken stock, plus more as needed
3/4 cup chopped fresh parsley
In a stew pot, heat the oil over medium-high heat and saute the onions, stirring, until they begin to wilt, 2 to 3 minutes. Add the garlic, cumin, turmeric, cinnamon, cayenne and paprika, stirring continuously. In this order (so that the starchier vegetables can cook the longest), add the carrots, sweet potatoes, eggplant, bell pepper, squash and tomatoes. Stirring, let each addition cook until it begins to soften before adding the next vegetable.
Stir in the garbanzo beans, saffron, dried cherries and liquid of choice. If the stew is dry, add more liquid. Cover and simmer on low heat until the vegetables are tender, about 30 minutes. Add the chopped parsley just before serving warm.
More stories by this author
Support our reporting -- Follow the MFP.