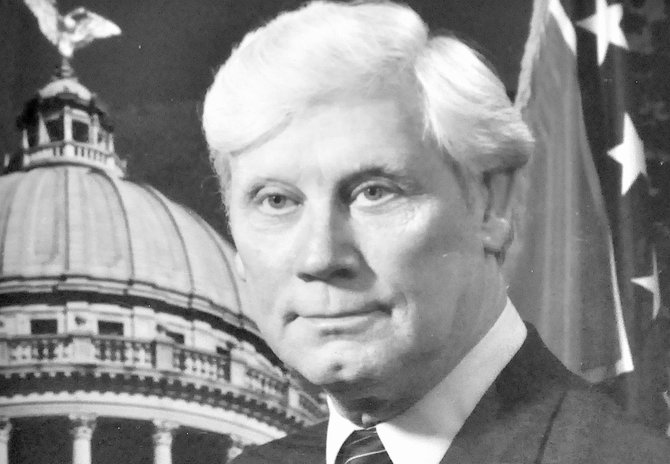 The family of former Mississippi Gov. William "Bill" Allain, who died Dec. 2 at age 85, wants him to be remembered as someone who explicitly fought for Mississippians who historically haven't had many people fighting for them.
"His administration was inclusive of all people: black and white, male and female, Catholic and Protestant, rich and poor," family representatives wrote in a statement announcing his death Monday.
Allain was born into a Catholic family on Valentine's Day in 1928, in the town of Washington, Miss. Family members say Allain, who served as governor from 1984 to 1988, remained a "strong Catholic" his entire life and that "his Catholic faith and servanthood were the driving force in his life and career."
After attending Notre Dame and earning a law degree from the University of Mississippi in 1950, Allain served three years in the Army during the Korean War as an infantryman. After being discharged, Allain practiced law in Natchez until 1962 when he was appointed an assistant state attorney general under Gov. Ross Barnett.
In 1979, Allain ran successfully for attorney general, where he first made a name for himself as an advocate for Mississippi consumers, which included blocking a plan to store nuclear waste in Mississippi—a debate that recently received new life in 2013.
Allain's rivals met his rising popularity with less than exhilaration, however. In 1983, state Treasurer Evelyn Gandy finished just in front of Allain and three other Democrats for the party's gubernatorial nomination, setting up a runoff between herself and Allain.
Allain, then 55, won the nomination and went on to square off against Republican Leon Bramlett in a race in which Allain was widely favored. Three weeks before election, Allain's internal polls showed he led Bramlett by 20 percent points, which spurred a series of events that would become one of the defining themes of Allain's political career.
In one of the messiest episodes in recent political history, three Bramlett donors—William D. Mounger, Victor P. Smith and Neal Clement—and campaign adviser William E. Spell Sr. produced what they claimed were sworn statements from African American male prostitutes whom purported that Allain had paid them for sex over the years.
A private investigator, hired to look into rumors about Allain's sex life, reported that Allain ''not only has been dealing with prostitutes, but also he's been crossing racial lines," according to a New York Times story published at the time.
Allain, who was divorced in 1970 and never remarried, called the allegations ''damnable, vicious, malicious lies" and offered to take a lie-detector test to disprove them. He also threatened to sue the accusers for libel.
Perhaps, because of his strong support with the black community, the scheme to discredit Allain backfired on Republicans.
''A majority of people I've talked to see it as a desperate roll of the dice on behalf of the Republicans," Bennie Thompson, then a member of the Hinds County Board of Supervisors, told the Times in Allain's defense.
Allain won the election, but the scandal tainted his tenure in the governor's mansion. In 1984, he convened a commission to recommend changes to the state's 1890 Constitution, which the Legislature ignored. Allain also appointed record numbers of women and minorities to government positions and "was able to forge a coalition in the Legislature to work for the common good."
Rickey Cole, chairman of the Mississippi Democratic Party, called Allain, who practiced law in Jackson after he left the governor's office, "one of the most tremendous legal minds of his generation." 
More stories by this author
Support our reporting -- Follow the MFP.