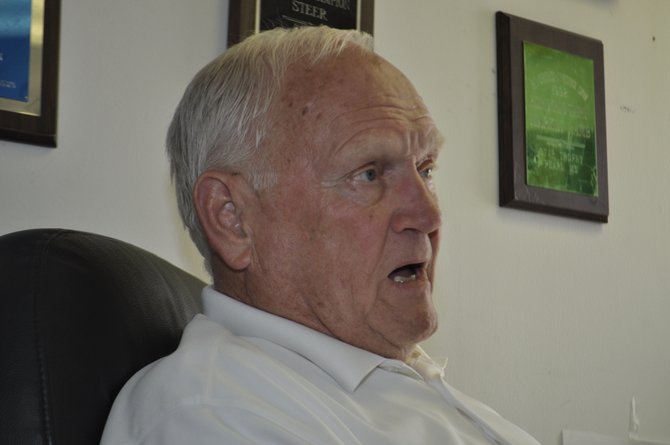 Hinds County Board of Supervisors candidate Alvin Woods is an old-school southern country gentleman. Warm and full of folksy charm, the man can tell a story with the best of them.
Now 65, Woods is the owner of Woods Equipment, the No. 1 Cub Cadet dealer in the southeast this year. He seems as proud of the success of his business—located near Savannah Street in south Jackson—as he is of his 44-year marriage to his wife, Linda, and the numerous awards lining his office walls that he and his four children have won for their livestock. He also has five grandchildren.
Woods works "half-days" at his business—from 6 a.m. to 6 p.m., he said—and is active in the local Rotary Club, chamber of commerce and 4-H. He is a founder of Horses for the Handicapped and Mississippi Pet Therapy, Inc. Woods is an ordained Baptist deacon and goes to church at Hinds Independent Methodist Church.
Before he spoke with the Jackson Free Press about his run for Phil Fisher's former District 4 seat, he told a story about the National Youth Conference for Beautification in Washington, D.C., in the mid-1960s. President Lyndon Johnson appointed Woods to serve as the conference parliamentarian, and he stayed with the first family for a week at the White House. He characterized Johnson as a man he liked personally, though he didn't always agree with his policies.
Woods is running as a Republican, one of two in the primary race Sept. 24, where he'll face Tony Greer. Woods says his experience and knowledge of parliamentary procedure will greatly enhance the effectiveness of the board.
"Let's try to get down the road together and make this a better county," he said. "The only way we can do it is to conduct our business in a professional manner."
What's the No. 1 thing the people of Hinds County in District 4 need from the county board?
We need to support public education in the best way that we can. I realize that the board of supervisors does not have complete control over public education, but we do hold the majority of the purse strings for public education.
... Crime is bad in Hinds County. This particular business, last year, was burglarized seven times. That's terrible. Now, I'm not criticizing the law enforcement we have. Jackson police have worked very well with us. (Hinds County Sheriff) Tyrone Lewis has bent over backwards to be nice and help us with the resources they have. I don't think they have enough.
Do the problems in the public schools and crime go hand-in-hand?
I think they're very closely related. I sure do.
... It's real tough, and that problem, some way we've got to address (it). How do we improve education? We're going to get parents and community leaders involved. They need to know what's going on in our schools. If it's true that you can buy narcotics in the school parking lots, then there needs to be parents taking shifts in those school parking lots. And when a drug dealer or a student acts suspicious, then we need to tell them, "Get out of here." These are our children. They came here for an education. They didn't come here to buy dope.
Please don't take this the wrong way, but you look like a guy who would enjoy sitting in his rocker on a porch just about now. What's driving you to go into politics?
I've never been an elected official. In the 10th grade, our ag teacher at Raymond High School here in Hinds County asked us to write a paper about what we wanted to do with our life. My paper, in essence, said that I wanted to establish myself in an agri-related business, and then I wanted to run for supervisor. My teacher was a very good man. He called me in his office, and he said, "Alvin, you're setting your sights too low." And I said: "Mr. Key, you don't realize the effect that the board of supervisors has on daily life here in Hinds County."
It may be one of the most powerful elective offices in the state. The federal, the state, the local money—it goes through the board. They decide what's going to happen. A good board of supervisors can do a terrible lot of good. They need to be frugal. They need to treat money—my money and your money—a lot like a sacred trust.
... When I was 30, I ran for supervisor. This same deal, a special election. There were 14 men in the race; I came in third. I was devastated. Third was as bad as 14th (because) only one man (won). My friends said I should start toting a gun, because I thought I had more friends than I did. I didn't start toting a gun.
The opportunity came again. What did Ronald Reagan say? He said, "I won't turn this into a campaign about my opponents' lack of maturity and experience."
Supervisor Fisher supported the Byram-Clinton Parkway. What's your position on that?
We built (Interstate) 220 from (Interstate) 55 to (Interstate) 20. That highway greatly alleviated a bad traffic situation on 55 coming into the stack in Jackson. It served a good purpose.
When they were discussing building that road, they discussed industrial development, new jobs, increasing the tax base. Do you know how many industries are on that road?
No, but I bet you do. (Woods made a "0" of his thumb and forefinger.) Zero.
It served a great purpose; it alleviated traffic. The Clinton-Byrum Parkway will do the same thing ... but I'm not holding my breath waiting on new industry because of the completion of that parkway. I hope it comes. As a board, we need to do everything we can to encourage it to come.
... We have too much time and too much money in that project. To abandon it would be like one of us deciding we were going to swim the English Channel ... and at seven and a half miles say, "Oh, I can't make it. I'm going back," (and ending up swimming 15 miles). I think we're too far in it to back out.
What resolutions do you see for the problems at the Hinds County Detention Center?
I have not had the privilege of touring the facility in Raymond. I understand that it was not up to specs when it was accepted. ... I think that's common knowledge; it did not meet the specs of the contract.
... My solution to that particular facility in that spot would be to see what we could do to salvage what we have and make it workable, and adding on to it the most economical way that we can.
We need an upgrade to positions. A jailer in Hinds County is low on the pole. You become a jailer hoping to become a road deputy or an investigator down the road. We need to improve that position. Let the person take some pride in what they're doing. Pay them what they're worth.
You've called yourself a social moderate. Define that for me.
We've discussed my association with former President Johnson. ... We had several things in common. He inherited all of his problems. He inherited Vietnam. He inherited a country that was torn apart by race. He did what he could to try to control it all. To be called a racist would be an insult to me. I'm not. You have the same respect as a gentleman or anyone else that comes in here. ... I treat people as people. Until you prove to me that I can't trust you, I'm going to trust you. That, I think, is a social moderate. You have my respect until you show me that you don't deserve it.
More stories by this author
Support our reporting -- Follow the MFP.