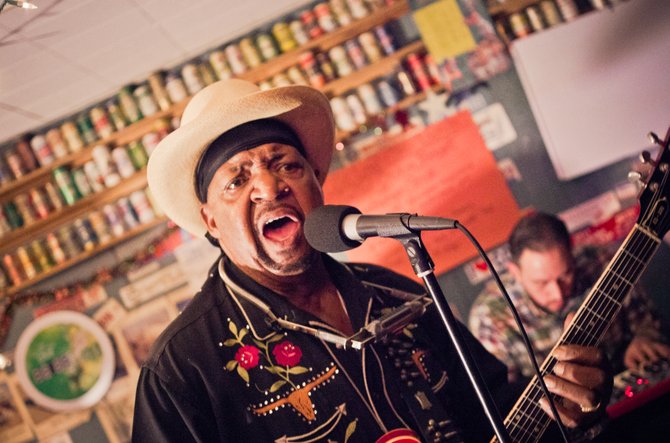 Blues is not the first type of music that comes to mind when thinking of New Orleans, but the music has strong roots in the city. Guitarist and vocalist Leroy "Guitar Lightnin' Lee" Washington is a Crescent City native who calls several of the city's legendary blues players mentors. Washington's version of the blues brings together a number of different musical strands, including Delta blues, New Orleans R&B and some punk attitude. The guitarist and his backing group, the Thunder Band, are regular performers in the city's clubs and festivals.
Washington grew up in the Ninth Ward in New Orleans, but he had a lot exposure to the Mississippi blues through some older musicians in the neighborhood. Washington learned from "Boogie" Bill Webb, a Jackson native, and Arzo Youngblood, a bluesman originally from Tylertown (and grandfather of current Jackson blues musician Louis "Gearshifter" Youngblood). Webb, in particular, was a strong influence on Washington, who he remembers as a visible presence in the neighborhood.
"Old Boogie Bill would sit in his yard all the time. I'd go by and sit there with him," he says. "He would work on lawn mowers and play the guitar. He'd do a little bit (of work), then stop and play some more."
When he was 17, Washington followed the route taken by many southern blues musicians, leaving home for Chicago. He didn't play in the city's bustling club scene at the time, but he did get to meet one of his musical heroes. The guitarist got a job with a man who lived next door to the legendary bluesman Jimmy Reed. While Washington waited for his boss each morning, Reed would come out and give him some advice. It wasn't the musical tips he was hoping for.
"He'd come out and say, 'Why don't you go back to New Orleans?'" Washington remembers. "He'd tell me that all 
the time."
Washington did finally leave Chicago, spending time in Los Angeles before returning to New Orleans in 1965. He became a regular performer at clubs around the city, playing with fellow bluesmen Little Freddie King, Polka Dot Slim, Earl King and many others.
The guitarist met drummer Paul Artigue, his current main musical collaborator, in 1997. Artigue was barely out of his teens when he first sat in with Washington, but the bluesman saw potential in Artigue. They performed as a two-piece for several years, but eventually brought in other younger musicians to form the Thunder Band. Artigue and the other band members are also active in New Orleans' punk scene (Artigue is the drummer for Die Rotzz and used to play with Jackson's punk veterans The Overnight Lows) and have brought a rock influence into Washington's sound.
"I was more into to the Delta blues, but when I got this band I have, it looks like I started getting closer to that rock 'n' roll sound with the blues," Washington says. "It's kind of a mixture of the two."
Artigue has helped to introduce Washington to the punk and rock audiences in New Orleans. The bluesman now splits his playing time between blues and rock clubs. He proudly notes that he's a regular performer at many of the rock and alternative clubs that line St. Claude Avenue in the Marigny neighborhood.
"They used to call me the Prince of the Delta Blues, now they call me the Prince of St. Claude Avenue," he explains.
Guitar Lightnin' Lee and the Thunder Band bring their unique brand of blues to Jackson at Martin's Lounge (214 S. State St., 601-354-9712) Friday, April 19. The cover is $10. For more information on Washington, check out guitarlightninlee.com.
More like this story
More stories by this author