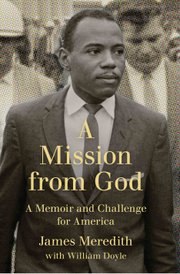 Fifty years ago this week, James Meredith integrated Ole Miss, causing violent upheaval. Here are three books from men in the thick of the uprising.
"A Mission From God: A Memoir and Challenge for America" by James Meredith with William Doyle (Atria Books, 2012, $25)
James Meredith's new book (also see page 4) is an account like no other. The reader walks in his shoes as he integrates campus, slogs to class amid hatred and even when he was shot during his "Walk Against Fear" in 1966. You meet the real James Meredith here: He's egotistical but self-effacing; intense but droll. And always challenging.
"James Meredith and the Ole Miss Riot: A Soldier's Story" by Henry T. Gallagher (University Press of Mississippi, 2012, $26)
How must it have been to be a soldier on the Ole Miss campus during the 1962 "insurrection" that might have turned into another civil war? You can experience what then U.S. Army 2nd Lt. Henry Gallagher experienced, especially as he became the officer-in-charge of the rebel Meredith's security detail.
In this book, we learn more about what the white students believed and displayed from nasty defiance to belief that John F. Kennedy was leading a communist invasion of their school—a poignant history lesson in a time when red-baiting is sweeping the nation in response to a black president.
"Mississippi: The Closed Society" by James W. Silver (University Press of Mississippi, 1964/Reissued 2012, $30)
The classic book by then Ole Miss professor James Silver, who died in 1988, was recently reissued and is a must-read for anyone wanting to understand the difficult history of Jim Crow Mississippi and, especially, of the climate at Ole Miss in 1962. The book starts with a harrowing account of Sept. 30, 1962, as he and his wife watched American solders "assailed with firebombs." He writes: "I was alternately enraged and heartsick that my fellow Mississippians, particularly the students, felt called upon to engage in a mad insurrection against their own government."
Support our reporting -- Follow the MFP.