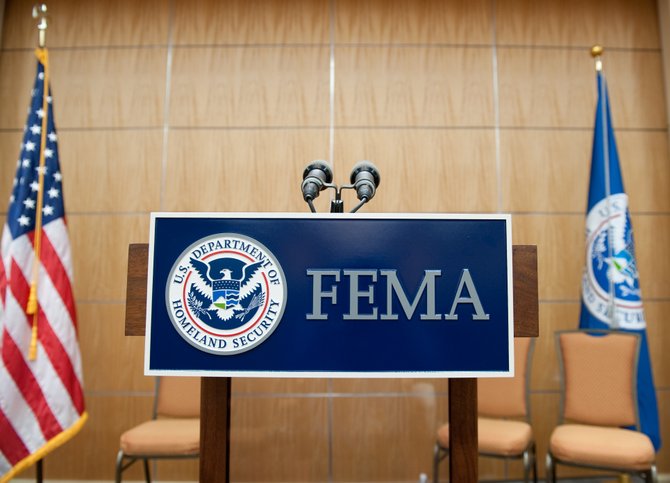 In the wake of Hurricane Isaac, counties in the Jackson metro area--Hinds, Rankin and Madison--are among the many areas under a federal-disaster declaration. This means that individuals and businesses become eligible to receive grants and loans to recover uncompensated losses from the storm.
The Federal Emergency Management Agency and the Small Business Administration have sent community-relations specialists into the areas under the disaster declaration to ensure that everything that can be done, will be done.
On a visit to the Jackson Free Press, Patricia Whitt, FEMA public information officer, said that the agencies encourage anyone affected by the storm to report it, "no matter how little or how much damage."
Whitt and her counterpart with the SBA's Office of Disaster Assistance, Carl Sherrill, indicated that some 14,000 Mississippians had already registered for assistance, and that anyone affected--renters, homeowners and businesses of any size--may be eligible.
The representatives stressed that there is no cost for registering or for damage inspections. Team members will be wearing official MEMA or FEMA shirts and ID badges and will not ask for personal or financial information.
Two types of assistance become available under federal disaster declarations: Renters and homeowners may qualify for grants to cover temporary housing, basic home repairs and other serious disaster-related needs; renters, homeowners and businesses may also be eligible for low-interest disaster loans from the SBA.
Representatives are going door-to-door in the affected areas. "When they meet a disaster survivor with immediate needs, that information is passed on to state, federal or voluntary agency staff best able to respond," FEMA said in its statement.
The agencies will set appointments for those who register to assess damages and losses.
To register online, visit www.DisasterAssistance.gov or by mobile device at m.fema.gov. Those without online or mobile access should call 800-621-3362. Those who use 711-Relay or Video Relay Services should call 800-621-3362. The toll-free telephone numbers are staffed from 7 a.m. to 10 p.m. seven days a week until further notice.
For information on the SBA loan application process, call 800-659-2955 (800-877-8339 for the deaf and hard-of-hearing) or send an email to [email protected]. Applicants can apply online using the Electronic Loan Application (ELA) via SBA's Applicants may apply online using the Electronic Loan Application (ELA) via SBA's secure website at https://disasterloan.sba.gov/ela.
More stories by this author
Support our reporting -- Follow the MFP.