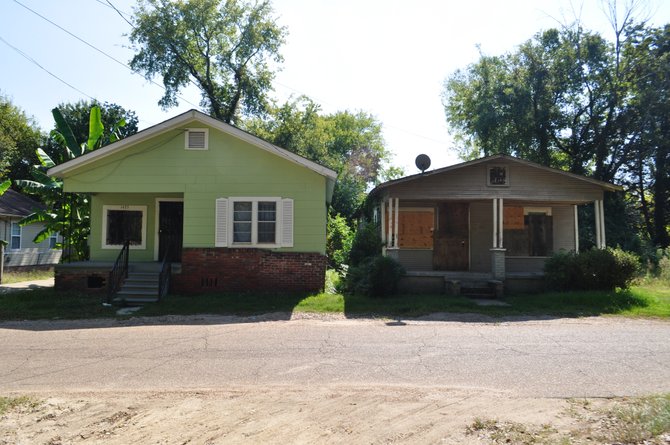 On command, two black boys marched into Wesley Murray's office and slouched against the wood paneled wall. Murray, who played football for Jackson State and spent two decades in law enforcement, began to interrogate the teenage offenders.
"What's your name?" Murray asked the smaller, peanut-butter-complexioned boy draped in a plain bright white T-shirt and blue basketball shorts.
"James," the boy replied, keeping his large almond-shaped eyes fixed forward.
"How old are you?"
"13."
"Why are you here?"
"Suspended."
"Where's your mama?
"Work."
"Where's your dad?
"Jail."
James' older brother, Travis, was also suspended—"accused," he stresses, of hitting a female schoolmate in the face. Wavy-haired, a half-foot taller, and twice his brother's girth, Travis' sly smile suggested he was comparatively unfazed by the levity of the situation. Each has been suspended from school before this year.
Fearing that leaving them home alone or with relatives would lead to more mischief making, the boys' mother arranged for her sons to spend the day at Operation Upward, a community center and youth church located in the Washington Addition neighborhood of west Jackson.
James and Travis, whose names were changed for this story, epitomize both the challenges and potential of the Washington Addition. Talented, energetic and cunning, the boys possess the necessary qualities to rise above their circumstances.
With the neighborhood kids in mind, Operation Upward began six years ago with Wes Murray's wife, Robrelle, spreading a tarp on the ground at Battlefield Park to play games with the children from the neighborhood where she and Wesley have spent most of their lives.
Responding to the needs of the 500 to 600 children, many of whom come from the neighborhood and participate in the organization's services, Operation Upward has expanded manifold in physical size and scope of services even as the neighborhood surrounding it struggles to stave off the symptoms of urban decay.
The Washington Addition is bounded by John R. Lynch Street to the north, Terry Road to the east, U.S. Highway 80 to the south, and Valley Street on the west. In addition to growing up on Topp Avenue, Murray—known simply as Mr. Wes inside the center—asked to be assigned the Washington Addition as a Jackson police beat officer and, later, a Hinds County sheriff's deputy.
The Murrays are both graduates of Jim Hill High School and Jackson State University, whose main campus is located inside the Washington Addition. They have had front-row seats to the area's downward spiral and the children who are, often literally, caught in the crossfire.
"You've got all this anger, bitterness built up on the inside of them: I'm going to break in, steal from you, kill you. You don't care about me, I don't care about you. It's an unspoken war," Robrelle said.
Mess around with that hood
Edward Evans Jr. was a casualty of that war. Slender and medium-height, everything about him evoked the word boyish. Until last year, Evans participated in Operation Upward on and off for two or three years.
The Murrays describe him as respectful and quiet when he attended the center. Evans' father, Edward Evans Sr., described his son a different way.
"He would run his mouth all the time—about what he would buy, money, being a rapper. It was all about getting money so he could get some girls," said his father, who has
eight daughters.
Evans tried his hand at rapping and put out a demo CD using the moniker Li'l Edward, which was also how people identify him in the Washington Addition, where his father and paternal grandmother live. A Clarion-Ledger article about Evans said the boy wanted to be a hockey player.
Evans Sr. doubts his son ever had an interest in hockey, but admits the young man liked to fight and was starting to get into trouble more often. By the time Evans Jr. was 15, his father said, the boy been to Henley-Young Youth Correctional Facility and Brentwood Behavioral Healthcare, a psychiatric hospital in Jackson.
In fact, the last time Evans Sr. saw his son was in the back of a police car after a witness implicated Evans Jr. in a house burglary. He was eventually released and never charged.
"My son wasn't street, but you mess around with that hood, you'll become street," Edward Evans said.
In late August, police found the younger Evans' body behind a vacant home at 1604 Barrett Ave., just a few houses away from his grandmother's home, after neighbors reported the smell of a decaying animal. Evans had been shot in the face.
Cedric Ratliff, who lives next door to the house where Evans' body was discovered, turned himself in to Jackson police for the shooting in early August, but soon bonded out.
At a meeting arranged through an intermediary, Evans Sr. said he talked to Ratliff, who believed someone was trying break into his home that night. Evans Sr. said Ratliff didn't know his shot hit anyone and that Ratliff was like an older brother to Edward and other kids in the neighborhood.
"If Edward knew who killed him, he wouldn't even be mad," said Evans Sr., who described his son, as helpless and tormented.
"Edward needed isolation," his father said. "He's more peaceful up there."
No Peace
The odds facing the Washington Addition are staggering. U.S. Census figures indicate that the community is located in one of the city's poorest ZIP codes with 37 percent of residents earning incomes below the poverty level compared to 21.8 percent statewide. Nationally, 15 percent of people lived in poverty in 2010.
The average gross income of $21,771 per year is approximately $11,000 per year lower than Mississippi's last-in-the-nation average. And nearly twice as many Washington Addition residents rent their dwellings, compared to the 30 percent of Mississippians who rent statewide.
Crime, the most visible by-product of poverty, is also palpable. Across the city, violent crimes—assaults, armed robberies, car-jackings, rapes and homicides—in Jackson have risen 9.7 percent up to 1,364 instances from 1,243 in 2011, according to police records.
Citywide, homicides alone have jumped 54.3 percent so far this year, rising to 54 year-to-date in 2012 from 35 in the same time period last year. West Jackson's Precinct 2,
which includes the Washington Addition, has suffered seven more homicides than last year, up to 21 from 14.
Residents of the Washington Addition mark the start of its freefall to shortly after the conclusion of the 1960s Civil Rights Movement. With little tangible left to rally around after the passing of several landmark pieces of civil-rights legislation, activists fell into a lull.
As the iconography of the movement dissipated, so did America's fascination with Mississippi, its heroes and villains. In the Washington Addition, as was the case in many American cities, the emptiness was satiated with a potent new street drug called crack, which flooded American cities from as far away as Central America.
Chicago street gangs, some of which trace their roots to the Black Power Movement of the '60s, saw Jackson as an untapped market for drugs and used longstanding family ties in the South to establish a pipeline of drugs, guns, money and young gang bangers.
Wes Murray recalls the neighborhood in the mid '80s being inundated with young Chicagoans whose families sent them to live with relatives in Jackson, believing the children would be safer down in "the country."
Crack and its byproducts—prostitution, violence and hopelessness—surged into the Washington Addition like a crippling wave, Wes Murray recalled: "What we saw was nothing but destruction—death, prison and the grave."
'We don't run'
Valley Street runs rough and narrow through the Washington Addition. Along either side of the street are a handful of mom-and-pop eateries, a couple of small convenience stores and old frame houses, where entire families sit out on their porches, waving at passing cars even the ones whose passengers are unfamiliar.
The Jackson State-owned Palisades Apartment complex, which is surrounded by a high black iron fence, takes up one whole block at the north end of Valley Street. Driving through the neighborhood on a given day, the Washington Addition seems to be occupied by grandparents and grandchildren.
Early one weekday morning, a group of six or seven young men, ages ranging from late teens to mid-20s, are hanging out on a street corner. Only one of the young men, a tall spindly 20-year-old, admits to having legal employment as a cook at a chain fast-food restaurant.
However, with only five work hours scheduled for the week and the high cost of gasoline, he admits that he may have to give up the job if his managers don't schedule him for more hours soon.
Another young man wearing a black and red Chicago Bulls cap is seated in a folding chair with his legs pressed to his chest. He said he wants to work.
"I need a mentor," he offers as the justification for why he's not in school or working.
On a different day, a skinny woman in a black T-shirt, flags down a car driven by a family friend and asks for a few dollars so she can go to the store, referring to one of the abundant neighborhood drug spots.
Royce Smith, whose family has deep roots in the Washington Addition and who lived there for a brief time as a youngster, recalls an incident when he realized the neighborhood was different from the place where Medgar Evers and the Rev. Dr. Martin Luther King Jr., who had been a guest in the home of Smith's grandfather, R.L.T. Smith, spent time as civil rights organizers.
Smith remembers driving with his uncle, R.L.T. Smith Jr., and encountering a young man who appeared to be around 18 standing in the middle street firing a 9mm pistol haphazardly into the air. Smith froze at the sight, and asked his uncle if should turn the car around.
"We don't run," the elder Smith told his nephew. Smith, who owns some land and a few buildings in the Washington Addition, and previously ran a store at Valley and Florence, recounts with disappointment how businesses, most of which were black owned, started to disappear in the 1970s and more rapidly around the time of the crack-cocaine onslaught.
Today, the businesses that remain are a hodgepodge of widely respected local institutions such as Stamps Superburger and Valley Street Fish House, after-hours lounges and other businesses that seem to be magnets for crime. For example, the notorious Lewis Dairy Bar & Restaurant at Valley Street and Hill Avenue has been the site of numerous presumably drug-related homicides and shootings through the years—involving a number of young men connected to former Mayor Frank Melton.
Frustrated, Smith wonders aloud why a community that was once so eager to take on Mississippi's white supremacist political establishment won't stand up to small minority of drug dealers and criminals laying siege to the neighborhood today.
"I think we're more to blame than the white power structure," Smith said. "Our grandparents faced harder things. They faced being lynched. ... I don't see any difference between a drug dealer standing on the corner with a Tec-9 and a Klansman."
The Root of the Problem
In the 1940s, Kenneth and Mamie Clark, a husband-and-wife team of psychologists, began publishing findings from their now-famous doll experiments. When presented with two dolls, one black and the other white, researchers found that black children preferred to play with the white doll. Since, social scientists have recreated the experiment numerous times usually with the same results.
D'Andra Orey, a Jackson native and political science professor specializing in issues at the nexus of race and politics, points to the doll tests as one of the earliest studies in black self-hatred, which he prefers to think of as internalized racism.
"Internalized racism and self-hatred are the root of the problem in the black community," said Orey, who is black. Socialization, particularly with respect to the development of racial attitudes, begins in school, but Orey argues positive messages about African Americans are noticeably lacking in most school textbooks and on standardized tests.
"We can't teach black folks about black folks because that's not going to be on the test. And if you don't know who you are, you're going to believe who someone else says you are," Orey said.
In that regard, the success of the Southern Strategy, the Republican Party's appeal to racist white southern Democrats since the 1960s, paralleled the decline of America's inner cities and neighborhoods like Jackson's Washington Addition.
Orey recites former GOP strategist Lee Atwater's explanation of how the Southern Strategy was developed. ''You start out in 1954 by saying, 'Ngger, ngger, ngger.' By 1968 you can't say 'ngger' — that hurts you. Backfires," Atwater said in a 1981 interview with a Case Western Reserve political science professor. "So you say stuff like forced busing, states' rights and all that stuff. You're getting so abstract now (that) you're talking about cutting taxes, and all these things you're talking about are totally economic things and a byproduct of them is (that) blacks get hurt worse than whites."
With President Ronald Reagan leading the charge in his drug war, Congress passed laws in the mid '80s that imposed penalties for possessing and trafficking crack, a drug more prevalent in black neighborhoods, that were 100 times more severe than powder cocaine, more preferred by whites.
In 2001, the chances of going to prison were highest among black males, at 32.2 percent and lowest among white males, 5.9 percent for similar offenses.
Before mandatory minimums for crack cocaine offenses became effective in the mid 1980s, the average federal drug offense sentence for African Americans was 11 percent higher than for whites. Following the implementation of harsher drug sentencing laws, the average federal drug offense sentence was 49 percent higher for blacks.
In Mississippi, which imprisons more people than any state except neighboring Louisiana, the incarceration rate for blacks of 1,742 per 100,00 people is more than triple the rate for whites of just 503 per 100,000.
Speaking at a conference on black male college achievement, Rodney Washington, chairman of the Department of Elementary and Early Childhood Education at Jackson State University, recommended building stronger bridge programs to encourage smoother transitions between grade levels, starting in pre-kindergarten and continuing through the first two years of college, as well as developing mentors and active support groups.
Washington, a former corrections officer, rejects a meme about the lack of role models in the lives of black males. "They're looking at the role models in their own communities," he said.
"They just may not be positive models."
Redeem the Child
Operation Upward's four school buses and a minivan rumbled out of the gates to fan across south and west Jackson to gather children for dinner and a weekly
church service.
Boys and girls piled excitedly onto the buses at Pine Ridge Gardens, formerly called Rebel Woods Apartments. In August, a security guard shot and killed a man at the apartment complex. In 2010, the Mississippi State Supreme Court dismissed a man's wrongful death suit in the murder of his child's mother, arguing that the complex's owners failed to provide adequate security.
When the buses, all purchased at auction, returned to the center, the children received dinner before Salvation Station, a youth-led church service.
Robrelle Murray said the meal program resulted from children coming to the center complaining about not having eaten since school lunch. In addition, the center provides two care packages per week that consist of dry cereal, juice boxes, canned fruit, soup or whatever rations they have on hand. In September, the center started a small vegetable garden by planting mustard and collard greens, broccoli, cauliflower and kale.
The meals also settle children and help them focus during church service. At a recent service, Willie Goss, one of approximately a dozen adult volunteers at Monday night church, caught one boy in a gray hooded sweatshirt returning a lick upside the head of a friend who administered the first blow, and banished the young man to the back row. With each offense, rule violators were moved further into the back of the cavernous room with pale yellow walls.
"Next move, and you're out the door," Wes Murray joked. Operation Upward exists as a stopgap against tendency to move black youth, especially males, out the door, so to speak.
A September report from Social Science Research Council's Measure of America project, identified black youth having the highest rate of disconnectedness; that is, most likely to be neither in school or working. The study concluded that young men are more likely than their female counterparts to be disconnected.
In addition, the rate of youth disconnection usually mirrors adult disconnection. States the report "Household poverty rates and the employment and educational status of adults in a community are strongly associated with youth disconnection. Where a young person lives is highly predictive of his or her likelihood of disconnection. The findings break down youth disconnection by neighborhoods within cities. The disparities between wealthy and poor communities are striking."
Preventing what Wes Murray called a "generational curse" of poverty and crime that afflicts the Washington Addition is one reason the Murrays started opening their center to kids suspended from school. James and Travis, for example, are promptly put to work moving tires on an unusually warm fall day.
Robrelle, who runs the center's day-to-day operations, said many of the children who come to the center who grow up in challenging environments need nurturing.
"When I committed my life to Christ, the thing that resonated with me was 'Redeem the Child,'" she said. "They hunger and thirst for love and attention. When they come here, they get love, attention and Jesus."
Forever Home
Willie Mae Shirley has lived in the same house since her birth in 1927. Sitting on her front porch in a brightly colored striped shirt, a bracelet around her wrist referred to Scripture, John 14:12-14, Shirley recounted the neighborhood's rich history.
In those days, she said, her father and the other men worked at Sheppard Brickyard, where a park now sits. The women were housewives, but sometimes took in laundry and ironing from white families. The family raised cows, chickens, pigs and planted vegetables on their tiny plot of land, at what is now the Washington Avenue and Shirley Avenue.
Anchoring the tiny community was the Delta Cotton Oil Mill. Its president, W.B. Gowdy provided the town its name. Gowdy attracted black professionals from across the state. Richard Wright, the Roxie, Miss.-born author of "Black Boy" and "Native Son," spent time in Gowdy as an adolescent, experiences that later colored his literary works.
The Gowdy Post Office, located in the cottonseed oil building, hired the state's first black postmistress, Julia Humbles.
"Everybody was brother and sister. They loved. There was no such thing as killing somebody," Shirley said. Today, she doesn't know who lives two houses down.
Peter Stoner came to Jackson in 1961 as a student at the University of Chicago to participate in the Freedom Rides, and settled in Washington Addition.
"You didn't see the crime. People didn't buy burglar bars for their houses. The law helped keep the crime down even though they were all white officers," said Stoner, leaning against his old blue tow truck, a broken hammer and set of pliers at his feet.
Echoing others' stories, Stoner said as soon as the Civil Rights Movement drew to a close, "the people uptown and the police ignored this neighborhood." For a brief time, during a city election Stoner can't recall, the Jackson Police Department set up a satellite precinct office in a trailer on Valley.
Stoner describes the Washington Addition as a hardscrabble neighborhood where families of modest means could afford to buy homes, but had to work long hours to afford the mortgages. Unsupervised and with few entertainment options, neighborhood kids joined or formed gangs and started breaking in peoples' homes.
Born in the rural Pennsylvania town of Berlin, the septuagenarian sees American history repeating itself in the Washington Addition. Stoner, who earned a PhD in chemistry from the University of Southern Mississippi, said the illegal drug trade now mirrors the whiskey bootlegging business, which whites controlled and remained prevalent in Mississippi through the 1950s.
In his memoir, "Writing the Wrong," Stoner points out how white settlers took land from indigenous people in his native Pennsylvania and across America.
"They're doing the same things," Stoner said. "If they can just take something without paying for it, they do."
Despite having the means and opportunity to leave at any time, neither Stoner nor Shirley have ever considered moving out of the Washington Addition. Years ago, Shirley's brother invited her to live with him in California and pay all her expenses.
She declined.
"I love it," she said defiantly when asked why she remained in the Washington Addition. "This is forever home to me."
More stories by this author
Support our reporting -- Follow the MFP.