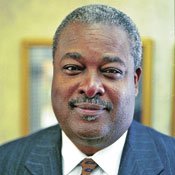 In announcing their candidacies for mayor of Jackson, Ward 2 Councilman Chokwe Lumumba and Ward 4 Councilman Frank Bluntson made changing the city's business practices front and center in their campaigns.
In "Councilmen to Battle Mayor on Business" (Jackson Free Press, Vol. 10, Issue 35, May 9 to May 15, 2012), the JFP reported that Bluntson accused Mayor Harvey Johnson Jr.'s current administration of "not being business friendly, and driving new, prospective investments, as well as old staples like Sears, out of the city."
In a release announcing Lumumba's run for the city's chief executive job, the councilman said, "There is an opportunity now to bring a new vision to Jackson that will bring economic development and needed jobs to greater Jackson and not just downtown."
In response, Mayor Johnson gave the following statement to the JFP through a spokesman, and part of it was included in the story. The statement is included here in its entirety:
"Under my administration, the city of Jackson has been lauded time and time again by national organizations such as CNN, Kiplinger's, Forbes and BusinessWeek, to name a few, for our robust economic climate and (being) a strong, business-friendly city.
"In fact, hundreds of millions of dollars in building permits for new construction have been issued all across the city of Jackson since my return to office. We continue to issue business licenses constantly and have averaged close to 1,000 business licenses a year, every year.
"We support our small businesses through our nationally recognized Small Business (Development) and Storefront Improvement Grant programs. We've issued more than $500,000 to small businesses in the last few years, which has helped stabilize our small businesses, helped them retain jobs and, in some cases, helped them expand. And these small businesses are located throughout the city.
"There is rhetoric, and then there is a clear record."
More stories by this author
Support our reporting -- Follow the MFP.