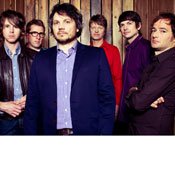 As other band members have come and gone, John Stirratt and Jeff Tweedy have been the constant core of Chicago-based alt-country/rock band Wilco since its creation in 1994.
Tweedy, an Illinois native, is the key songwriter and lead singer of the band. If listeners wonder where the band's southern roots come from, they need only look at the only other half of the remaining original lineup and one newer addition.
Bass player Stirratt and multi-instrumentalist Pat Sansone are both southerners with intimate connections to Mississippi and its music. Their southern-blues and country influences have helped fuel Wilco's success and growth for nearly two decades.
Stirratt, 44, left his native New Orleans to attend Ole Miss after high school. He paid his way through school by playing in bands in and around Oxford. It was there that his full-time music career kicked off, shortly after he graduated in 1989 with a double major in English and marketing.
Sansone, 42, was born and grew up in Meridian, where his father promoted concerts and directed beauty pageants at the Temple Theater. His bands played in venues across Mississippi while he was in high school and in college at Southern Miss. He said he likes playing in theaters, like the ones that will host much of Wilco's U.S. spring tour, including Jackson's Thalia Mara Hall. The band heads to Europe for a string of music festivals at the end of May.
"Festivals can be fun; festivals can be a good time. You get to see other bands play and get to catch up with friends that are in other bands that you only get to see at festivals maybe once a year," Sansone said. "That's fun, but (as for) actually performing, I tend to prefer the theater shows. I just love being in those old theaters. I feel kind of at home there."
Stirratt said he likes that the theaters don't have the scattered energy that crowds bring to festivals.
"In a theater, we completely control the production and the environment and everything," Stirratt said.
"It's all very controlled and very focused. I think there's good points to both things, but I think we definitely feel more comfortable when the sound is just right."
Wilco didn't have that control when they played at The Lyric in Oxford in April of 2009. Tweedy asked the rowdy, college-bar crowd to quiet down more than once during the performance.
"Oxford has always been the place where people go and buy $40 tickets and go and just yammer on over (the band)," Stirratt said. "No one ever got the memo that you were supposed to go to a show and pay attention there, that's for sure. I think the kids have a sense of entitlement there. I know, because I was one of them."
From 1994 to 2004, Wilco saw six members leave the band, with Tweedy and Stirratt as the only constants. Since 2004, though, the band has had the same lineup: Tweedy, Sansone, Stirratt, Nels Cline on guitar, Mikael Jorgensen on keyboard and piano, and Glenn Kotche on drums.
Stirratt said the current lineup played well together live from the start. The real evolution, he said, has come in the studio making records together.
"'Sky Blue Sky' (2007) was very much like guys in the room, very sparse. It just sounded like guys jamming," Stirratt said. "I think the evolution has come from us trying to get comfortable in the studio and explore all the possibilities that all the members bring to the table. I think that's been the challenge. (With) six guys in the studio, it can be very hard to arrange things."
Wilco's latest studio album, "The Whole Love," is the band's eighth. It was nominated for Best Rock Album at this year's Grammys--the band's sixth nomination.
"The Whole Love" is the band's first album released on Tweedy's record label dBpm. The deluxe edition of the album features a cover of Nick Lowe's "I Love My Label," a song the band never would have recorded 10 years ago. Wilco recorded "Yankee Hotel Foxtrot" in 2001, but their label, Reprise, rejected the album and dropped the band. Reprise didn't hear a radio-friendly single in the recording.
The band left Reprise with the master tapes for "Yankee Hotel Foxtrot" in 2002 and signed with Nonesuch Records. The album went on to peak at No. 13 on the Billboard album chart and sell more than 590,000 copies.
"Maybe we should wait and see if we still love (dBpm) 
in a year," Stirratt said, joking. "When you're running your own thing, it's definitely more streamlined. You don't have people to deal with that you had in the past."
Stirratt and Sansone got a short break from touring and recording with Wilco this spring, but it wasn't a break from music. They have another band, The Autumn Defense, and during the break, the two were in the studio working on the band's fifth full-length album.
Both Stirratt and Sansone write and sing in The Autumn Defense. Sansone, who has made a name for himself as a producer and studio musician, produced the band's last two albums: "The Autumn Defense" and "Once Around." He is producing the forthcoming album as well, which Stirratt said helps with the band's sporadic recording schedule.
The Autumn Defense is also opening four shows for Nick Lowe before Stirratt and Sansone head back out on tour with Wilco. The first show was at the House of Blues in New Orleans May 5. The mini-tour also hits Houston and Austin, Texas, before wrapping up in Dallas May 9.
"(Lowe) was nice enough to offer us a bunch of dates. Unfortunately, we couldn't do the whole tour," Stirratt said. "It's going to be a blast."
The two will join up with Tweedy and the rest of Wilco the next day, May 10, in Fayetteville, Ark., for the first of 41 shows the band will play across the U.S. and Europe from May to the end of August.
The third show of the tour is at Thalia Mara Hall May 12. Sansone said it will be special coming back to play in Jackson, a city he hasn't visited in 15 years. He played his first club show at W.C. Don's in Jackson.
"Jackson is a big part of my musical history," Sansone said. "Just thinking about all the times I played there when I was in my late teens and early twenties--it's definitely a formative place for me."
Tickets for Wilco's May 12 show at Thalia Mara Hall are $42 and can be purchased at any Ticketmaster location. The show begins at 8 p.m. with opening act Purling Hiss.
More like this story
More stories by this author
Support our reporting -- Become a JFP VIP.
The news business has changed dramatically in the past year, and we need your help more than ever to keep bringing you important stories about Jackson and the Metro. Become a JFP VIP with an annual membership or you can Sign up as a monthly supporter. Thanks for anything you can do to empower our journalism!