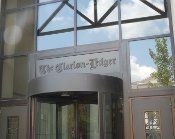 As a dozen experienced journalists at The Clarion-Ledger weigh the pros and cons of taking an early retirement, the daily newspaper's parent company wants to start charging for online content.
Gannett Co. Inc. told stockholders Feb. 22 about its new plan to generate $100 million. Whether readers preferred paper or electronic news, they would pay a flat fee. A Gannett paper would allow online viewers to see five to 15 stories, depending on the market. A paywall screen would appear at the story limit, preventing readers from accessing other stories or continue reading unless they buy a subscription.
The Clarion-Ledger, like other Gannett newspapers, already has a paywall for archived stories. If you want to read a story from more than two weeks ago, you get a short summary and then an invitation to pay a fee to read the rest of it. We don't know yet how many stories The Clarion-Ledger will let you read for free once the new plan is in place.
What we do know is that it is likely several top newsroom leaders will be gone when the paywall appears. Gannett offered an early retirement package to about 600 employees who were at least 56 years old and who had at least 20 years with the company. For those who qualify, he or she will get two weeks pay plus some benefits for every year on Gannett's payroll. The candidates have until the end of March to make a choice.
If the 12 people who qualify at The Clarion-Ledger refuse the offer, they may not get another deal like it. In other words, they could lose their jobs without a severance package in the future. And they can't talk about it, or they will lose the option of taking the buyout.
It seems like odd timing to put up a paywall for work that used to be free. Now, Gannett will ask readers to pay for work from less-experienced reporters and editors.
Charles Corder, a former Clarion-Ledger staffer and present managing editor of the Greenwood Commonwealth, wrote about the buyouts and the demise of Jackson's daily newspaper in a Feb. 17 column. Corder wrote that The Clarion-Ledger has cut 30 percent of its staff since 2008.
"Many of them were friends, people I had worked with for years," he wrote. Giving away free reading material online, Corder contends, factors into the newspaper's continued struggle. He also wrote about the possibility that sports writers Rick Cleveland and Bobby Cleveland are taking the buyout option.
During a Feb. 22 webcast for investors, Gannett chiefs explained other money makers for the corporation, such as expanded sports coverage. If Corder is correct and the Cleveland brothers do take the buyouts, The Clarion-Ledger's sports coverage is unlikely to expand. It's more likely the daily paper will lose readers who are loyal Cleveland fans.
If The Clarion-Ledger loses other long-time journalists—say perhaps Editorial Director David Hampton or popular feature writers Gary Pettus and Billy Watkins—it will lose institutional knowledge and name recognition. It could also lose more readers.
Ronnie Agnew, former executive editor at The Clarion-Ledger, left that job in the fall to become executive director of Mississippi Public Broadcasting. Gannett did not fill his position at the newspaper. In a company that says it values diversity, it also blindly lost one of its best assets: Former Managing Editor Don Hudson, one of Gannett's respected black editors, got the axe in November 2010. He hasn't been replaced, either.
With all the departures, younger journalists will have a chance to make a mark, much like state reporter Elizabeth Crisp did. After establishing a good reputation in Jackson, Crisp moved on to cover the Missouri Legislature for the St. Louis Post-Dispatch, owned by Iowa-based Lee Enterprises.
Jerry Mitchell, the paper's award-winning investigative reporter, is not among the dozen buyout candidates. He told a Friday Forum crowd Feb. 17 that the paper did not offer him a buyout. A member of the audience at the Koinonia Coffee House gathering asked him about the future of The Clarion-Ledger.
"It's disconcerting. I've got to be honest," he said. Mitchell said he had the years—he started at the newspaper in 1986—but he's not 53, yet. He said he felt for his colleagues.
"If the vast majority take buyouts, it's going to be difficult," Mitchell said.
More stories by this author
Support our reporting -- Follow the MFP.