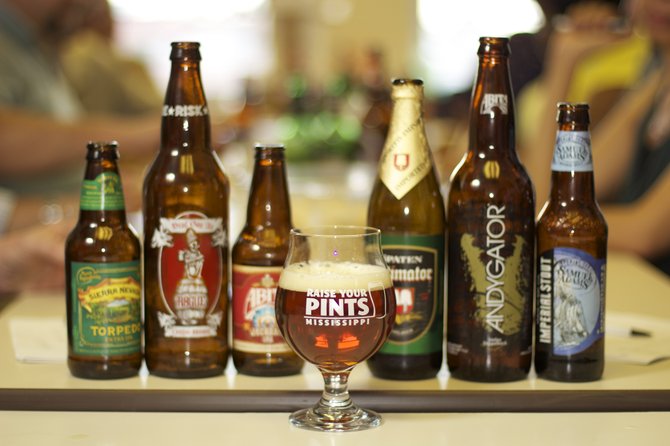 One great thing about high-gravity beer is that (much like its higher-alcohol cousin, wine) it pairs wonderfully with food. And as with pairing food and wine, there are some general rules of thumb. The more intense the beer, the more hearty the food should be, as a way to balance the flavors. Conversely, delicate foods with subtle flavors should be paired with lighter and less intense beer.
Using wines as an example, lagers are more like white wines and ales are akin to reds when it comes to the foods they pair with. This is not a hard-and-fast rule, but more of a starting point. What you're looking for is balance—which sometimes comes from the wine complementing the food and sometimes from providing a contrast.
Dishes that are very one-sided (very spicy, sweet, fatty or rich) work better with beers that contrast them and provide balance. Dishes that are already well-balanced and elegant work better with brews that complement their flavors and continue the flavor path of the "middle way." This may sound confusing, but that only means you have to experiment more—which simply means you should try more beer! And what's wrong with that?
| | | | |
| --- | --- | --- | --- |
| Beer Style | Description | Pair With | Why |
| Wheat beers such as hefeweizen, wheat ale and witbier. | Lighter in color, low bitterness and mild flavors. | Seafood, shellfish, salads, sushi, chicken, white sausages. | The mild flavors of the beer don't stomp all over the subtle notes of lighter dishes. |
| Porters and stouts. | Dark in color, rich malty flavors and moderate flavor intensity. | BBQ, dark sausages, smoked meats, roasts, stews. | The rich heartiness of the beer reflects and enhances the complex and layered flavors of slow-cooked foods. |
| Pale ales, India pale ales, double IPAs and Imperial IPAs. | Intense flavors, high bitterness and hoppiness. | Spicy foods, Creole/Cajun dishes, curries, desserts. | The bitterness of the beer helps to cleanse the palate of intense spices and sweets. |
| American-style light lagers. | Light flavor, low bitterness, low intensity. | After mowing the lawn or roofing construction. | Like Gatorade, they are thirst quenchers. |
More like this story
More stories by this author