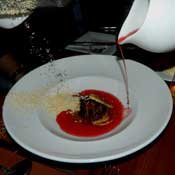 A little over a year ago, I got a call from Jackson Free Press Editor-in-Chief Donna Ladd asking if I had heard about the new restaurant called Parlor Market being constructed on Capitol Street. I had not, and she suggested that I drive down and introduce myself to the owner, Craig Noone. A week or so later, I was in the middle of a construction site waiting to meet a guy who was running about and giving orders like a traffic cop at a roundabout in Mexico City.
Noone explained that he was sorry to keep me waiting, but he had just signed a deal to invest in Mississippi's first legal distillery (Cathead Vodka).
I knew I was going to like this guy.
Over the following weeks and months of the year, I got to know Noone, Jesse Houston, Ryan Bell and the whole Parlor Market family. I loaned them furniture, although we discovered the sofa was filled with spiders (sorry about that, guys). I featured them on my radio show and developed some of my closest new friendships.
As a way of celebrating their first birthday, the PM crew agreed to feed me and two of my friends, fellow chef Dan Blumenthal (Bravo!, Broad Street and Sal & Mookies) and certified sommelier Scott Jackson (Colony Wine Market). The menu was three dishes representing their past and their future.
Our amuse bouche was a beet-pickled quail egg, topped with shoe-peg caviar with chive crème fraiche. It was a perfect way to launch this gastro-rocket of a meal. From "the past" we were served two dishes. First was barbecued pork belly atop a creamy corn maque choux with fried onion rings on top. Jackson perfectly paired the richness of this dish with a Budini chardonnay. The PM take on beef stroganoff followed the pork.
Chef de Cuisine Houston prepared fresh tagliatelle pasta just for our dinner and combined it with Mississippi-grown shitake mushrooms, braised short ribs, sour cream and a roasted garlic soubise to make a rich, warm delight for the cool snap following the weekend's rain. For this dish, Jackson picked two wines: first was an A to Z pinot noir followed by a Crios malbec. Both were spot-on and highlighted different aspects of the dish.
From "the future" we had what I would consider to be one of the top-10 dishes I've ever had in my life. It was a play on the lowly PB&J. The dish consisted of a cinnamon toast point with hazelnut butter, topped with seared foie gras and a top layer of cinnamon toast in a shallow bowl. As Jesse placed the bowl on the table, Craig poured in a muscadine reduction and shaved a frozen torchon of foie gras onto the plate as "snow."
Blumenthal, not knowing that we were splitting two of the last courses between us, dove into one bowl like a man released from solitary in a Turkish prison. When he looked up to see Jackson and me sharing a bowl, he blushed and said, "So, we were splitting these, huh?"
Despite the lopsided distribution of the dish, it was a true delight to see my fellow chef enjoying something so much.
It may be a long time before I taste anything so beautiful, so moving and so perfectly crafted. All I can say is "Thank you" for a great meal, a great year of dining and a great new group of friends.
Parlor Market will host a barbecue birthday bash Oct. 1 from noon until midnight. The party will include live music in the parking lot and what they promise to be the best barbecue this side of Texas. For information, visit http://www.parlormarket.com or call 601-360-0090.
Previous Comments
ID

164942

Comment

Spiders in the sofa... hilarious!

Author

LatashaWillis

Date

2011-09-15T06:50:10-06:00
More stories by this author
Support our reporting -- Follow the MFP.