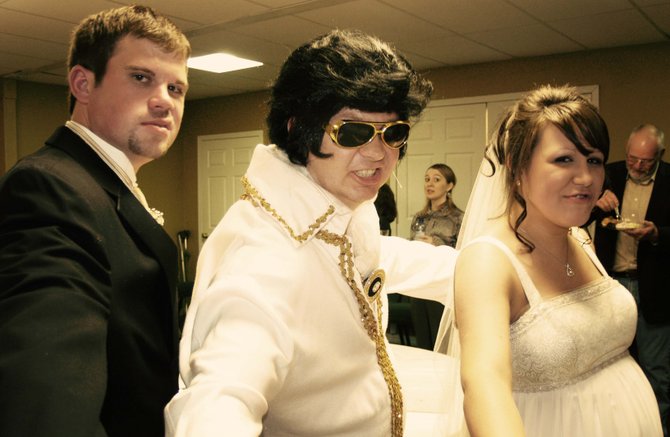 I groaned as my wife asked, "Will you go to a wedding with me?" Usually, weddings are my favorite rite to attend. They bring out the best in people, and the air is magical with promise and beauty—the emotional lift from attending one can continue for many days. People still tell us that our wedding, some 28 years ago in Virginia, was the most enjoyable wedding that they have ever attended. But since moving to Mississippi, I have attended some weddings that have left me emotionally drained and despairing for the future of the bride and groom. Mississippi has one of the highest rates of teenage pregnancy in the country, and most of these weddings were young people, pregnant and much too immature to get married.
"Who is getting married?" I asked.
"The son of one of my coworkers," she said. The bride is 35 weeks pregnant. It is this Friday night at a small country church, and they are serving pizza at the reception."
"Who gets married on a Friday night, serves pizza at the reception, and who gets married 35 weeks pregnant?" I asked, thinking, "There goes Friday night."
The church was one of those nondescript metal buildings on a lonely country road that you find so often in Mississippi. It was fairly small, and the congregation was dressed casually. Many looked as if they had come straight from work, as did I. The mothers of the groom and bride both wore pantsuits. Just before the wedding began, there was a slideshow of the bride and groom that depicted their lives—transitioning from newborn to adult and then their lives together, finishing with stills from a sonogram of the couple's little girl in utero. I thought to myself, "Well, I suppose you can't hide being 35 weeks pregnant. Why not celebrate the issue?" It gave me hope.
The mother of the bride entered on the arm of a skinny teenage boy with long blonde hair covering half his face and wearing a florescent blue shirt untucked in the back, with no jacket or tie. He escorted the mother of the bride to her seat, left with obvious relief and beat a hasty retreat to the other end of the front row.
The pastor, dressed in a black cassock, and the groom, wearing a tuxedo and chewing gum like he was creating electricity, walked in from the front without groomsmen. Huh, I thought, "they are doing this their way—good."
Preceding the bride was a beautiful young woman wearing a knee-length peach-colored spaghetti-strap dress, which would not be out of place at any high-school homecoming dance. She was chewing gum, too, and dropping flower petals as she sashayed in, obviously unused to heels.Following her, escorted by another teenage boy in a tuxedo, the very-pregnant bride entered in a sleeveless white gown that reminded me of the outfits worn by Cleopatra in the movies.
Uncharitably, I thought to myself that no wonder this pastor was in some forsaken country church, as he spoke rather haltingly with a voice pitched a little too high. After the usual pleasantries and prayers, the pastor spoke to the congregation and told us that he knew that the bride and groom had wanted to get married in Las Vegas, and that he had a surprise for them. He then exited the dais saying that he would return in a moment.
"That was pretty weird," I thought. I had never seen a pastor/priest/minister leave during the ceremony. And the reference to Las Vegas was odd for a religious ceremony.
It was a long few moments with us looking at each other in the silence wondering what was going on. My wife and I were on the right side of the sanctuary, and he had exited on the left through a door that we could not see from where we were sitting. After a few minutes, there was a collective gasp from the congregation as Elvis' "Hound Dog" started to play. The mother of the bride reflexively put her hand to her mouth, and yes, believe it or not, there was the pastor, walking up to the bride and groom in a one-piece jumpsuit bedecked as Elvis, complete with a dark wig and sunglasses. I was stunned.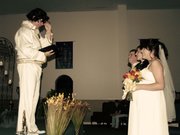 The pastor, still dressed as Elvis, continued with the service, explaining that he would have to lift his sunglasses occasionally to read from the book as the lighting wasn't that good. He delivered his homily and pronounced the vows. As I watched the ceremony, I found myself listening to the pastor/Elvis and it occurred to me that the pastor's dignity and earnestness was carrying the day. Who would have thought that a middle-aged man wearing an Elvis costume could perform one of the most important rites of passage in a person's life? This had not turned into a spectacle—it was a teaching moment for all of us. This man connected with these young people (and the congregation), making himself vulnerable to derision as he did so. No one in that church that night will ever forget it.
At this point the newly minted couple walked over to a unity candle to the right of the dais. Plucking two candles (that had been lit by their parents) from their holders, they jointly lit the unity candle. Then the groom picked up a wireless microphone and, as Rascal Flatts' "Bless the Broken Road" began playing, he took out his gum, placed it on the pedestal holding the unity candle and began to sing along with Rascal Flatts. He could hardly be heard. The atmosphere was electrifying and magical, and no one dared breathe. Here was this swaggering, gum popping, grinning young man trying to express his devotion to his bride in front of his friends and in a very public and personal way. It almost seemed wrong that we were there to watch.
As he sang the chorus with Rascal Flatts, the bride's left arm was propped on her very pregnant belly. She reached out unsteadily with her right hand as if she were reaching for air. Their hands met and clasped together, fingers intertwined, as the tears ran down her face and he finished the song. It was the most touching thing I have ever seen. The young woman in front of me wiped her eyes, and I had to do the same (several times). It was as real as it gets.
As we left the church that night (skipping the pizza), it occurred to me that Mississippi had surprised me again. An evening I had dreaded turned into pure magic, in a way not possible elsewhere, and it allowed me the pleasure of being part of the sweetest thing that I had ever witnessed.
Support our reporting -- Follow the MFP.