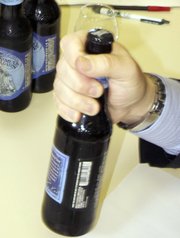 JACKSON — The Mississippi Legislature took on more than its share of controversial and divisive political issues in 2012. But with the stroke of his pen on April 9, Gov. Phil Bryant approved one of the most popular measures in recent history—the craft-beer bill. Soon, selling and even possessing beer that contains more than 5 percent alcohol will no longer be against the law in Mississippi. Under the state's new law, brews that are up to 8 percent alcohol by weight, or 10 percent by volume, will be legal as of July 1.
This year alone, lawmakers from both parties introduced more than a dozen beer-related bills. In addition to Jackson Democrat Sen. John Horhn's limit-raising bill, the governor also signed a bill from Philip Moran, R-Kiln, to allow breweries to give away samples of their products and another that permits brewers to make beer stronger than 5 ABW to sell in other states. Unsuccessful, however, was a long-sought-after bill to legalize home brewing.
Changing the beer law came as the result of years of lobbying from both average beer lovers and industry heavyweights such as Anheuser-Busch. Groups like the Mississippi Malt Beverage Association, the trade association that represents beer distributors, and Raise Your Pints, a nonprofit lobbying group formed in 2007, were central. From Raise Your Pint's perspective, the 5 percent ABW limit kept Mississippi's beer culture from flourishing: Approximately one-third of all beer styles were illegal, including barleywines, Belgian dubbels and trippels and higher-gravity varieties of India pale ale (IPA).
For distributors and brewers, the new law represents a potential jolt to the state's economy. Where overall beer sales have sagged in recent years, craft or specialty beers that often have higher alcohol content are experiencing growth. That growth has fueled a broader upward trend in the United State's $70-billion gourmet foods industry. The Mississippi Coast, which relies on tourism, and casinos around the state would especially benefit.
Because it was illegal to sell beer stronger than 5 percent alcohol by weight, brewers like Lazy Magnolia, the state's only commercial beer maker, couldn't even make higher-gravity beer to sell in other states.
According to distributor Capital City Beverages Inc., several beers featured in the Jackson Free Press taste-off could become available when Mississippi's law goes into effect. Those include Abita's Jockamo IPA, and Andygator, a helles doublebock.
Representatives from Southern Beverage Co. say other new beers might also include Hurricane High Gravity, Kona's Fire Rock Pale Ale, Bud Light's Lime-a-Rita, Margaritaville Paradise Punch, Natty Daddy, Redhook's Long Hammer IPA, Widmer's Dark Saison and Rotator IPA, Diamond Bear Two Term IPA, Velvet Rooster and Oasis from Tallgrass, Back Forty Kudzu Porter and Freckle Belly IPA.
See much more at www.jfp.ms/beermonth.
More stories by this author
Support our reporting -- Follow the MFP.