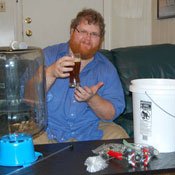 Kevin Slark is a beer connoisseur. He can tell the difference between a Belgian Abbey-style Leffe and a German Helle Weissebier. He is also, if not a criminal, someone who spends a good many hours in a legal gray area.
As its storied history of moonshining suggests, Mississippi law bans home-based spirit distilleries. Homemade wine making gets a special provision in state law. Home beer brewing, however, rests in an uneasy twilight: not prohibited, but not protected, either.
Slark's home brewing evolved from a clandestine dorm-room hobby at Millsaps College to a 200-gallon-per-year operation, involving raw grains and a six-foot custom-welded tower that he houses in a storage unit. He estimates that he spends $30 on every five-gallon batch he brews, making for a $1,000-a-year project.
Because no store in Mississippi sells home-brewing supplies, Slark picks his up on periodic visits to Birmingham, Ala. The Magnolia State loses sales tax money by not legitimizing home brewing, but more importantly, Slark says, it discounts an important source of culture and craftsmanship.
Home brewers are beer geeks, people who will spend significant money to make and enjoy beverages that can be as complex as fine wine, says Butch Bailey, president of Raise Your Pints Mississippi, a nonprofit group dedicated to modernizing the state's laws on beer and beer-brewing.
A home brewer himself, Bailey sees the state's legal lacuna on do-it-yourself beer making as only one example of a backward approach to ale. More significant to the average beer-drinker is the state's cap on alcohol content in beer. State law only allows the sale and distribution of beer with an alcohol-by-volume content of 6.25 percent or lower.
The rule excludes countless "craft" beers, beverages produced in smaller quantities with high-quality ingredients and, often, higher alcohol contents. As a prime example of the absurdity of Mississippi's alcohol-by-volume restrictions, Bailey points to a recent special offering by the Louisiana-based Abita Brewing Company, whose regular varieties are available in Mississippi.
Abita recently released "Save Our Shore," a limited-edition pilsner, with a promise to donate 75 cents per bottle sold to restoration efforts after the Gulf oil spill. Ironically, the beer's 7 percent alcohol content and larger-size bottle meant that it was illegal in Mississippi and in Alabama, which has a legal limit on beer-bottle sizes.
"They made this beer, and it's not even legal to purchase in two of the four states affected by the oil spill," Bailey said. "It's a really ridiculous situation."
Mississippi's ABV cap does not only filter out "high-gravity" beers, as more alcoholic brews are also known, it also narrows consumer choice overall, Bailey says. Many smaller-scale craft breweries produce different beers that fall on either side of the state's limit.
"It's really expensive for a brewery to move into the state, do the marketing, do the permitting and all that," Bailey said. "As a business, it's not worth it if they can only sell two-thirds of their portfolio. … We're talking small businesses—American businesses—artisans who treat this product like fine wine."
Ricky Brown, president of the Mississippi Malt Beverage Association, the trade group for the state's beer distributors, says that consumer demand also dictates which breweries do business in the state.
"If (a brewery) had an excess production capacity and wanted to move into the state, I don't see why they wouldn't," Brown said.
More often, Brown says, a brewery's products are not available in Mississippi because the company is too small. Companies like Colorado-based New Belgium Brewing Company, and Yuengling, based in Pennsylvania, produce too little to move into the state, he contends.
Brown acknowledges that the cap plays a role in the variety available to Mississippi drinkers. Beer distributors actually helped lift the cap to its present level, from 5 percent ABV, in 1998, to 6.25 percent. The beverage association lobbied the Mississippi Legislature to lift the cap so that distributors could capitalize on the popularity of the "ice" beers produced by Budweiser and other large manufacturers that had higher alcohol contents.
"They were brewing it down (in alcohol content) for Mississippi and Alabama at that time, but it wasn't cost-effective for them to do it," Brown said. "It took a lot of work, because all alcohol bills are difficult to get through the legislative process. I can't speak for the Legislature, but a lot of them represent dry areas of the state and then some of them just have a personal belief against alcohol."
Recent efforts to lift the cap further have stalled in the Legislature. Sen. David Baria, D-Bay St. Louis, has pushed the issue, as well as full legal recognition for home brewing, for the past three years, to no avail.
"You, of course, have people that drink beer, drink alcohol themselves that would never vote on something like that because they see it as too big a political risk," Baria said.
Baria has hope, however, in the growing support for lifting the cap from distributors. The Malt Beverage Association has moved from opposing the change to staying neutral, to now expressing outright support for it.
Home brewing gained a modicum of legitimacy on July 12, when Gov. Haley Barbour declared the last week in July "Mississippi Craft Beer Week." Barbour's proclamation added, "(L)et us not forget our home-brewing enthusiasts," to a list of craft beer-makers.
Rep. Bobby Moak, D-Bogue Chitto, who has introduced bills that mirrored Baria's, believes beer geeks will have to wait a little longer for any legislative change, however.
"Next year's an election year, and it's going to be tougher," he said. "People will be ducking for cover."
Previous Comments
ID

159265

Comment

I think all beer drinkers should unite and support "Raise Your Pints"! Butch Bailey said something to the effect that 49 of 50 states have ammended their laws so that more craft brews could be sold in their states. The only ones with these archaic laws are Mississippi and Saudi Arabia (He said it way funnier than the way I just wrote it) I'll admit, when it's really hot, a good ole Bud Light will do just fine---can't stomach the fancy, rich beers when it's 115 degrees.

Author

Dave Coleman

Date

2010-08-11T17:25:12-06:00
More like this story
More stories by this author