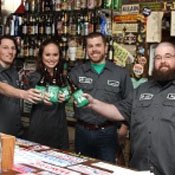 Asking Craig Hendry to name his favorite beer is like asking him which of his two kids he likes best.
Hendry likes Belgians and Imperial Stouts, especially Ten FIDY, a brew made by Lyons, Colo.-based Oskar Blues that's 10.5 percent alcohol by volume. The problem for Hendry and other aficionados of high-gravity craft beers is that much of it, including Ten FIDY, is illegal in our state.
"Mississippi is losing business to other states," Hendry declared as he sipped a Tallgrass IPA from Manhattan, Kan.
Hendry is one of the people behind Raise Your Pints, a Mississippi campaign lobbying state lawmakers to raise the alcohol-by-weight limit for beer from 5 percent to 8 percent.
"It looks small, but it's a huge chunk of beer," said Hendry, who helped launch an informal advocacy campaign in 2007 with fellow beer geeks before establishing Raise Your Pints three years ago.
Here's a little insight into the woes of Mississippi beer lovers: Of the top 100 U.S.-based beers, 87 of them are illegal in Mississippi, according to beeradvocate.com, a Web portal for beer enthusiasts. Bumping up the ABW limit to 8 percent will add 50 more beers to the list of legal beers in the Magnolia State, Hendry said.
After several years of various beer bills dying in committee, Hendry and other proponents believe their years-long education and advocacy efforts have finally come to a head. Legislators have introduced more than a dozen beer-related bills in the current legislative session. Rep. David Baria, D-Bay St. Louis, and Rep. Jessica Upshaw, R-Diamondhead, both introduced bills that would up the ABW limit, legalize the manufacture of beer with more than 5 percent ABW for sale in other states and allow breweries to sell a limited quantity of their product on their premises. Senate Republicans Philip Moran, of Kiln, and Terry Brown, of Columbus, introduced measures similar to those of Baria and Upshaw in the Senate.
Exporting Mississippi craft beer to other states could generate interest about Mississippi in other parts of the country and eventually help expand tourism, said Upshaw, who sits on the House Tourism Committee. "It's kind of like Brett Favre being from Kiln," Upshaw said of the former NFL quarterback and his Mississippi-boyhood hometown, which draws a fair amount of Favre fans from around the country. Kiln is also home to Lazy Magnolia Brewing Co., Mississippi's only commercial brewery.
Gourmet beer is experiencing rapid growth in the United States as customers' palates become more refined and they seek out more sophisticated food experiences. The National Association for the Specialty Food Trade, a group representing the gourmet food industry, estimates that specialty food items rang up $70.3 billion in sales in 2010, about 13 percent of all retail food sales. The craft-beer industry experienced 11 percent growth by volume and 12 percent growth in retail sales from 2009 to 2010. Compare this trend to that of the overall U.S. beer market, which saw a 1 percent decline in 2010 to $101 billion, or 203.6 million barrels.
Lucky Town Brewing Co. Hopes to cash in on the trend and improve the state's beer culture by opening Jackson's first brewery. The company, run by Chip Jones, Lucas Simmons, Brandon "Biggs" Blacklidge and Angela Aiello, launched a fundraising drive through the popular crowd-funding website, Kickstarter.
Lucky Town has until March 12 to raise $20,000, which they say will be applied to equipment, insurance and licensing fees to start making their beer, which will include a maple sugar oatmeal stout, a hoppier-than normal Belgian blond, an American Pale Ale, an India Pale Ale and their experimental Stout of the Rising Sun, made from smoked grains and jalapenos. If the company comes up even one dollar short of their goal, they get none of the money nor do the individuals who pledged support have to pay.
The Lucky Town founders, self-professed beer nerds—not snobs, they emphasize—say Mississippi has a growing community of craft-beer lovers that will only grow if Raise Your Pints is successful in lobbying the Legislature to change the laws. The bills were assigned to various committees in the House and Senate, which have until March 6 to take action on legislation.
The state's arcane beer laws are closely associated with alcohol laws that date to Prohibition, which Mississippi was the first to ratify and the last to change after Prohibition's repeal. After the passage of the 21st Amendment, which appealed the nationwide liquor ban, Mississippi left its laws that made alcohol illegal intact.
In 1966, the Hinds County sheriff initiated a liquor raid on a Mardi Gras party at the Jackson Country Club. Afterward, the Legislature let each county in the state decide whether alcohol could be sold there, producing a patchwork of wet and dry counties throughout the state.
Overcoming the perception that selling higher-gravity beer means more drunk people walking around is a major challenge for groups like Lucky Town. Jones points out that craft beer tends to be more expensive and, therefore, enjoyed by people more inclined to take their time drinking it, unlike the stuff people chug to get hammered.
"If you're looking to get trashed, there are easier ways to do it," Simmons said.
Legacy Comments
It should be noted that even Big Beer is on board with raising the limit on Mississippi beer. St. Louis-based Anheuser-Busch, the nation's largest beer maker, also endorsed the effort. In a press release, A-B noted that: "Mississippi's beer-related businesses make a significant contribution each year to the state's economy. Through direct and indirect contributions, the Mississippi beer industry supports nearly 9,000 jobs, pays $239 million in wages, and contributes more than $665 million to the state's economy." Read full release here: http://beerpulse.com/2012/02/anheuser-busch-joins-forces-with-raise-your-pints-to-raise-mississippi-alcohol-cap/
2012-03-02T12:13:18-06:00
Support our reporting -- Become a JFP VIP.
The news business has changed dramatically in the past year, and we need your help more than ever to keep bringing you important stories about Jackson and the Metro. Become a JFP VIP with an annual membership or you can Sign up as a monthly supporter. Thanks for anything you can do to empower our journalism!