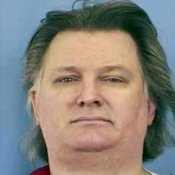 Mississippi holds a dubious first-place standing for executing more people than any other state in the union this year.
On Wednesday, Gary Carl Simmons Jr., 49, became the sixth inmate the Magnolia State put to death this year using lethal injection; his execution was Mississippi's third this month.
Simmons received a death sentence in 1997 for murdering and dismembering Jeffrey Wolfe in 1996.
Across the nation, states have executed 22 prisoners this year, 17 of those died in a southern state, according to the Death Penalty Information Center. Texas has executed five death-row prisoners; Oklahoma and Arizona are tied for third place in the country, each with three executions.
In Mississippi, the last time the state Department of Corrections put more than four people to death in a single year was 1961. We put eight people to death in 1955 and 1956.
Attorney Jim Craig, senior capital attorney at Louisiana Capital Assistance Center who has worked on appeals for Mississippi death-row inmates, believes those who have been executed were also poorly represented.
Since 1989, more than 2,000 inmates accused and convicted of felonies have been exonerated in the United States. Samuel Gross, a law professor at the University of Michigan and editor of the National Registry of Exonerations, says that the reason people are falsely imprisoned is not what people usually think of in these cases: DNA evidence.
"[F]or homicide exonerations, the leading causes of the underlying wrongful conviction is clearly perjury and other false accusations," Gross told NPR in May. "For adult sexual assaults, rape cases, the leading cause is eyewitness errors. For child sex-abuse cases, the leading cause is fabricated crimes--you know, accusations about crimes that never occurred."
Don Cabana, author of "Death At Midnight: The Confessions of an Executioner" and a former Mississippi corrections commissioner, believes Mississippi's recent spike in the number of executions--two last year, three in 2010, none in 2009 and two in 2008--has to do with timing and the pace of appeals.
"You have a number of people who have been sitting on death row for a long time whose cases kind of simultaneously, or in close proximity, started exhausting their appeals," Cabana told The Republic earlier this month.
On June 20, Simmons' last words before his death did not include remorse for his victims. "I've been blessed to be loved by some good people, by some amazing people. I thank them for their support. Now, let's get it on so these people can go home. That's it," he said.
[b]Mississippi Executions in 2012, to date[/b]
• Feb. 8, Edwin Hart Turner
• March 20, Larry Matthew Puckett
• March 22, William Gerald Mitchell
• June 5, Henry Curtis Jackson
• June 12, Jan Michael Brawner
• June 20, Gary Carl Simmons Jr.
[i]Additional reporting by Ronni Mott[/i].
More like this story
More stories by this author