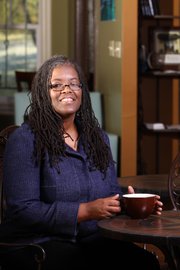 On the day Lee Harper graduated from Mississippi Valley State University in 1978, the U.S. Department of the Treasury offered her a job. It was a good paying job—"Nobody made that kind of money back then," she says.
But she turned them down, and instead, began a career with nonprofit organizations. Two things influenced her decision. One was her upbringing. "Growing up," Harper recalls, "we had a real sense of community. If one suffered in a community, all suffered and if one achieved, all achieved."
The other was her faith. "In order for the gospel to be real," she explains, "it's got to be real in a place like Mississippi. If you could prove that gospel, you've got to prove it in Mississippi."
Three decades into her nonprofit career, she realized that nonprofit organizations weren't really making long-lasting social changes because, for the most part, there was little to no economic capital in the impoverished communities. "(Realizing that) was like a light bulb went off," she says.
So, tapping into the business side of her mind (her undergraduate degree is in office and business administration), Harper, her husband, Larry, and Alexis Spencer-Byers, her former business partner, decided to open Koinonia Coffee House in west Jackson. They opened the doors June 6, 2008.
The word "koinonia" has Greek origins, and, in the Christian faith, it means to commune by intimate participation. It appears in the New Testament numerous times (often translated to mean fellowship, sharing, participation or contribution) to signify the joining of Jesus to the community of believers.
Etymologists argue that, out of a strictly religious context, the word also carries with it an inner goodness and an outer goodness: an inner goodness for deep intimate sharing, as in a koinonia between a married couple or a group of childhood friends; and an outer goodness for actions toward a virtuous outcome, a higher purpose for the good of those involved. 
Step into Koinonia Coffee House on Friday mornings, and you will see just that. It started with Jackson businessman and former dean of Jackson State University's School of Business, Dr. Bill Cooley. After his first few visits to the place to buy a sandwich or a coffee, he started to bring along two or three other people to have breakfast each Friday morning.
"They would have these great conversations," Harper remembers fondly, "and I would be trying to pretend that I was working, wiping down a table or something, so I could hear the conversation. A lot of the times I wanted to get in on the conversation but I was like, 'No, I can't get in on the conversation because I'm working here.'"
Week after week, the number of attendants increased. The gathering was great for business, but, more importantly, it served an important goal that Harper had outlined in her original business plan: to hold a forum that would "bring in community leaders to hear and speak to the concerns, ideals and questions of community members."
The Friday Forums grew organically out of out of those conversations. Two years ago, the Jackson Chamber of Commerce took on sponsoring the events but has recently pulled its support due to Jonathan Lee, the facilitator, running for mayor. Today, the format is a formal talk that usually lasts 20 minutes, and then Lee opens the floor for questions and comments. What happens later is what makes the forum fit the name that the coffeehouse bears. Immediately after the presentation and discussion, the people in attendance naturally break up into little clusters. Some continue the conversation on the topic of the day, others exchange business cards and pull out their smart phones to set appointments.
In the semi-private rooms in the back corners of the coffee house, impromptu meetings start. Collaborations begin. And in these fleeting instances, amidst the laughter, the hugs and the camaraderie, one can see, if the scene is observed close enough, the intense and intimate communing, the inner goodness of the koinonia spirit.
These intimate connections have been the starting points for various other things—the outer goodness of the koinonia spirit. The Penguin, The West Jackson Alliance and The Sleep Inn Hotel were all, loosely speaking, enterprises that were conceived, planned or promoted by people who are regulars at Koinonia and the Friday Forums and were helped along by the connections forged there.
Opening and keeping the coffee shop has been a tremendous undertaking. Because her business is located on the west side of Gallatin Street, Harper doesn't get the kind of traffic that a business of its caliber—with a great product, impeccable service and beautiful décor—deserves.
In December, Jackson native Nate Coleman partnered with Harper to bring in a new line of breakfast and lunch items to the menu. That helped, and the forum is bringing in people, but often those things are not enough. Harper has considered closing down a couple of times, but hasn't because, as she says, she has a "double bottom line." If she just depended on her monetary bottom line, it would have closed a long time ago. The koinonia at the Friday Forum is the other bottom line, and it is what keeps the place open.
Koinonia Coffee House (136 Adams St., Suite C, 601-960-3008) is open Monday-Friday 8 a.m.-6 p.m.
More like this story
More stories by this author