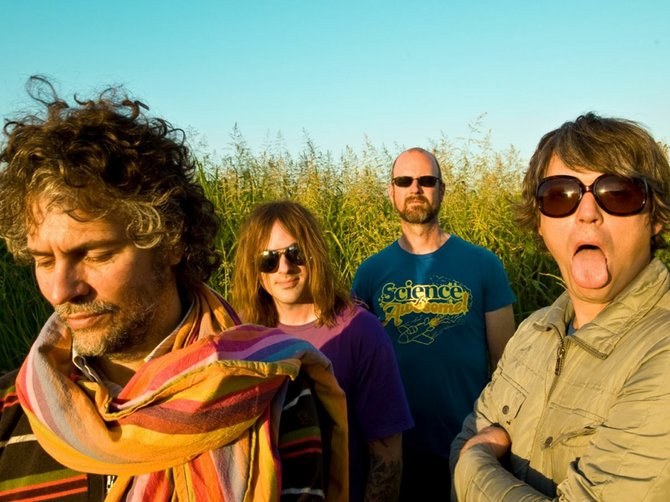 The Flaming Lips have a challenge ahead of them: eight cities, eight concerts, nearly 700 miles on a bus, more than 10 supporting and collaborating artists, one awards show, 24 awards and one world record—all in 24 hours. And every second streamed live on the Internet.
In 2011, Viacom, parent company of MTV and VH1, created the O Music Awards. In the first two award shows, artists broke two musical Guinness World Records: rapper Chiddy of Chiddy Bang broke the longest freestyle rap record and a group of 13 dancers moved for over 24 hours to earn the longest group dance. For the third O Music Awards, on June 27-28, organizers wanted to host the show outside the typical award show setting. Shannon Connolly, vice president of digital music strategy at MTV, said there was no place better than a trip through the birthplaces of the blues and jazz, from Memphis to New Orleans.
"Often when VH1 or MTV does an awards show, Clarksdale and Hattiesburg aren't part of the plan," Connolly said. "(We are) visiting an area that we would never go to that we think is musically rich and really perfect for this kind of creative attempt."
Organizers then got the idea to break Jay-Z's 2006 record of the most concerts in 24 hours. Jay-Z's record is seven, so the show asked the Flaming Lips to do eight, while hosting the O Music Awards live on their website. Unlike Jay-Z, who took private planes to shows in airport hangars, MTV and VH1 organizers wanted the Flaming Lips to do the tour on a bus, playing in smaller, more traditional clubs and venues.
The Flaming Lips, along with some unannounced special guests, will present 24 awards during the trip, from venue stages, gas stations and other stops along the road. A crew will broadcast the 24-hour trip in its entirety on Omusicawards.com. Viacom will promote it on all of its entertainment sites.
Trying to broadcast streaming video live from the road and at eight different venues could certainly have setbacks. Connolly said organizers fully expect problems. That is why a team from MTV and VH1 made a test run of the eight-city tour June 13-14, arriving in Jackson around 3:30 a.m. on the 14th.
The sprint starts at Handy Park on Beale Street in Memphis, the city where early blues players first found the bright lights (composer W.C. Handy is known as "Father of the Blues"). Next, the tour heads south to Clarksdale, right to the roots of blues and rock 'n' roll in the heart of the Delta. The home of the hill country blues is next: Oxford.
Tim Burkhead, manager at the Lyric in Oxford, said a team of 10 or 15 people from MTV and VH1 came through town a few weeks before they made any official announcements to scout possible venues for the tour. He told them what the Lyric, the largest venue of the tour, had in their sound and lighting departments. He said the venue has hosted live video shoots before, including a Black Crows show that PBS aired.
The initial 900 tickets for the Oxford show sold out in the first weekend after they went on sale June 8. The Lyric will make a small number of additional tickets available at the venue and online at an undisclosed time.
Arden Barnett is the promoter of the shows in Jackson and Hattiesburg. He offered an 8 a.m. pre-sale June 8 of a small portion of the available tickets (of which there are fewer than 300 total) for the concert at Duling Hall (622 Duling Ave., 601-941-1432) in Fondren. When the bulk of the tickets went on sale through Ticketmaster at 10 a.m., they sold out in 13 seconds. Tickets for the concert at Benny's Boom Boom Room in Hattiesburg were gone in 17 seconds.
The Guinness Book of World Records requires a performance to be at least 15 minutes long to consider it a concert. Barnett said the Flaming Lips are likely to play between 15 and 30 minutes per stop.
Fans in Jackson will get no shortage of music, though. Barnett and MTV have slated four opening acts for the Jackson show: DJ Young Venom, T-Bird & the Breaks, The Cleverly's and Neon Indian. Barnett said fans in Jackson and Hattiesburg are in for some big surprise guests, too.
"It's mind boggling," Barnett said. "The artists you see now, we're talking infantile performers (compared to the special guests)."
Fondren will come alive beyond the doors of the venue in Duling Hall at 12:01 a.m., June 28. That's when opening acts are scheduled to begin, in preparation for the Flaming Lips, who will take the stage around 4 a.m.
Fans who missed the 13-second window to get a ticket can watch the entire live streaming broadcast of the tour, including the Flaming Lips shows, on projection screens outside Duling Hall and in Babalu Tacos and Tapas, which will stay open 24 hours that day. Brent's Drugs will also stay open late that night, with live music and hot food.
Cathead Vodka teamed up with Barnett to offer the Lipsuckle Experience. For $160, fans could get tickets to the shows in both Jackson and Hattiesburg, a bottle of Cathead's recently released Honeysuckle Vodka, a Cathead swag bag, and a ride from Jackson to Hattiesburg and back on a deluxe motor-coach complete with an open bar and free food. Like the rest of the tour, tickets for the Lipsuckle Experience sold out fast.
Hopefully, the eight-stop tour will be fast as well—world record fast.
Jacob Fuller will join the MTV team in Memphis and ride with them to Clarksdale, Oxford and Jackson. He will blog at jfp.ms.
More like this story
More stories by this author
Like independent media outlets around the world, the Jackson Free Press works hard to produce important content on a limited budget. We'd love your help! Become a JFP VIP member today and/or donate to our journalism fund. Thanks for considering a JFP VIP membership or one-time support.