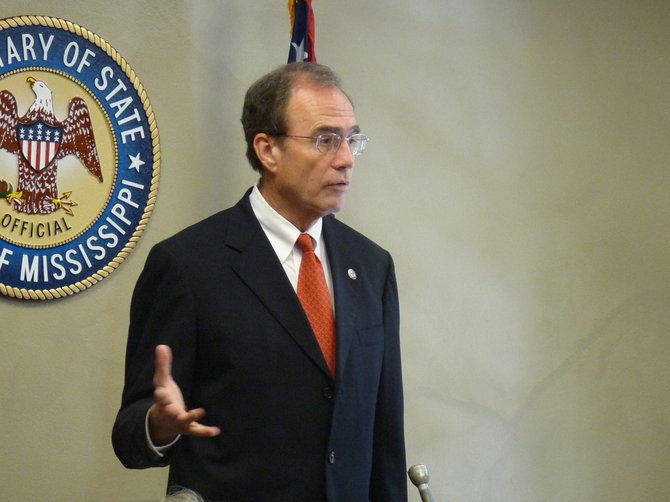 After Mississippi Secretary of State Delbert Hosemann's scathing retort yesterday to "The Challenge of Obtaining Voter Identification," the Brennan Center for Justice is standing by its conclusions.
In a press release late yesterday afternoon, Hosemann's office said the report, issued last week, is "purposely inaccurate and misleading." Furthermore, he said, the report "exaggerates the population number, then multiplies it by the 'estimated' number of people without transportation, to provide a totally fraudulent number of 48,329 voting citizens without a vehicle more than ten (10) miles from a state ID issuing office. This statement is false and the Brennan Center had knowledge to the contrary when the 'Report' was issued."
The Jackson Free Press called Pamela Weaver, Hosemann's director of communications, yesterday afternoon and this morning in an effort to obtain unexaggerated numbers from the secretary of state's office. Those calls have not been returned.
The numbers are difficult to assess, said Bear Atwood, legal director of the Mississippi ACLU in Jackson. But whether it's 48,000 or 3,000 or three, she asked, how many is "too many" when it comes to denying someone's constitutional right to vote?
The official response from the Brennan Center did not specifically address Hosemann's accusations; however, the report devotes nearly half its pages to outlining its methodology and citing sources for the data it used to compile the report. The center obtained population data from the U.S. Census. Lawrence Norden, deputy director of the Democracy Program at the Brennan Center for Justice reiterated this morning that the center stands by the numbers in its report.
Hosemann's statement also took issue with the report's statement that half the state's rural offices issuing IDs are open part time. "[T]he 'Report' acknowledges 'Mississippi Law requires county offices to provide ID.' There are ninety-two (92) of these offices located in all eighty-two (82) counties which are open five (5) days a week from 8:00 a.m - 5:00 pm," Hosemann's release states.
The Brennan Center report used information from the Mississippi Department of Public Safety website list of offices that issue driver's licenses. (http://www.dps.state.ms.us/driver-services/new-drivers-license/district-one-locations/). A scan of those office hours reveal numerous part-time locations, such as Indianola's Justice Court Building at 202 Main St., which is open "1st & 3rd Thursday, 8:30-4:30 (closed for lunch 12:00-1:00)," according to the website. Kosciusko's office is only open Tuesdays.
The secretary of state also took issue with the Brennan Center's characterization of the "Mississippi 'Catch-22,'" (reported by the Jackson Free Press July 5) whereby a citizen must produce a birth certificate to obtain a Voter ID card, but must have government-issued photo ID to obtain a birth certificate. In response Hosemann stated that "each Circuit Clerk will be able to access the National Association for Public Health Statistics to verify available birth certificate data across the country at no cost to the applicant by simply obtaining basic information from the applicant."
The press release was the first Atwood had ever heard of this procedure, she said, adding that part of the problem is that the entire process has yet to be codified or funded. "We don't know what the logistics are going to be," she said, and the entire process is filled with unknowns. "There's no way to test the logistics."
She also touched on issues specifically affecting rural populations, the elderly and women, issues raised in the Brennan Center report. Birth certificates may not exist at all, Atwood said, and may also be in a different name. "There may not be a birth certificate in some database somewhere. It may not exist," she said. "We don't know how many people are not going to be able to connect the dots from their birth certificate to their current name."
Yesterday's response from the Brennan Center echoed Atwood's concerns. "We sincerely hope that the state of Mississippi lives up to the Secretary's promise that these county offices will provide free photo IDs to all citizens who need them from 8:00 a.m. to 5:00 p.m., five days a week," the center's response said.
"We are glad to hear that Mississippi appears to have found a solution to this problem," the response continued.
"Whatever one's position on new voter ID laws, we can all agree that in states where such laws exist, every effort should be made to ensure that eligible voters can get such IDs," the response stated, a position that Norden re-emphasized this morning.
Atwood said it was "unacceptable" to keep people from exercising their constitutional right to vote, calling the situation a quagmire. She stressed once again that the state Legislature has not funded the Voter ID mandate.
"I would want to ask the secretary, 'What's the acceptable number of people to disenfranchise?'" Atwood said. "I think it's zero."
More stories by this author
Support our reporting -- Become a JFP VIP.
The news business has changed dramatically in the past year, and we need your help more than ever to keep bringing you important stories about Jackson and the Metro. Become a JFP VIP with an annual membership or you can Sign up as a monthly supporter. Thanks for anything you can do to empower our journalism!