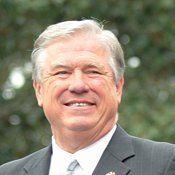 Gov. Haley Barbour's office just sent this statement in response to the state and national outcry over his pardons and grants of clemency. It is reprinted here verbatim:
I am very comfortable with the decisions I made during my term as Governor as to clemency. All this is consistent with the powers given the Governor by our Constitution, and I am fully confident the pardons and other clemency are all valid.
Regrettably, many people believed from most accounts or misstatements that I released more than two hundred prisoners from prison. That is not true.
The fact is: 215 people received some form of clemency. Of these 189 were not in prison; most had been out of prison for years, often many years.
These 189 already free people received some form of clemency that restored their rights or gave them a clean record so they can qualify for a job or apply for a professional license or join the military.
Only twenty-six of the 215 were or will be released from incarceration. Of these twenty-six, thirteen were given suspensions and released for medical reasons. All these chronically ill patients will remain under the supervision of the Department of Corrections and, if they commit any future offense, even a misdemeanor, their suspension can be revoked and they would be put back into custody.
The goal in these medical releases is to save the State money. These inmates receive very expensive medical treatments, often costing more than all the other costs of imprisonment. A dialysis patient costs about $190,000 per year. All of these costs will no longer fall on the State. I should add, none of these people are considered dangerous or a threat to society. Some are in wheelchairs.
The remaining thirteen include three who will remain under the supervision of the Department of Corrections.
So we're really talking about ten people here. Only ten have been or will be fully released.
For decades trusties from the State Penitentiary have worked at the Governor's Mansion, and Governors have granted them clemency at the end of their terms.
At the end of my first term I granted clemency or pardons to inmates who had worked at the Mansion and successfully completed that term.
And I've never made any bones about the fact that I would pardon the trusties who successfully completed my last term. There are five of them.
For the record, I have no role in deciding who gets to be a trusty at the Governor's Mansion and had never heard of any of the men who served there before the Department of Corrections sent them over to work. I should add the Highway Patrol security approves the MDOC selections.
Historically the trusties sent to work at the Mansion have been murderers, convicted of crimes of passion, as experts say they are the least likely to commit another crime and are the most likely to serve well – all but one of the Mansion trusties this time were convicted of murder.
According to Commissioner Epps, there are 21,342 prisoners incarcerated in our State prison system including county, regional or private prisons, under MDOC control. Additionally, there are 39,175 more people who aren't imprisoned but are under the supervision of MDOC. That's 60,517 total under MDOC's authority.
MDOC does a great job with limited resources, and I'm proud of MDOC for being named the model of corrections reform in the US by Corrections Magazine and of Chris Epps' being picked the top corrections official in the country.
The State Parole Board reviewed about ninety-five percent of these 215 cases as well as many, many more applications that were rejected. I accepted the Parole Board recommendations about ninety-five percent of the time.
So, to get the facts straight for the last time:
Of the 215 who received clemency, 189 were not let out of jail; they were already out of jail and most had not been in jail for years.
Twenty-six were in jail, including thirteen released for medical reasons. Twenty-six equals about one-tenth of one percent of all Mississippi's prison population, and the half not released for health reasons represent only six one-hundredths of one percent of our prison population.
As I said, these pardons are consistent with the powers given the Governor by our Constitution, and I am fully confident these pardons and other clemency are all valid.
Mississippians are mostly Christians. We have Jews, Hindus, Muslims as well as atheists and agnostics, but most Mississippians profess to be Christians of some type. Marsha and I are evangelical Christians – Presbyterians. Christianity teaches us forgiveness and second chances. I believe in second chances, and I try hard to be forgiving.
The historic power of gubernatorial clemency by the Governor to pardon felons is rooted in the Christian idea of giving second chances. I'm not saying I'll be perfect, that no one who received clemency will ever do anything wrong. I'm not infallible, and no one else is. But I'm very comfortable and totally at peace with these pardons, especially of the Mansion inmates.
Previous Comments
ID

165757

Comment

Of course, compare Barbour's statement above with AG Jim Hood's findings. Also, bear in mind that Barbour keeps downplaying (a) that he let some of those murderers out of prison already "years ago" (2008) when you couldn't pay the corporate media in Mississippi to challenge him on it and (b) he is pardoning some hardcore criminals who are already out of prison but who can't buy guns; now they can. And the state was already outraged over the weekend when we thought it was just the killer trustys in the mansion (most, overall, have been brutal woman-killers) he was letting go free. He is the one who released the long list without explanation that really threw people into a fearful tizzy. He has been wholly irresponsible throughout this whole thing; he should at least apologizing for upsetting the victims' families and refusing to talk to them before the pardons. It seems that might be the point of "notice," no???

Author

DonnaLadd

Date

2012-01-13T18:05:34-06:00
ID

165758

Comment

All I can say after reading this is: "Wow." Let me see if I've got this straight. FIRST, he's bound by some sort of tradition of pardoning the murderers who serve at the Governor's mansion, which pretty much tied his hands. (Aside: Not sure that "other Mississippi governors have done it for decades" is REALLY the excuse you want to hang your hat on for doing pretty much anything other than peeing standing up. Just sayin'.) BUT, releasing them was ALSO a considered act, because most of them were domestic murderers, and those are "crimes of passion," and Barbour has the inside line on that sort of violence. You see, because these men killed their wives and girlfriends, they're otherwise safe dudes. (I'm not even going to touch that one -- I can feel some of the women in Mississippi who inhabit the 21st century, as opposed to wherever the hell Barbour hails from, just about shooting bolts of lightening out of their eyes.) And just in case those two contradictory reasons aren't enough, he ALSO did it because he's a Christian and he therefore bases his theory on jurisprudence on erring on the side of forgiveness and offering second chances. Even if -- you know -- there's no *actual* evidence of that on any days but the final ones of each of his terms. Wow. I dunno Governor, er, Lobbyist Barbour ... I think you may have gone just a step too far down the path of self-righteousness on this one. In fact, I think you may have just turned this into a drinking game -- I mean for the rest of us ... not just you.

Author

Todd Stauffer

Date

2012-01-13T18:32:07-06:00
ID

165760

Comment

Obviously, Haley Barbour will not and cannot hold elective office again. Nor should he. I far as I am concerned he is no longer a Mississipian. If he had pretensions of become appointed to a cabinet position, I think it could only come at a recess appointment and at great cost to whatever Republican Kool-aid drinker has decided to honor him for his service to the party. What ever credibility he earned in two terms as governor, he just flushed down the toilet with these pardons. He cannot get it back. This will not be forgotten. He is done. He is now and forever just another self serving lobbyist.

Author

gwilly

Date

2012-01-13T20:02:17-06:00
ID

165766

Comment

Because you have the RIGHT to do something does not mean that it is RIGHT to do it. Barbour says that he and his wife, Marsha, are "evangelical Christains-Presbyterians". He also said that Christainity teaches forgiveness and second-chances. I wonder where these "Christain" principals were when he decided that there would be no forgiveness or second chance for the Scott sisters. Christainity also teaches us not to lie. The Scott sisters have stated that they are innocent of the charges waged against them. To admit to guilt would be a lie. Even if we are to believe that the Scott sisters, who were charged as teens, were guilty, they paid a hell of a price. If they had not been black teens and had access to reasonable representation, their hands would have been slapped and they would not have spent one day in prison. Mrs. Irby was given a sweetheart deal. She claims to be innocent of causing the crash that killed two physicians. According to testimony, it was Mr. Irby who caused her to have the "accident". There seems to be a definite dychotomy in Barbour's account of one who shows remorse and admits guilt. Could money, race, social status and class have anything to do with this decision? Just asking.

Author

justjess

Date

2012-01-15T21:20:18-06:00
ID

165767

Comment

@justjess~ Barbour didn't convict the Scott sisters or give them life sentences. A Scott county jury, made up of seven whites and five blacks, did. You or I didn't listen to the evidence at trial. The aforementioned jury did and for whatever reason decided that a life sentence was appropriate. Now, you can say it was unfair or that they received poor counsel but it's kinda hard to make that somehow Haley Barbour's fault. And don't forget he was not the Governor who denied their first pardon petition Democratic Governor Ronnie Musgrove did. Barbour was the one to finally release them. Karen Irby did admit her guilt and pled guilty. Not to say she should have been let go but your statement that she claims to be innocent is ignorant of the facts.

Author

WMartin

Date

2012-01-16T10:20:05-06:00
ID

165768

Comment

Wmartin, you are constantly on the other side of issues involving African-Americans. You read things into blogs that could only be the deep seated germ of your prejudice. Barbour didn't "convict" or "sentence" any of the cases he pardoned. What is "ignorant" is the fact that you would think that these were my thoughts. Please don't get me started on the legal system here in the State of MS, past and present. This system has been unjust, unfair and criminal against so many African-Americans. It was not by accident that Killings and others were allowed to live the lives of free Klansmen for soooooo many years. Don't give me that boggie juzzie about some jury having X number of blacks on it. They were out numbered and the "fear factor" can never be ignored, especially during that period. Ronnie Musgrove only pardoned one person during his Governorship. Had he pardoned a list that looked like the one published by the JFP of Haley Barbour, it would be an issue. You, Mr. WMartin, remain as constant as the Northern Star; therefore, I don't expect from you any "Evangelical - Christain- Presbyterian" commentary that would be any different from that of the thoughts and actions of Barbour.

Author

justjess

Date

2012-01-16T13:31:34-06:00
ID

165769

Comment

Jess- I gonna give you that boggie juzzie about the jury having X number of blacks on it. Please explain what "fear factor" a black juror would have had "especially" in 1994 when the Scott sister were convicted. Wmartin didn't bring up race in his post,you did in your post before him,like you always do. Nor did his post have any hint of prejudice in it, talk about reading something in a post that's not there. Seems to me, your prejudice against white people stands out more than anyone's preduice against blacks. You do know that 3 of the 5 trusties(murderers)that Barbour pardoned were black?

Author

BubbaT

Date

2012-01-16T15:24:10-06:00
ID

165775

Comment

Justjess~ When a statement is factually incorrect I do tend to be on the other side of the argument. It has nothing to do with race. When you say," I wonder where these "Christain" principals were when he decided that there would be no forgiveness or second chance for the Scott sisters." I wonder how you reconcile that with the fact that he suspended their life sentences? Released from prison seems like a second chance to me. Far be it from me to espouse Evangelical-Christian-Presbyterian anything but the way I understand Christian forgiveness is that you must first repent and atone to be forgiven. If you maintain your innocence that is not exactly repentance. As a matter of fact, a Presidential pardon requires an admission of guilt. I don't know if they did it or not. I do agree that if they were guilty they have certainly paid a hefty price. I don't really know any boogie juzzie but they were convicted in 1993 not 1963. You know, the year before that fear factor somehow abated enough to allow a Mississippi jury to convict Byron De La Beckwith. I couldn't agree more that Karen Irby got a sweetheart deal, I believe she should still be in jail, but she did plead guilty and accepted responsibility. To say that she didn't is just wrong. I also know that our "Justice System" is heavy on system and very very light on justice and the only color it cares about is green. It's all about the golden rule. If you have the gold, you make the rules.

Author

WMartin

Date

2012-01-17T16:15:39-06:00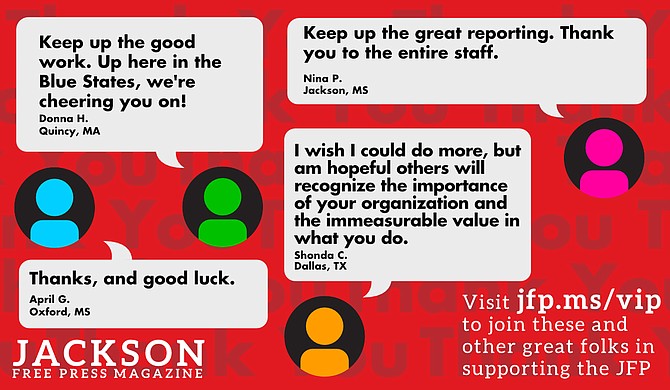 Thanks to all our new JFP VIPs!
COVID-19 has closed down the main sources of the JFP's revenue -- concerts, festivals, fundraisers, restaurants and bars. If everyone reading this article gives $5 or more, we should be able to continue publishing through the crisis. Please pay what you can to keep us reporting and publishing.