It is heartening to see so many people in Mississippi and beyond respond with outrage over former Gov. Haley Barbour's pardons of so many men who killed wives and girlfriends, in addition to other murderers and sexual predators. We wish this outrage would have happened nearly four years, and perhaps it would have had the mainstream media followed our lead and reported that all but one of the murderers Barbour had helped in 2008 were brutal woman killers. Coupled with the effort to bring Personhood to Mississippi, thus endangering women's lives and livelihoods (which was pushed by our new governor and ultimately by Barbour, along with scores of other male politicians), this all sends a terrifying message to women in Mississippi, for themselves, their loved ones and their children. Men are frightened and outraged, too, as they should be. You see very few people of any political party right now here who isn't angry at Barbour.
No matter now, though. What we must do is look forward and use this outrageous action by Barbour—already back as a D.C. lobbyist again—to come together on behalf of a healthier Mississippi, including for women and families. All of the crime rhetoric that Barbour and others use to get elected means nothing when this is our reality.
We can start with two very prevalent and horrifying problems in our state: domestic violence and sexual assualt/stalking. The climate in our state is way too "boys will be boys" about the kind of harassment that is constantly used—from anonymous blogs to encounters at home and work—that put fear into women. And too many people still ask "why does she stay?" when they hear of a woman in an abusive relationship, rather than asking "why does he abuse/kill?" (and the answer, tragically, is that women often stay because he too often tries to kill, or kills, her when she tries to leave. And hurts her children).
Even as we continue to sort through the pardon rubble Barbour gifted our state with, we can and must look forward. We can all join together, regardless of political leaning, against domestic violence, sexual abuse, cyberstalking and taunting of women. There are many ways to do this, but some of the most immediate is to pay attention to what is going on in your circles. If you know of a man who obsesses over women he barely knows or uses a website to harass and harangue women, constantly talking about their body parts, pay attention. If you know of a man who is using a fake Facebook name to, uh, "flirt" with women, report it both to Facebook (against rules). If you hear of someone using social media to tell a woman what she was wearing earlier, tell the sheriff and the attorney general about him, and let them sort it out. If you know of a woman (or a man; it happens, too) who is trapped in a domestic situation, get them help. If you don't know how, call the Center for Violence Prevention in Pearl or, hell, email us, and we'll hook you up with someone. If you have a young man in your life, teach him to respect women, especially if you're a man. If you have a young woman in your life, teach her to respect herself and find her own voice rather than seeking out a weak man who may take out his self-hatred on her.
You can also get involved with the JFP Chick Ball. If you don't know, the Chick Ball is a one-night party at Hal & Mal's in July to raise money for the Center for Violence Prevention, but it's also become a movement against domestic abuse. It's grown into much more than just one night. We have provided seed money for the area's first batterers intervention program (to help abusers change and save themselves and their loved ones); we've bought the center a new "freedom van"; we've started a legal fund to help women and children get out of dangerous situations and into safer ones; we've funded services in surrounding rural areas; we've even provided one-on-one assistance to women in serious danger, using our connections to get law enforcement, shall we say, refocused on helping the women and children. We—and it's become a large network of men and women of all ages and ethnicities—have helped many families, but there are so many more.
Please get involved with us. You can reach out to the Chick Ball committee at [e-mail missing] and volunteer to help with the event; to donate gifts, swag or money; to become a sponsor (starts at $50 and the sky's the limit). You can also call the Center if you need assistance or want to help them directly in some way. We also want to start ancillary events such as a gospel Chick event to raise money in an non-alcoholic environment. Can you help? Can you offer other ideas? Can you organize events?
Folks, Mississippians must stand together against this violence: to get families out of danger and to stop the patterns and backward beliefs that lead men to think they can control and hurt women and children at will.
This year, the JFP Chick Ball's focus will be sexual assault and abuse. Please help us with this mission however you can just as people of all beliefs came together to help women by defeating Personhood. Funnel your outrage over the pardons into saving a woman, a man or a child's life.
JFP Domestic Violence archive
http://www.jfpchickball.com
@jfpchickball on Twitter
The Center for Violence Prevention
P.O. Box 6279 Pearl, MS 39388
http://mscvp.org/
Phone: 601-932-4198
Fax: 601-936-7749
24 hour crisis line
1-800-266-4198 or 601-932-4198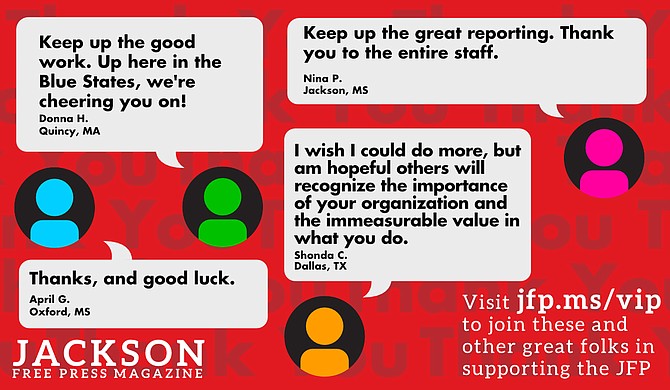 Thanks to all our new JFP VIPs!
COVID-19 has closed down the main sources of the JFP's revenue -- concerts, festivals, fundraisers, restaurants and bars. If everyone reading this article gives $5 or more, we should be able to continue publishing through the crisis. Please pay what you can to keep us reporting and publishing.