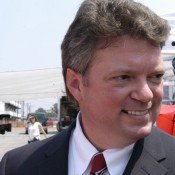 Update 8:26 p.m.: Hinds County Circuit Judge Tomie Green has granted Attorney General Hood's injunction, saying, "There is a substantial likelihood of success ..." in the case of Hood's challenges to the constitutionality of some of former Governor Barbour's pardons. Download the fax from the AG's office (PDF, 37k).
Also see: JFP investigation of Barbour's 2008 Pardons of Domestic Killers
JFP Domestic Violence Archive
Barbour Watch Archive
In a room crowded with reporters, Attorney General Jim Hood this afternoon accused former Gov. Haley Barbour of violating the Mississippi Constitution and vowed to keep improperly pardoned felons behind bars.
Hood said any convicted felon applying for a pardon must publish notification in the county where he or she committed the crime 30 days prior to receiving a pardon. Hood says his initial investigation has already revealed that several of the more than 200 felons the former governor pardoned during his last weekend in office did not publish any notification, while others have attempted to publish since Saturday.
"It's unfortunate Governor Barbour didn't read the constitution," Hood said.
The attorney general said Barbour's actions put Mississippians at risk by releasing violent felons back out into the public.
"It's a public danger," he said. "A grave danger."
Immediately following the press conference, Hood said he planned to go to the Hinds County Circuit Court to have a judge issue an injunction to stop the state Department of Corrections from releasing any prisoners pending his investigation. Some of the felons have already served their times, he said, but a pardon would restore all of their rights, including gun ownership and suffrage.
Hood indicated that his entire office is working on sorting out what he called "a mess," pulling many staffers from other issues and duties, virtually shutting down every division. The attorney general pulled no punches in his disdain for Barbour's actions.
"We give the governor the power of a king," he said, adding that the governor "abused his office" and violated victims' rights.
"(Barbour) ought to be talking to the people," Hood said, calling Barbour's 200+ pardons "the most horrendous thing I've ever seen."
The former governor has yet to give any statement or reasons for his actions and has not responded to numerous media requests.
"He's failed us," Hood said.
More stories by this author
Support our reporting -- Follow the MFP.