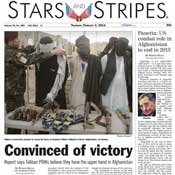 Some people—including some journalists I've worked with over the years—assume Stars and Stripes is a propaganda arm of the Department of Defense. It's not. It's an all-American institution that is in danger.
The Stars and Stripes, an independent newspaper that the U.S. military funds, has reported things no mainstream media outlet would bother with, such as investigating high rates of low troop morale. Reporters have pushed generals to answer questions while the mainstream reporters played the game and went along with the officer's wishes in order to keep their easy access to a source.
Jim Romenesko, a media critic many journalists trust, reports that staffers at the Stars and Stripes contacted him recently about a plan to move the newspaper to a space with Pentagon publicity officers. That would be disastrous to the paper's journalistic independence and its primary readership: the military members who rely on the objective news that affects all aspects of their lives, from family policies to promotion schedules to debunking rumors in the ranks. Pentagon publicity doesn't like news of disgruntled soldiers.
Romenesko writes on his blog that he contacted publisher Max Lederer about this particular rumor. Lederer wrote back confirming that the paper got orders to move its headquarters' operations in Washington, D.C., to Fort Meade, Md. He also told Romenesko that "some staff have expressed their belief that this is an attempt at censorship by the Pentagon and damages Stripes' credibility as an independent voice."
Truth Vigilante
Not all, but some small-town publications worry about giving candidates a hard time during election seasons. If you ask hard questions now, you might not get access later. That's a reality that stymies a lot of great reporting. In communities where a small group of individuals might hold many leadership positions and wear many hats, it can get touchy.
That shouldn't stop reporters from asking hard questions. National media might seem tougher and relentless—and when they use that power they are formidable—but they also hem and haw about being too tough and losing access.
The New York Times has a public editor, Arthur S. Brisbane, who recently blogged about whether reporters were too hard on political candidates. "Should the Times be a Truth Vigilante?" Was the headline.
Well, is the south still gothic?
Brisbane's seemingly rhetorical question didn't need asking. But he directed it at readers, asking them what they wanted to see. Were they interested in factchecking? Did they want reporters to out candidates who lie? Maybe it was an example of an editor trying to be Socratic and get the readers thinking about the role of journalism. We hope.
Candidates say things that need checking. When Newt Gingrich said, "Gov. Romney cut off kosher meals for Jewish senior citizens who were on Medicaid to save $5 a day," Politifact.com uncovered that wasn't true.
And when Mitt Romney said that the U.S. military is at risk of losing its military superiority because "our Navy is smaller than it's been since 1917. Our Air Force is smaller and older than any time since 1947," the same news site posted the (liar, liar) Pants On Fire Truth-O-Meter icon.
Soon after The New York Times posted Brisbane's blog, Juan Williams of Fox News asked Newt Gingrich questions about racial parity during one of the ad nauseum Republican debates this January. Then, at yet another Republican debate, John King of CNN asked Gingrich about his supposed open marriage.
"I think the destructive, vicious, negative nature of much of the news media makes it harder to govern this country, harder to attract decent people to run for public office. And I am appalled that you would begin a presidential debate on a topic like that," Gingrich said. "I am tired of the elite media protecting Barack Obama by attacking Republicans."
Depending on how you define "decent people," the factchecking on that one is fairly straightforward. As far as "elite media," it seems asking journalists not to ask uncomfortable questions is assuming some sort of privilege for these candidates.
By the way, if you were still wondering, the answer is yes; the south is still gothic.
More stories by this author
Support our reporting -- Follow the MFP.