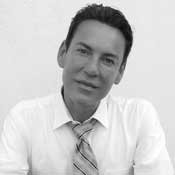 Knee-deep in coiffing clients for the holiday season, I was snatched from my robotic motions of cutting hair by a little good news. A client, Michelle Dawson, informed me that the Mississippi Youth State Legislature passed a bill last year recognizing same-sex unions from other states. I was already sitting, as is my habit while cutting hair (it staves off varicose veins), so I poked my head around hers and glared like a lemur, "Ma'am?!" I implored.
"Yes!" She said excitedly, and then went on to explain that her son, Mark Dawson, participated in the mock legislative session. She added that two Madison Central students drafted the bill, and the "governor," Jared Powell, signed it into law. Not the real governor, mind you, but another teenager from our state. Afterward, as she told her son how proud she was of him, he shrugged it off as "the right thing to do," adding, "It doesn't really count, since it was make-believe."
I understand his ambivalent attitude but, Lord knows, that's not the point. These kids come from all over our state, and the same kids will flood the voting booths in the coming years. They'll bring with them more tolerant and accepting views on social issues that are not mired down by religious ideology. Change will come—even in the state that seems slowest to change—and that makes me even more hopeful.
If you had asked me four years ago if I thought Justin and I would ever get married, I'd have told you no. Until two weeks ago, my biggest fear was that the "something old" I wear on my wedding day will be my Life Alert, and Justin's "something new" will be his hip replacement. And while I understand why some couples have "commitment" ceremonies (which hold no legal weight whatsoever), Justin and I agreed that this sort of union was no more important than a beer fanatic marrying his Kegerator. What's the point without the legal protections extended to "traditional" unions?
I consoled myself with the fact that politicians are being forced to openly debate the subject of gay marriage as a wedge issue, and that usually forces change. I never believed I'd see same-sex unions recognized in Mississippi in my lifetime. But now, I'm certain I will.
As I worked that afternoon, I allowed myself to tune out the drone of hair dryers and the siren calls from the tins of cheese straws, and I began imagining my own wedding celebration. On the occasions Justin and I have discussed the matter, he's leaned toward the Barbie dream wedding complete with Bride­zilla meltdowns and chocolate-fountain tomfooleries. That's not for me.
It wouldn't be a "churchy" kind of affair, so we'd have no need for elaborate ceremony. There would be no Vera Wang (Hush!) Or a spectacle of a wedding cake. No screaming flower girls or cousins with hurt feelings.
I began to envision a sort of Golden Globe affair, where friends and family are dressed to the nines and twirl down a red carpet right past a velvet rope holding back throngs of religious right-wingers and Westboro Baptist Church protesters. Once inside the glorious event space, none other than Sir Elton John will greet guests' ears as he tickles the ivories, as shirtless Abercrombie and Fitch models serve flutes of bubbly.
Cocktail hour will be ending as emcee Neil Patrick Harris steps out. He immediately tears into a musical bit about the highlights of our romance. (Honestly, that queen will do anything for a paycheck.) After a few jokes and acknowledging key members in attendance—such as Liza Minnelli, Rosie and The Indigo Girls—he directs folks to find their places for dinner.
As guests seat themselves, an audio­visual presentation begins. Narrated by Oprah Winfrey, it tells the stories of our lives and all that we've accomplished together. There isn't a dry eye in the house as heavily Photoshopped images of our lives float across the IMAX screen. The presentation ends, and out strolls Ellen DeGeneres.
Earlier that day, Ellen explains, Justin and I had gone to the justice of the peace and entered into a civil union. "You all are unknowingly at their reception!" She exclaims, as the crowd leaps to its feet cheering.
Then she toasts us and our future together as the delicate sounds of crystal clinks sweep the room in waves. We name a charity in lieu of gifts, but secretly I expect no less than a half-dozen KitchenAid mixers in the coming days. The evening is filled with congratulatory hugs and dancing, as Madonna runs through her greatest hits.
Good stuff, right? It would be a reception and celebration the likes of which most have never seen. I didn't have the luxury of growing up with dreams of my wedding—like so many little girls do. But change is coming, and I'd hate to have to settle for Lady Gaga, so the saving starts now.
The best part is knowing that—once we've moved away from being just a wedge issue—Justin and I will truly be accepted as a part of this more perfect union we've been working toward, just like the rest of America.
And, well, won't that be grand?
Eddie Outlaw is co-owner of the William Wallace Salon in Fondren and spends most of his time trying not to embarrass his sweet Delta mother on http://www.eddieoutlaw.com.
Legacy Comments
Great article. I hope one day this dream wedding comes true for you and your love. I really enjoyed reading your thoughts and things are changing in Mississippi. Maybe not as fast as we want them to change but the tide is turning. Again, I just wanted to say how much I enjoyed this. Thank you for sharing.
2012-02-09T10:26:00-06:00
There's my sweet boy. Good job, Ed. I just read this again since I read it the first time and this time I freaking CRIED.
2012-02-09T11:22:23-06:00
Amazing column.
2012-02-09T13:08:13-06:00
Loved this column not only for the very important subject matter, but because it contained a truly entertaining voice. I wanted to read more!!!!
2012-02-09T16:55:59-06:00
This is wonderful! Thank you for your funny, lovely voice. In 20 years (hopefully less), the people who would deny full legal recognition to anyone because of who they love will look as bigoted and anachronistic as those who oppose interracial marriage do now. Let's get on it, folks.
2012-02-14T14:14:56-06:00
More stories by this author
Support our reporting -- Become a JFP VIP.
The news business has changed dramatically in the past year, and we need your help more than ever to keep bringing you important stories about Jackson and the Metro. Become a JFP VIP with an annual membership or you can Sign up as a monthly supporter. Thanks for anything you can do to empower our journalism!