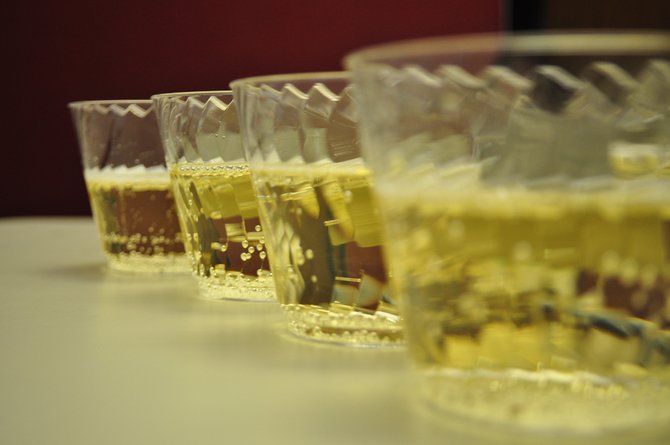 As the clock strikes 12 on New Year's Eve, you can expect several things to happen. A big glittery ball will begin to descend upon thousands of (likely) freezing and (more than likely) inebriated tourists in New York City. Couples will start 2013 with a kiss. And all over the country, bottles of Champagne and sparkling wine will pop open, in a toast to new beginnings.
Plenty of people insist on shelling out for nicer, pricier Champagne, while many others insist they couldn't tell the difference between a bottle that costs $5 and one that costs $105. We sat down for a blind taste test with a panel of seven bubbly enthusiasts from the JFP staff to determine whether or not expensive champagne is really worth the cost.
Our tasters drank a glass each of a cheap ($5) sparkling wine, a mid-range ($10-12) and a more expensive ($25+) sparkling wine. We asked them to name their favorite, guess in which price range each wine could be purchased, and attempt to match the bottle to the price range—after all, don't most non-experts purchase wine and other alcohol solely on the appeal of the bottle design?
Six of the seven correctly identified the cheapest wine (Totts), with the one outlier guessing it to be the most expensive. Only one person correctly guessed the most expensive sparkling wine (Rustico). Ironically, only one taster chose the most expensive wine as his or her favorite—nearly everyone else preferred the mid-range bottle (Veuve Du Vernay), with one other person choosing the Totts for its sweetness.
The Rustico prosecco, the priciest option, had a more subtle fizz with smaller bubbles that only one taster preferred. Others said the wine tasted "young," "bitter," "dry with woodsy notes" and acidic. The mid-range and lowest-cost wines had similar flavor profiles, with bigger bubbles and more sweetness. Tasters described the Totts as "floral with pear notes," "a little dull," "apple notes" and "too sweet=cheap." The Veuve Du Vernay, which nearly everyone named the best, earned the descriptors "tastes classy," dry, but not harsh," "good balance between acids," "notes of vanilla, smooth finish, balanced" and "smooth and pungent."
As far as matching the bottle label to the wine price, answers were all over the board—some matched them to the price points well, while others guessed completely backward.
Fun facts!
The little wire cage that holds the cork in the bottle is called a muselet.
True Champagne and nicer sparkling wine undergoes a secondary fermentation process to create the carbonation, but cheap sparkling wine is simply regular white or rose wine, injected with CO2 to make it bubbly.
Did you know?
There is some confusion over appropriate use of the word "champagne." Although most people use it casually to refer to any sparkling wine, many countries have laws in place that reserve the word for sparkling wines made in the Champagne region of France. In the European Union, the 1891 Treaty of Madrid legally protects the name Champagne. In the United States, only wines that were approved to use the term Champagne before 2006 may continue to do so, despite not being produced in France. Newer American wines are banned from using the term on their labels and advertising materials.
More like this story
More stories by this author
Like independent media outlets around the world, the Jackson Free Press works hard to produce important content on a limited budget. We'd love your help! Become a JFP VIP member today and/or donate to our journalism fund. Thanks for considering a JFP VIP membership or one-time support.