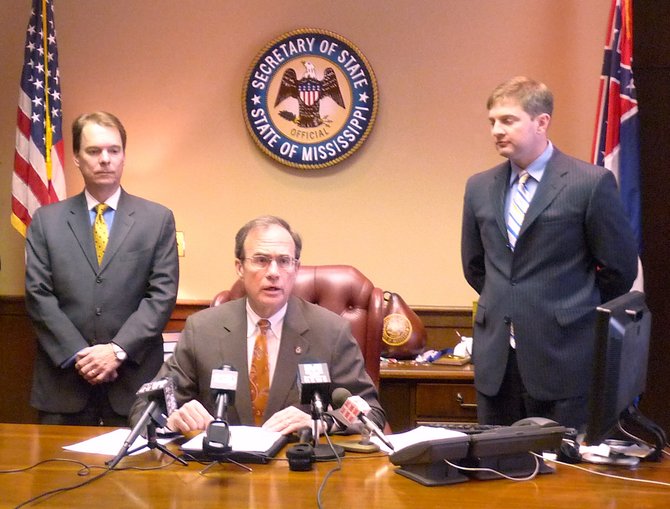 After spending $34,000 in taxpayer funds to poll Mississippi voters Nov. 6, Secretary of State Delbert Hosemann's new exit poll has confirmed what voter ID opponents have been saying all along: Those most at risk for disenfranchisement under voter ID laws are black, poor or young.
"The overall finding is that more than 98 percent of Mississippi voters reported having at least one of the eight forms of photo identification," the report states, leaving 1.7 percent of voters either without IDs or not answering the question. Applying that percentage to Mississippians eligible to vote represents more than 38,000 people.
The survey results show that 97 percent of white voters had IDs, as compared to 84 percent of black voters. Only 83 percent of those between 18- and 24-years-old and 80 percent of those with incomes less than $15,000 had ID.
The eight forms of ID referenced, from driver's licenses to gun carry permits, are the permissible types of identification under the state's proposed voter ID law. Mississippians approved the measure by 62 percent on a 2010 ballot initiative--which Hosemann pushed after lawmakers failed to pass a voter ID law in the 2009 session--and the state Legislature passed the law last year.
Calling the poll "an historic effort" during last week's news conference, Hosemann said it was the largest Election Day survey ever completed in Mississippi. New Jersey-based Edison Research randomly selected 30 polling places in the state, and drew from a sample of 5,965 voters.
"This is a very accurate measure," said Joe Lenski, Edison's co-founder and executive vice president, via streaming video at the conference. Edison's exit polls are highly regarded; a consortium of media including The New York Times and the Associated Press rely on their voter data.
Brad Chism, a partner in the Washington, D.C.-based research firm Zata3, called the poll "a waste of taxpayer dollars." He would never have used an exit poll to ascertain how many people lack voter ID, he said.
"It's like asking people getting out of their cars at work if they have a driver's license," Chism said. An accurate survey should have included potential voters--those who are registered but did not vote--not only those who showed up, he said. "Regardless, the Constitution says that every citizen has a right to vote, not 98 percent have a right to vote."
Chism said that the poll was self-serving on Hosemann's part, albeit a smart move.
"The Constitution is not up for majority vote," he said. "What he's trying to do is justify something that is patently illegal and unconstitutional, and no amount of survey work can fix that." Hosemann is wrong to push for voter ID, Chism said. "We need to do everything we can to increase voter turnout, not suppress it."
Opponents of voter ID laws point to already anemic voter participation, saying that voters don't need additional barriers at the polls. In the recent presidential elections, only 57.4 percent of eligible voters turned out nationwide, down from 62.3 percent in 2008 and 60.4 percent four years earlier, reported the Center for the Study of the American Electorate at American University.
Bear Atwood, legal director of the Mississippi ACLU, believes that just the confusion over whether IDs were necessary in November probably had a chilling effect on Mississippi's turnout. Of the roughly 2.3 million Mississippians eligible to vote in November, only 1.2 million cast ballots.
"I'm surprised that (Hosemann) believes this survey is such an important piece of information," she said. Atwood called the survey "an incredibly small sample" of a "self-selecting group." If the survey has any value, she added, it's that it proves what opponents have been saying all along.
"People who are disproportionately impacted (by voter ID laws) are African American citizens, poor citizens, young citizens," she said. "Looking at the survey in the best light, in terms of its effectiveness, it says exactly what we think."
The survey also bears out results of a Brennan Center for Justice report issued this summer, a report Hosemann called "purposely inaccurate and misleading,"
Hosemann, however, said his exit poll gives his office an idea of the Mississippians who will need assistance getting proper IDs. Implementation plans "meet every state and constitutional guideline," he said. "... We will now proceed in the process of finding this 1.7 percent" to provide them with IDs.
That leaves at least two unanswered questions: Is voter ID necessary and how much will it cost. Proponents say it will prevent voter fraud; however, the Mississippi attorney general's office said it has handled 38 cases of voter fraud in the past five years, the majority of which involve absentee ballots--a problem voter ID won't address. The cost of implementation--from providing transportation to installing cameras in all 82 county circuit-clerk offices--is unknown. Hosemann said his office has issued requests for proposals, but implementation funds were not included when lawmakers passed the law.
Federal law may prevent Mississippi from enacting voter ID. Under the Voting Rights Act of 1965, the U.S. Department of Justice must approve laws that change the rules for voters in several states--most in the South--with a history of voter suppression. Congress enacted that process, called preclearance, to prevent discriminatory practices, such as poll taxes and literacy tests, in widespread use during the Jim Crow era to prevent African Americans from voting.
More stories by this author
Support our reporting -- Follow the MFP.